Hobbycraft 1/48 F8F-1 Bearcat Build Review
By Boyd Waechter
| | | | |
| --- | --- | --- | --- |
| Date of Review | April 2009 | Manufacturer | Hobbycraft |
| Subject | F8F-1 Bearcat | Scale | 1/48 |
| Kit Number | HC2186 | Primary Media | Styrene |
| Pros | Recessed panel lines, good fit, easy to assemble | Cons | Shape of cowling inaccurate, minimal details in cockpit and wheel wells, clear parts very thick |
| Skill Level | Basic | MSRP (USD) | Out of Production |
Build Review
Over forty years ago during my first exposure to the hobby, I built three Hawk F8F-2 Bearcats while in high school, converting at least one of them to F8F-1 standards. Of course, their details are minimal and they were all built more or less out of the box during the days when aftermarket resin sets and decal sheets were almost non-existent. When Hobbycraft released their series of F8F-1 and F8F-2 Bearcat kits, I thought "Finally, we are getting a decent kit of this stubby little fighter." Unfortunately, Hobbycraft missed the mark and although they had more details than the Hawk kits and were easy to build, they still left a lot to be desired for those of us with AMS (Advanced Modeler's Syndrome). The shape of the cowling is the biggest problem with this kit, totally wrong in profile and the opening is a bit too small in its diameter.
These kits seem to languish for a while until both Lone Star Models (www.lonestarmodels.com) and Meteor Productions started pumping out detail sets of all kinds correcting some of the problems with the kits and providing all types of detail sets. Like many Bearcat enthusiasts, I bought most of them, though preferring Lone Star Models new -1 and -2 cowlings over those produced by MP. As I continued to buy these detail sets and a few Bearcat decal sheets, I threw them all into the drawer thinking that this would make a good project when I retired. Well, I am now retired, so in early March I decided to make a stab at trying to combine all of these sets I had collected to produce an acceptable Bearcat model.
Listed below are the aftermarket sets I used, or considered using, during this build:
Hobbycraft F8F-1 Kit
Lone Star Models Cockpit Set
Lone Star Models Wheel well Set
Lone Star Models F8F-1 Corrected Cowling
Quickboost F8F Engine
Lone Star Models Diamond Threaded Tires
Squadron F8F Vacuform Canopy and Windscreen
Superscale F8F-1 sheet 48-1008
Cutting Edge F8F Bearcat Prop
The build began by spreading out and cleaning-up the Lone Star Models cockpit and wheel well sets, the latter being quite extensive and providing all of the tanks, wiring, and plumbing that mounts between the firewall and first bulkhead behind the wheel well . There is so much in there, that after painting and during assembly I needed a third hand a couple of times. Unfortunately, 90% of these details cannot be seen once inserted up into the fuselage and the halves glued together.
The Lone Star Models resin cockpit and instrument panel are a huge improvement over what comes in the kit, but unfortunately, much of these details are also hard to see due to the small opening in the fuselage. I only deviated from these parts by using the kits bulkhead and headrest. I felt the resin substitute provided by LSM sat too low and did not match the correct height per photos of the real thing. The rest of the resin cockpit set is very good.
Next item that I used and improved was the Quickboost F8F engine. These are very nice engines, but the modeler has to add his own rocker arms and wiring.
Once the wings and fuselage were joined together (very good fit), I added the -1 tail, horizontal stabilizers, pylons, rocket stubs, and wingtip lights. I also decided to open the two upper fuselage exhaust flaps to give the model a busier look.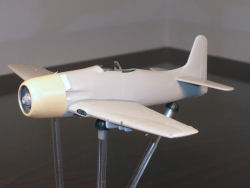 Once all of the seams where sand and polished, I re-scribed what panel lines I had lost and then the model was ready to paint. Since I had built several models of Naval Air Reserve aircraft in the past, I picked an NAS Glenview scheme from Superscale sheet 48-1008, aircraft number 18. As with most Bearcats, the model was overall dark sea blue with an orange reserve band around the fuselage broken by the word NAVY and the station name. I used Model Master's gloss dark sea blue for the overall color and Floquil's Reefer Orange for the band which is a good match for international orange. I applied the orange band first, mask it off, and then sprayed the model with two light coats of sea blue and then let it dry for several days before wet sanding it overall with some 10,000 and 12,000 grit cloth paper and a lot of soap and water. This additional step smoothed out the paint and gave the model a nice sheen to which the decals could be applied without the need for a gloss coat.
Decaling was a bit of a problem because I had several letters that crinkled up and no matter how much Micro Sol or Solvaset I put down nothing would smooth them out. I have found that the quality, opaqueness, and accuracy of Superscale's decals suffered a lot during their last two to three years of production and this sheet is a good example. Comparing the aircraft number (18) and station letter (V) with photos of these Glenview Bearcats clearly shows that what was on the sheet were too bold and slightly too large. Unfortunately, I did not have any substitutes in the needed size in my scrap box or on other white letter sheets, so I went with what Superscale provided. Once the decals where applied, I over coated the entire model with Tamiya Clear thinned about 25% with their X-20A thinner.
Another aftermarket product I used to improve the model was Cutting Edge's F8F prop. As the photo shows, there is quite a bit of difference between what Hobbycraft provides in the kit and the corrected propeller.
Now that I had the model decaled, I added all of the subassemblies I had previously finished as well as the various whip antennas (3) and aerial made from stretch sprue and invisible thread. The Bearcat had four blue formation lights, one on the top of each wing outboard of the wing fold. Hobbycraft provides clear disks for these, but I preferred making my lights from white glue mixed with Tamiya X-4 blue paint and coating them with Future. I could have used some MV Product lenses, but since this was going to be strictly a shelf model I did not want to use the few of these that I had.
Although I had some problems with the decals, I am pleased with the overall effect I got and I achieved my goal of putting a pretty nice Bearcat in my display case. The Hobbycraft kit is very buildable and should not be overlooked. I used a new cockpit and wheel well set to further enhance my build, but what the manufacturer provides is usable if you want an easy weekend project, particularly considering that these areas are hard to see and covered in a coat of dark blue paint. However, I would suggest getting a replacement -1 or -2 cowling from Lone Star Model because the one in the kit is not even close to being correct. It took me six weeks to complete the model, about right for a project of this depth and size.