Just Plane Stuff 1/35 Pantherturm I
By Jack Bruno
| | | | |
| --- | --- | --- | --- |
| Date of Review | January 2005 | Manufacturer | Just Plane Stuff |
| Subject | Pantherturm I | Scale | 1/35 |
| Kit Number | TBA | Primary Media | Resin, Brass Rod, Aluminum |
| Pros | Great detailing throughout/outstanding | Cons | Needs preformed lifting hooks |
| Skill Level | Basic | MSRP (USD) | TBA |
Background
During the two weeks of my Holiday Vacation, I was contacted by my old Model Buddy, Dave Schemel, IPMS/Bong Member and owner of Just Plane Stuff (JPS). Dave's products, as you may already know, are some of the BEST resin display bases that are made to exhibit models in their natural environment. Be it a Modern-era Navy jet fighter, Pacific Marsden matt, ETO hardstands, WWII carrier decks or a WWI crate, JPS has a Resin Base for you all in a variety of scales.
So, there I was, minding my own business, watching Dawson's Creek, when JPS calls and asks me to review and build up his latest creation- a 1/35 Pantherturm kit/base!!!!! I was floored to be sure and the Kitty Kat Grin did not go away until the Mailman dropped it off at the house.
The Kit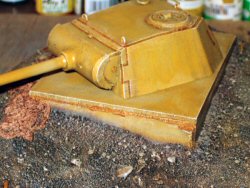 The contents include a resin base with the groundwork and Pantherturm mount already in place, a CMK Panther barrel set which has muzzle break, aluminum barrel and mantlet, one resin lifting lug bracket for the turm base mount, two sizes of brass wire for lifting hooks/handles and one absolutely beautiful solid resin Panther turret. I must say that I am excited about this kit and have already built and painted it.
I had no problem with any of the kit parts whatsoever. The turret was flawless and no cleanup was needed at all. This Panther turret differs from a production Panther Ausf.A turret due to a thicker roof and layout, no pistol ports and the Commander's hatch is new. However, Panther A/D/G Turrets were also used. A little care must be taken when making the lifting hooks and handles for the turret. Having the right tools will help. Better yet, having a spare Panther turret (Tamiya, Dragon) would be ideal.
In less than one hour I had the whole kit finished with minimal effort. The resin steel turret mount is beautifully cast with some great looking weld seams. Drybrushing this area will really enhance the look. The base itself includes groundwork with tree parts and rocks of various size. As always, you must wash resin products in soapy water first to remove any oily residue. JPS has changed a few things on their products the last year or so and this new release includes one of those changes. The base includes a resin wooden frame making an additional display base/frame, wooden or ceramic, unnecessary. A simple wood tone paint with a sludge wash of your choosing and there you go (see the pictures).
On a side note, according to the JPS instructions, this is a Pantherturm I, of which 142 were built. Facing the Western Front Allies were 119 with another 18 placed in Italy . The remaining 6 were sent to the East. These could be placed in the ground, upon which this kit is based, or at street level in city fighting. Right now as I write this, I'm waiting for the FUTURE to dry on my Pantherturm and then I'll be doing a couple of oil washes and dry brushing.
My finished kit will also include some German supplies and camouflaged netting laying about made by Dragon / Tamiya and Verlinden. I'm looking for a figure as well. Using any JPS Product, you are the artist, CREATE!!! A retail price has yet to be announced.
Conclusions
This is an outstanding effort by JPS and I urge any WWII armor modeler to look this over. It will be a fantastic addition to your collection and will draw more than a little notice at a show. The quality is just what I am used to from this company – first rate! I am further delighted to see JPS branch out into this 1/35 th field
In case you were wondering, Dave assures me that although he is very interested in doing more armor related products, he has absolutely no plans to discontinue the aircraft side of the business.
My sincere thanks to Just Plane Stuff for this review sample!