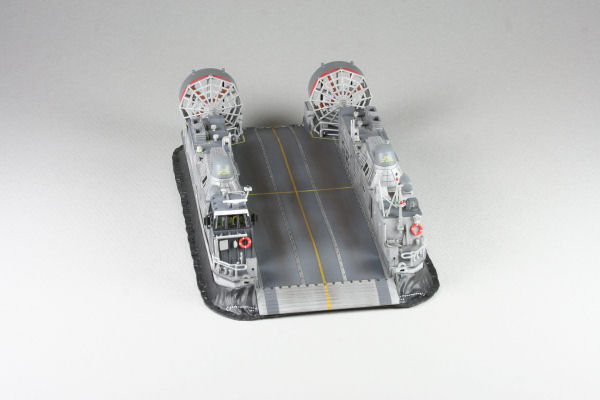 Pit Road 1/144 Landing Craft Air Cushion (LCAC)
| | | | |
| --- | --- | --- | --- |
| Date of Review | January 2012 | Manufacturer | Pit Road |
| Subject | Landing Craft Air Cushion (LCAC) | Scale | 1/144 |
| Kit Number | DO-2 | Primary Media | Styrene and brass PE |
| Pros | Well engineered, exquisite detail, enjoyable build | Cons | See text |
| Skill Level | Experienced | MSRP (USD) | $43.76 |
Background
The Landing Craft Air Cushion (LCAC) is a high speed, ship to shore, over the beach craft capable of carrying 60 ton loads at 40 knots with a 200 mile range.  Developed in the late '70s, the first production LCAC was delivered to the US Navy in 1984.  Ninety-one were built and the final craft, LCAC 91 was delivered to the US Navy by Textron Marine and Land Systems, New Orleans LA, in 2001.  Powered by four 4000hp TF40 gas turbine engines driving lift fans for the air cushion, two shrouded variable pitch four blade props and two bow thrusters for propulsion, the LCAC is in some ways similar to an aircraft.  Manned by a crew of five, the air cushioned craft is capable of accessing 70 percent of the world's coastline.
The Kit
Pit Road, in a joint project with Trumpeter, have produced an excellent LCAC kit in 1/144th scale.  With over 200 styrene parts on six runners, including one clear sprue, an ample sheet of brass PE, a large decal sheet and soft vinyl plastic inflation bags, the kit is not a simple or quick build.  The 12 page, well-illustrated instruction booklet walks the builder through 26 construction steps leading to an exquisite little model of the Navy-Marine heavy lifter.  The full color 11x16 inch painting guide shows top, end and side views/profiles with Mr. Color paint numbers and English "translations" for colors (Duck Egg Green and Red Madder???) and decals.
This kit provides options for the air cushion bag; fully inflated as it would be with the turbines running and deflated as it would be at rest on the beach with the end ramps deployed.  A fully assembled and painted M1 tank is included for display on the LCAC deck or on a separate stand.
Kit instructions step through construction of the various modules, props and shrouds, engine rooms, air intakes and crew areas/bridge, culminating in final assembly on the one piece deck.  Although written in Japanese, construction steps are well illustrated identifying parts by number and locations with lines and arrows.  One small gripe with that, I'd like to have the nomenclature for the sub-assemblies – engine rooms, air intake rooms, crew stations, etc. identified on the construction map to be more functionally literate.
Speaking of crew stations, the control room/bridge is a mini-model in its own right.  There are two levels inside with a connecting ladder, three crew seats, a two part instrument panel, control yoke and a clear plastic insert for the glazed areas – all on the inside and visible thru the clear windows and an open door.  Brass wiper blades are provided for the exterior of the windows.  The exterior of the various modules are finely detailed with plastic and brass for all the handrails, stanchions, antennas and lights.
I used Model Master Enamels for the entire model, matching and mixing grays to photo references.  I brushed Future acrylic on the areas needing decals, set them with Micro Sol and airbrushed a top coat of Floquil Flat to even everything out after a light weathering with pastels.
The 5x8 inch decal sheet is in perfect register with numbers available for all 91 LCACs as well as all the stenciling and national markings for one complete craft.  The deck and end ramp striping is provided in decal form, but I found it just as easy to paint most of it.
A small tipped tweezers was my tool of choice for most of the build.  I spent more than 30 hours on construction and painting.  I followed their construction guide pretty closely and didn't find any real problem areas.  Some of the PE is a snug fit between the plastic modules so patience is needed in the final assembly process.  All in all, this was one of my most enjoyable builds last year and I'm quite happy with the finished model.
References:
I think Pit provides everything one needs to build a typical LCAC.  For those that want to capture subtle differences in the different craft, lots of photos are available on the internet, just search for LCAC photos.  I also used a hard copy promotional data sheet from Textron and the US Navy Fact Sheet site at: http://www.navy.mil/navydata/fact.asp