Revell 1/25 '31 Ford Model A Sedan Hot Rod 2 in 1 Build Review
By Phil Cooley, Front Range Auto Modelers (FRAM)
| | | | |
| --- | --- | --- | --- |
| Date of Review | November 2012 | Manufacturer | Revell |
| Subject | '31 Ford Model A Sedan Hot Rod 2 in 1 | Scale | 1/25 |
| Kit Number | 2169 | Primary Media | Styrene |
| Pros | Highly accurate version of the Model A. Working hood, opening doors, and working steering | Cons | Doesn't have stock wheels/tires |
| Skill Level | Experienced | MSRP (USD) | $23.95 |
The Project
In 1981 my wife Kathy and I tied the knot.  When we did, a special part of the day was using Kathy's Dad's 1930 Model A Ford Tudor Sedan as our "get-away car".  Kathy still remembers when he bought it and how he restored it, lovingly, piece by piece.  We lived nearby early in our married life, so we could see the Model A whenever we wanted.  Later, I joined the Air Force, which led us to move across the country.  One of the delights of going home was knowing Dad would fire up the Model A and we could go for a ride.  It was one of those things you could depend on.  As time went on, Kathy's Dad become ill and after a long period of time, died.  The Model A was passed down to Kathy's Brother.  We assumed he would keep it in the family, but a series of personal challenges led him to sell it, instead.  It was a sad day when we found out.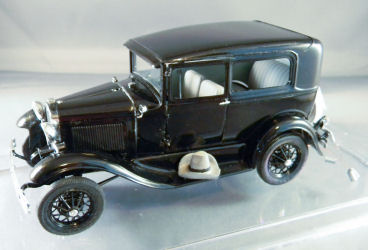 Last Spring my youngest son and I were talking about what had happened to the Model A and he said "I'm surprised you never built a model of it.  This got me to thinking—Revell had re-released their  Model A Tudor Sedan as kit no. 2169, a '31 Ford Model A Sedan Hot Rod 2-in-1.  The differences between the 30 and 31 Model As are minimal and having built the Sedan Delivery version of the kit years ago, I knew it had most of the parts I needed, so decided to make a go of it. 
Back when Ford designed the Model A, he made it as interchangeable as possible.  If you wanted to, you could basically take a Model A chassis, fenders, cowl, hood and grill shell and add almost any body to it.  Revell's Model A kits are pretty much the same—the Sedan Hot Rod kit had all of the parts I needed, except for the stock wheels and tires.  However, fixing that deficiency was as easy as kit-bashing it with another Revell Model A kit; their Model A Woody of a few years back.  I did just that and lo-and-behold had everything I needed, save for a few customized touches, like copies of the license plates it had on it when we got married.
The chassis is pretty simple, but is easily paint detailed.  The engine is fairly simple also, but with the hood open the chrome accents really stand out.  On my build I used a yellow Sharpie on the carburetors, which gives them an anodized look.
I built the kit, straight out of the box—adding in the stock wheels and tires from the Woody along with a second taillight on the passenger's side (Model As came with only one taillight, Dad's car had two).  The Hot Rod kit gives you the option of using steelies with Moon Hubcaps or 5 spoke mag wheels—both will more modern, low profile tires.  Knowing this kit originated in the 60s, I have a profound respect for the engineers at Revell, because it has opening doors and steerable wheels.  Let me just say, these aspects of the kit, along with it's relative simplicity (like a real Model A) endeared this kit to me.
I painted the body and fenders with Tamiya's acrylic black, while the interior was done in Testor's grey enamel.   I did have a little challenge with the opening door and hood, as the hinges are fairly fragile.  I broke a couple of them installing the doors and the hood, but was able to retain their operating features by using my pin vise to drill out the broken hinge and replacing the plastic with a small piece of brass rod.
Utilizing Photoshop, my son was able to recreate scale versions of the original license plates, as well as the "Just Married" sign.  And if you look closely in the back window, you'll also see a pic of me and the missus as we looked like on our wedding day.  There are a couple of other special touches, like tin cans made from sprue and a grey cowboy hat like the one I had when we got married, sitting on the running board.
Conclusion
This was a fun kit for me to build and it's now in a display case in our home.  I was a little late in that I didn't get it done in time for our 31st Anniversary, but it was appreciated, just the same.
Phil Cooley is a member of Front Range Auto Modelers.