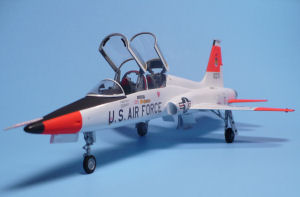 Sword 1/48 T-38A Talon Build Review
By Boyd Waechter
| | | | |
| --- | --- | --- | --- |
| Date of Review | May 2008 | Manufacturer | Sword |
| Subject | T-38A Talon | Scale | 1/48 |
| Kit Number | 48007 | Primary Media | Styrene, Resin |
| Pros | Very nice cockpit interior | Cons | Very poor fit, no main wheelwell detail, no lap belts or shoulder straps, mounting of canopies difficult, lacks forward instrument panel shroud, main wheels too thick |
| Skill Level | Experienced | MSRP (USD) | $46.00 |
Background
The Northrop F-5 family of interceptors has been well represented in 1/48th scale over the past several decades, but until recently, the T-38 Talon from which the F-5 series of aircraft was developed has not. Forty years ago, Fujimi produced a 1/50th scale T-38A, but it is a simplistic model that is lacking detail in every area, particularly the cockpit. When Monogram released their 1/48th two seat F-5F, a lot of modelers tried to either convert it to a T-38A, or the truly masochistic modeler with AMS tried to stuff it's cockpit interior into the Fujimi kit as an upgrade, kind of like trying to stuff a size 13 foot into a size 12 shoe. In 2004, Sword released a T-38A that far surpasses the Fujimi kit giving the modeler a chance to add an accurate and significant jet trainer to their collections.
I would like to preference this article by stating the main reason I built this model was for the experience of painting an overall white model and to trim it in fluorescent orange, something I had not done. The first bottles of day glo paints I remember that were designed for the modeler were produced by Liqua-Plate, a privately owned company who also produced a series of metalizer paints that were the fore runner of what we use today. These paints were extremely fragile and would rub off at the slightest touch. In the 1980's and 1990's, I would occasionally come across modeling articles on fluorescent colors in which the author would rave about the day glo paint on his model, but in a caption or in the fine print you discover that it was usually a locally produced paint and generally unavailable to modelers (i.e., Sun Glow Orange No.837 produced by the Illinois Bronze Paint Company!). Finally, Model Master released bottles of fluorescent orange and fluorescent red orange paints in their enamel and acrylic product lines that are available everywhere and I found very easy to use.
The Kit
You can see the kit out of the box here.
The Sword kit of the T-38A is accurate in dimensions when compared to drawings in the references listed below, and except for one item, the kit captures the differences between the T-38 and later F-5 series. The main wheels of the T-38A were fairly thin, but those that come in the kit are thick and more applicable to the F-5. I was not aware of this difference until the model was complete, but fortunately, Sword molds the main tires in two pieces each. So, it is a matter of thinning them before gluing the tires together, a quick, 10 minute fix. The nose wheel and landing gear parts are fine as they come in the kit and closely match the make-up and details when compared to photos.
It is not a complicated model to assemble and includes a large bag of extremely well done resin parts that make up the cockpit, wheel wells, and dive brakes. The plastic parts are molded in a medium gray plastic having engraved panel lines that are fairly crisp, and a polished, but somewhat gritty surface that you will need to sand down with some 600 grit paper prior to painting. The landing gear, support struts, pitot tube, etc. have soft details and large sprue runners, so I spent considerable time eliminating the mold lines and flash using various grades of sanding sticks. The resin ejection seats are well done, but lack any shoulder straps or lap belts. The wheel wells and dive brake wells are resin and extremely well done with a great deal of fine detail in each. The part of the wing in which the landing gear folds into is void of any detail, but this is accurate and matches the photos in the references below. The three part canopy is thin and nicely done, though mine had several scratches because of poor packaging. I polished all of the clear parts with some 8000 grit cloth and then dipped them in Future prior to painting the framework (grey on the inside, white on the outside). The instructions are well drawn and fairly precise, though how to exactly attach the canopy support rails (Parts 15 and 18) is vague and results in a weak joint. I would suggest the modeler spend some time studying these attachment points and possibly making new ones prior to super gluing them in place, particularly those for the rear cockpit.
Assembly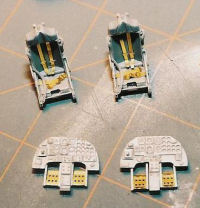 The first thing that needs attention is the addition of some lap belts and shoulder straps to the two ejection seats. I used a brass etched set from Airwaves (Set AC48-56), as well as replacing the rudder pedals with a set that were a bit more accurate than those provided in the kit.
The resin instrument panels are first rate, but can be improved even more by the use of instrument faces by Mike Grant Decals (Canada). This step can be time consuming, because each instrument face is put in place individually and then coated with a drop of gloss clear coat to simulate the glass cover. Mike Grant produces instrument faces in 1/72nd, 1/48th, and 1/32nd scales that will bring real life to your cockpit when used .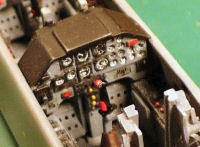 Sword provides a very nice shroud for the rear instrument panel, but for some reason, does not for the forward panel. This is easily made from a small rectangular piece of sheet plastic scribed on each end and bent downwards. The shroud should extend just over the instrument panel because the windscreen frame lines up with this cover. If moved too far back, the front of the windscreen is out of place with the contoured edge provided on the antiglare panel.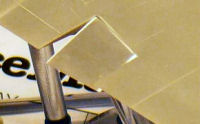 Prior to adding the wings to the fuselage, I decided to drop the wing flaps, a common position for most parked T-38's. I removed these following the scribed lines and then reglued them in position at the downward angle as seen in photos.
Overall fit of the major parts is a bit poor necessitating additional time spent on the seams and rescribing lost details. The lack of alignment pins requires care be used when gluing the fuselage halves together and sandwiching the resin cockpit tub in place. I found the worst fit of all of the parts was the two air intake sub assemblies to the fuselage bodies. A lot of elbow grease is necessary to smooth and contour these in place.
A u-shaped bracket on which the main landing gear doors attach to the main struts is missing making mounting of these doors fraudulent at best. The problem is created by the thickness of the tires as they come in the kit. If thinner and having this bracket, the gear doors could be positioned correctly and not rub against the tire. Because I did not recognize the problem until later, you can use my model as a reference on how not to mount the doors! The main gear doors also have some fairly noticeable sink marks that need to be filled and smoothed out.
Painting
Once the model was ready for painting, I had to decide which white I could use that would not result in a yellow T-38A in five years. Testors gloss white in their small, ¼ fluid ounce, bottles is popular for large white areas because it seems to give good coverage in one application and is self leveling. Tamiya's primer white and flat white in their spray can line of paints also gives good coverage and dries with a smooth egg shell finish.
After considering several different white paints and application methods, I finally decided to use Model Master Insignia white using a technique I read about in an old issue of Fine Scale Modeler. In essence, the model is sprayed with multi layers of thin white coats giving the model 2 to 3 days of drying time between applications. The entire model is then wet sanded using 6000, 8000, and 10000 grit cloths and plenty of water before proceeding to the next coat. I eventually put down six layers to the top and bottom of the T-38A before being satisfied that I got complete coverage. This process took nearly three weeks, but the resulting glossy smooth surface looked like plastic and eliminates the need to gloss coat prior to decaling. Before moving on, I let the model set for another week so the enamel paint would dry hard.
Applying Fluorescent Paint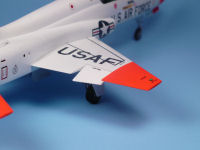 I have used Model Master paints for many years, so I decided to use their readily available fluorescent paint mixed 70% paint and 30% Model Master airbrush thinner sprayed at 15 psi. Because of my lack of experience with fluorescent paints and remembering the horror stories I have read about using them, I decided to do the horizontal stabilizers first since they were separate pieces and an easy shape to spray. The secret to getting good coverage with day glo paints is the white base. It has to be opaque and very smooth. Anything else will result in a lot of problems you don't want to have. I then masked off and sprayed the outer wing panels, vertical tail, and nose panels without any real problems.
The Model Master paint went on very smooth and I got good coverage in all spray sessions. During the decaling and finish of the model, I found it to be durable and I was even able to mask over it with some low tack painters tape without it pulling up. In summary, day glo paints should not be shunned as long as you preplan your painting and ensure the surface is clean, smooth, and very white.
Decals
Once the model was painted and ready for decaling, I decided to use a combination of the kit decals (national insignias), and some stencils, walkway lines, and USAF titles from TwoBob's sheet on white T-38's (Sheet 48-066). TwoBobs decals are very good, but can be difficult to use because they are so thin and have a tendency to curl when transferring them from their backing to the model. The Air Logistics Command badge on the tail came from MicroScale sheet 72-190 and the serial numbers from my scrapbox.. Once all of the decals were on, I over sprayed the white areas with Humbrol's satin clear coat but left the day glo areas flat.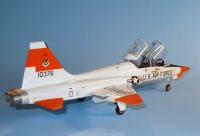 The pitot tube was painted white and then striped using one long piece of red decal put in place with plenty of water and a lot of patience. The Talon I modeled was very clean externally, so the only weathering I did was confined to the cockpit and wheel wells.
Other details I added that can be seen in the photos are MV Lenses for the wing tip lights, Expert Choice's "Remove Before Flight" tags in the cockpit and on the landing gear, a flight map I made and stuck between the seat and console in the forward cockpit, Model Technologies aircraft mirrors (4), and a scratch built compass assembly mounted on the windscreen framework that is common to all early T-38's.
Conclusions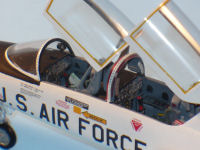 So, did I accomplish my goals? Yes, I believe so. It seems that overall natural metal, white, and yellow finishes have long daunted modelers, but with practice and the use of good quality paints, they can be applied just as easily as gull grey, olive drab, or sea blue. I think what surprised me was how easy and durable Model Masters fluorescent orange was to apply. By doing some preplanning and ensuring the base coat of white is clean and smooth prior to its application, day glo colors can be used just like any other color.
I would also like to conclude by urging those wanting to build this Sword model to spend some time preplanning and looking at the problem areas pointed out in this article. Most of the fixes are quick and easy and should certainly not deter anyone from building this very nice kit.
References: