Super-Detailing Tamiya's 1/32 P-51D Mustang
| | | | |
| --- | --- | --- | --- |
| Date of Review | August 2015 | Manufacturer | Tamiya |
| Subject | P-51D Mustang | Scale | 1/32 |
| Kit Number | 60322 | Primary Media | Styrene, Resin, Photo-Etch |
| Pros | Beautiful detals | Cons | Nothing noted |
| Skill Level | Experienced | MSRP (USD) | $183.00 |
The Project
Tamiya's superlative 1/32 P-51D Mustang builds into a fantastically detailed model straight from the box. However, for those interested in an even higher level of detail, Barracuda Cast details offers upgrades and decal stencils and placards that will make this model look like you could climb in the cockpit and start it up! HGW offers a textile seatbelt set with resin replacement life raft that adds the finishing touch to one of the best aftermarket cockpit detail offerings available. Also, Eduard's exterior detail set offers many nice extras for the landing hear and gear bays.
This was a commission build and the customer did not want the engine panels open (which saved a lot of detail time) but he is a detail freak, especially for cockpit interiors. The customer also requested minimal weathering so this is not quite as weathered as I might do for myself. However, Major Preddy's airplane was "pampered" by the crew chief (he apparently had plenty of time to add lots of superfluous markings to the trim tabs, gun ports and antenna mast) so it was most likely relatively clean anyway.
Starting with the instrument panel, Barracuda makes a replacement panel in resin with photo etched bezels and resin details for the "T" handles.  In order to get the most out of this detail set it should be paired with the cockpit stencils and placards, also from Barracuda. This set includes the stencils for the control panel surfaces just below the main instrument panel. The instruments themselves are on clear acetate and require a white background. A little shading followed by a little highlighting results in excellent visibility of the wonderfully clean castings. I added a coat of future floor polish over the clear acetate instrument faces to give them just a little more depth and shine.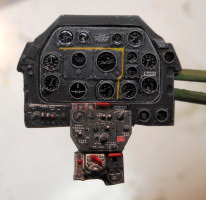 Next up is Barracuda's cockpit sidewall replacements. This is a great set that comes with resin details as well as a photo etched sheet that includes a few "bonus" parts (replacement cooling grills for the forward fuselage and a great little addition, the landing gear uplocks). Again, Roy Sutherland's eye for detail and skill replicating this detail really shows. As with the instrument panel, the decal stencil and placard set really adds a great level of realism.
To top of our ultimate Mustang interior Barracuda Cast offers an additional cockpit upgrade set comprised of various cockpit details. A vastly improved gun-sight, throttle, battery and radio with power cables and a control column. Once again, the aforementioned cockpit stencils and placards really enhance these details. All of these detail sets are basically "plug and play" as they fit perfectly in replacement of injection molded parts.
All of the decals settled nicely with Micro Sol and were very easy to use (aside from the given insanity of working with decals so small!). The only suggestion I would give is to cut the decal into sections that goes on the small control panel (just below the instrument panel) because you will find it difficult to get around the small switches.
HGW's textile seat belts added the final touch to the cockpit. As well as the belts, HGW supplies a much more realistic shaped and textured life raft for the seat. You will need several coats of Micro Sol to get the stenciling to conform to the raft cover's texture. But it is a vast improvement over the kit's bulky and smooth surfaced raft.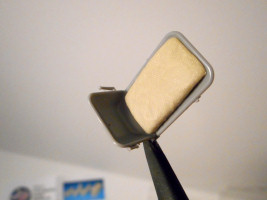 Last up in super detailing this kit was the main gear bay. The kit supplies an excellent basic bay. I added parts from an Eduard set that included some extra panels and small pulleys for the landing hear cables. After pouring over tons of photos of both actual and restored aircraft and looking at other modelers' work, I decided on what I wanted to add and where. Most of the added details are wiring and plumbing made from various gauges of solder wire. I added a few stencil decals that I saw another builder do and thought they looked really neat. I really don't know how common they were, but it's always good to keep the "cool factor" in mind when adding details!
Tamiya's fabulous P-51D is a great kit in its own right, but the scale does allow for some extra accentuation if you like that level of detail (or as in this case, you are building it for someone who wants that level of detail!). The stencils are definitely a bit tedious to tackle. I attacked them like separate link track on an armor kit, doing it in several sessions. You'll need to re-focus your eyes a few times anyway! A side note for any hardcore Mustang fans; the floor was usually painted black over the wood, but the customer wanted to see the wood floor.
This represent's Major George Preddy's airplane in its "supposed" final configuration. There are no known photos of this airplane with all of the fancy little red and white trim tab and gun markings. These are based on another airplane that Preddy's crew chief decorated the same way. According to the chief's verbal testimony, Preddy's airplane was similarly marked. I used Eagle Cal's excellent reference book and decals on the subject.