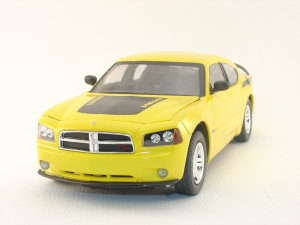 Testors 1/24 2006 Dodge Charger R/T Build Review
By Ken Kitchen
| | | | |
| --- | --- | --- | --- |
| Date of Review | April 2007 | Manufacturer | Testors |
| Subject | 2006 Dodge Charger R/T | Scale | 1/24 |
| Kit Number | 5315 | Primary Media | Styrene |
| Pros | Highly detailed kit | Cons | |
| Skill Level | Intermediate | MSRP (USD) | Out of Production |
Background
With the introduction of Dodge's new Charger a new generation of Muscle cars was born. This version the Charger Daytona R/T comes with a high-performance 5.7 liter HEMI V8 engine which makes 350 horsepower, and 390 lb-ft of torque. Add to this 18 inch polished aluminum wheels, HEMI blackout decal graphics on the hood, Daytona markings on the rear quarters, rear deck and front chin spoilers and you have a potent package for mayhem.
A lot of people criticized the design most not because it wasn't a beautiful car but because it had too many doors. Statements like "how dare Dodge use the legendary name of Charger and put it on a "shudder" 4-door sedan." were common. But if you can get past the extra doors this is one beautiful automobile, one that will not be confused with any other car on the road.
The Project
Testor's kit is true to the original and a joy to build. More detailed information and in-box review on the Testor's Dodge Charger R/T can be found here. While I build the Daytona version the differences between the two kits are minor. That said let's get on with the build.
Construction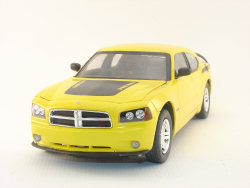 I did something with this kit that I find very difficult to do suffering as I do from AMS (Advanced Modelers Syndrome). I built it box stock and followed the kit instructions. The box stock part is easy to explain. This is one beautiful car and I'm not worthy of attempting even the simplest of redesigns. And without following the instructions I'm sure I would have had a lot of leftover parts. This is one very complex kit. It has over 150 parts. I mean when was the last time you found a kit that had an opening door for the gas filler?
Many pieces are included that other simpler kits would have either left out altogether or they would be simplified into a single assembly. An example of this is the kit contain separate pieces for the front seat belt retainers. You know those little loops on the side of the seat that the belt goes through. It also contains separate parts for the seat belt buckles. And there is no way I could have identified all of them without the instructions.
Speaking of instructions I think that's one of strengths of this kit. The instructions provide very good exploded detail drawings of each subassembly and each page has painting suggestions and guidance that is very helpful. One minor criticism is that they sometimes miss the paint guidance leaving you to guess. Minor because with all the reference material to be found on the web it's easy to find what you need to finish a part properly.
I painted the body with Tamiya TS-16 Yellow over the white plastic without any primer. I love this paint. Unfortunately the photos don't do this paint justice. It went on flawlessly with no orange peel. I didn't even polish it out or use a clear coat. For the interior, chassis and virtually every other part I used Krylon semi-flat black.
During assembly I really encountered no problems at all. I followed the instructions and had no real problems anywhere. On thing in particular that I really like was the way the front and rear fascias are designed. On a number of kits I've built attaching the front and rear ends can be a real challenge. There are well designed with a number of positive mounting points.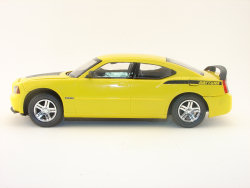 The clear parts of this kit fit like a dream. I love the way they are mounted. From the outside, just like on the real car. It made assemble much easier. Here however is where I encountered one of the weak points of the kit, namely the lack of demarcations on the windshield and rear window to assist in blacking out the edges. I had to create a mask to get them properly blacked out. Not difficult but an extra step that would make this kit more of a challenge for a novice.
The taillights are molded in clear and on the real car they are clear red. However given fashion trends it's probably better that they are clear. It gives the builder a choice as to which way you want them. I painted them with a couple of coats of Tamiya's clear red and as you can see from the photos they look like they are molded in red plastic.
The decal sheet is another weak point of the kit. Given the kit's incredible it's really puzzling that a company would spend so much money for the tooling, and then provide so little in the way of decals. There are no instrument decals, no markings for the seats and a number of under-hood markings are missing as well. .
Conclusion
This was a very enjoyable build, it wasn't a simple build as it is a complex kit, but it was easy, enjoyable and I think it turned out reasonable well. In fact this is one of those kits that really does need to be built and super-detailed. Overall I enjoyed this kit very much and it looks great on my display shelf.
My sincere thanks to Testors for this review sample!
Ed Note: Ken is a member of Front Range Auto Modelers.