Unimodel 1/72 BZ-38 Refueller Build Review
By Loren A. Pike
| | | | |
| --- | --- | --- | --- |
| Date of Review | June 2005 | Manufacturer | Unimodel |
| Subject | BZ-38 Refueller | Scale | 1/72 |
| Kit Number | 323 | Primary Media | Styrene |
| Pros | Nice detailing | Cons | |
| Skill Level | Basic | MSRP (USD) | $9.98 |
Background
Quoting from the directions "Manufacturing of BZ-38 was launched in 1938. This refuel truck was the basic transport and refueling machine of Air Forces RKKA. It completed those units where on arms there were easy fighter aircrafts, scout-airplanes with small volumes of refueling. On the chassis of the automobile GAZ-AAA have established the tank in volume of 1350 liters. The cabin of steering of refueling was in a forward part of the tank. For stacking hoses the rear cabin behind the tank served. Carburetor 4-cylinder engine GAZ-M in 50 h.p. is located in the frontal part of frame. The machine in weight of 4 tons had the maximal speed 65km/h. With 1942 have begun manufacture of the simplified variant, which as received name BZ-38U."
I love the way the Ukraine people write in English, which by the way, is fairly well understood. Their English is light years ahead of my Russian!! At least they give us SOMETHING of a history of the vehicle that we are about to assemble and lavish some attention on.
The Kit
The kit is molded in A (2 identical sprues), B, C (tires of a soft rubber-like vinyl that they call "gum elastic"), D, E plastic runners and F which is a clear plastic sheet to cut out the windows. The box says 78 plastic "details" and 12 gum elastic "details". I'm not one to sit down and actually count parts, but they are probably correct in their parts count! It took me about 2 hours just to cut out the parts (as is my practice) and clean up the parts so that the construction could commence. All plastic molding is done in green (fairly close to what I will use later to paint this kit) and the vinyl (they call "gum elastic") is "tire" black. The directions outline what parts are not needed (mainly some duplicate parts on sprues "A" and the truck "stake body" on sprue "D") for this particular version and as they share many common parts. You need to keep the "parts not for use" separate. Most of these parts are used for the regular GAZ-AAA stake body truck that this kit is derived from.
Assembly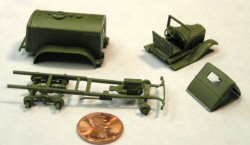 Going through the assembly is very straightforward. First assemble the tires and axels along with the appropriate spring assembly. Next, add them to the frame along with a simplified engine and transmission. The main thing here is to make sure that you use slow curing glue so you can make sure that ALL the tires touch the ground. Nothing is as embarrassing as having a completed truck and a tire (or two!!) not touching the ground! I assemble the frame with all the tire/spring assemblies and put a little weight (some paint bottles usually work!) on the frame while the glue dries.
While the frame dries, I then move on to the cab assembly and the fuel tank assembly. These are great sub-assemblies that can be built and even painted "off frame" if you wish and then joined to the frame at "final assembly", just the way they do in an automotive assembly line! The cab has some clear plastic with the windows marked out. Cut them out and I used white glue to mount them. After that had dried, I used some Future clear acrylic on both sides of the windows to brighten them up and also to hold them in place. I suppose that I could have used just the Future, but felt better using white glue first.
I had a little problem with two "grab handles" for the rear sides of the tank portion. I ended up ruining them with too much glue (easy to do as they are extremely thin) and so I bent some very fine copper wire around a wooden matchstick that gave me the square shape I wanted, drilled access holes in the tank, and inserted the new grab handles. After they are painted, you couldn't tell them from the plastic – in fact, I think they look better!
After all the assembly is complete and the small details added, it is on to painting if you have not already done this in the preceding steps.
The only additions that even a beginner could add are some MV lens for the headlights and the work light on the top of the fuel tank. I really don't know if the Russians were concerned with taillights, so I won't go there on this review. If they did have them, again, some MV lens would look great.
Painting
Well, here we have very little creative flare. Russian vehicles in WWII, (or as the Russians called WWII, the "Great Patriotic War") trucks, tanks, and artillery were GREEN. I'm using Model Master Enamels, so the color used was "Medium Green", FS 34102. Yes, I know the Russians didn't use our FS system (which was developed AFTER WWII), but this "looked" right to me and with some dry-brushing and fading in, it looked just fine. I'm sure the "color police" will take me to task for this particular color, but I think it "looks right"! I also brushed in some diluted flat black/gray color in the radiator and around some of the detail parts. As a little addition, the kit comes with a couple of fire extinguishers – which are painted bright "fire engine red". They liven up the kit quite a bit!
A light "dry-brushing" of both steel for coat #1 and a much-lightened green (base color 50/50 with flat white) for a coat #2 were used on the vehicle. Details were "touched up", tires were "dirtied up" with some Polly S "dirt" that I have, and then we were ready for the decals.
Decals
This vehicle has two decal schemes of which I used the first one, not labeled, but it had a few more decals to "liven" up the otherwise drab appearance of the vehicle. I'm sure that you could also "winterize" your vehicle with some white paint and still use some of the decals provided. All decals went on well, into a small puddle of Future clear gloss acrylic, with the excess blotted up. After they are dry, I washed the excess glue off, dried the vehicle, and then gave a coat of flat to blend in everything.
Conclusions
The box is the usual (for UM) end opening type – not real conductive to building models and not very great to stack "in the stash" as they are somewhat flimsy. I wish that manufacturers would stay with the solid two part, top opening box so as construction progressed, you could use the box for your assembled parts and subassemblies.
The box top painting shows the vehicle with mirrors and spare tires. The kit does not include any mirrors or mention of them in the directions but includes spare tires, in fact mine had two, with rims, but no instructions to place them and no definite attachment point on the fenders for them. So I did not place the spare tires on the kit. The line drawings in the directions and the back of the box omit any references to mirrors or spare tires. Guess we shouldn't believe everything we see on the box top.
Overall construction time took about 12 hours. No, I don't keep a stopwatch on my workbench – so this is an educated "guess" This was spread over the course of about 6 to 8 weeks (as I do have a life!). I also was working on several other kits at the same time ranging from 1:144 th & 1:72 nd A/C to 1/700 th ships to other 1:72 nd armor kits.
Well, I was a little apprehensive over the "gum elastic" tires, but now that I've completed a couple, it doesn't seem to be much different than using plastic. I haven't painted the entire tire, but have weathered them and they seem to take the paint I'm using (Model Master enamels and Polly S scale "dirt"). I do wonder how the vinyl will hold up to years of display. I have some old vinyl track that have disintegrated over the years.
As a general statement, the kit "looks" like a Refueller BZ-38 (if I ever had some references other than the kit box art!) and seems to scale out fairly close to published data. (No, I didn't get out the calipers!) The kit has very fine detailing, went together very easily and will be a wonderful addition to your 1:72 nd "soft skins". It sits a little too high on the frame, but that could be me in my assembly technique. I would recommend this kit to all who like to build "small" (1:72 nd) kits and to those who have a few kits "under their belt" (because of the very small parts). Diorama possibilities are seemingly endless for a Refueller, especially in an airfield diorama.
My sincere thanks to Squadron Mail Order for this review sample!
Referemces