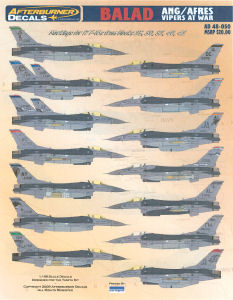 Afterburner Decals 1/48 F-16C Balad Vipers at War Decal First Look
| | | | |
| --- | --- | --- | --- |
| Date of Review | June 2009 | Manufacturer | Afterburner Decals |
| Subject | F-16C Balad Vipers at War | Scale | 1/48 |
| Set Number | 48050 | Pros | Nice selection of OIF Vipers |
| Cons | | Skill Level | Novice |
| MSRP (USD) | Out of Production | | |
First Look
Afterburner Decals continues to turn out some impressive decal releases covering contemporary US subjects and this latest set is no exception. This release is a superset that provides an impressive look at the weekend warriors that stepped up to support Operation Iraqi Freedom. At least one of these examples accrued so much flight time that it was retired from service shortly thereafter.
This decal set provides markings for seventeen (17!) US Air Force Reserve and Air National Guard F-16C Fighting Falcons as they appeared during their deployments to Balad Airbase in Iraq.
The examples presented here include:
F-16C-25B-CF, 83-1165, 134 FS/158 FW/VT ANG, 2007, 'Lethal Lady'
F-16C-25C-CF, 84-1215, 179 FS/148 FW/MN ANG, 2008
F-16C-25C-CF, 84-1223, 111 FS/147 FW/TX ANG, EF, 2007
F-16C-25D-CF, 84-1254, 111 FS/147 FW/TX ANG, 2005
F-16C-25E-CF, 84-1290, 179 FS/148 FW/MN ANG, MN, 2005
F-16C-25E-CF, 84-1383, 119 FS/177 FW/NJ ANG, AC, 2006
F-16C-30-CF, 85-1432, 138 FS/174 FW/NY ANG, NY, 2008
F-16C-30A-CF, 85-1448, 175 FS/114 FW/SD ANG, SD, 2008
F-16C-30C-CF, 86-0209, 121 FS/113 FW/DC ANG, DC, 2006
F-16C-30C-CF, 86-0222, 457 FS/301 FW/AFRES, 2007
F-16C-30D-CF, 86-0294, 124 FS/132 FW/IA ANG, IA, 2008
F-16C-30D-CF, 86-0309, 186 FS/120 FW/MT ANG, 2004/08
F-16C-30E-CF, 86-0346, 100 FS/187 FW/AL ANG, AL, 2006
F-16C-30K-CF, 88-0402, 93 FS/482 FW/AFRES, FM, 2007
F-16C-32C-CF, 86-0218, 184 FS/188 FW/AR ANG, FS, 2005
F-16C-40C-CF, 88-0466, 466 FS/419 FW/AFRES, HL, 2008
F-16C-42H-CF, 90-0702, 112 FS/180 FW/OH ANG, OH, 2008
This decal set provides you with the sufficient stencils and markings to replicate two of these aircraft. If you look over the decal sheets, you can see that the set provides national markings and maintenance stencils. If you can get additional maintenance stencil sets for the F-16 (Afterburner offers this set), you can render any number or all 17 of these examples presented here. You're going to have a hard time not replicating each of these aircraft.
The instructions indicate that these are sized for the Tamiya kit, so you're on your own to tailor these markings should you choose one of the other kits instead.
My sincere thanks to Afterburner Decals for this review sample!