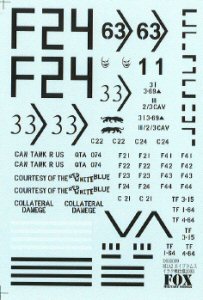 Fox Military Models 1/35 US Army Operation Iraqi Freedom Decal First Look
| | | | |
| --- | --- | --- | --- |
| Date of Review | December 2004 | Manufacturer | Fox Military Models |
| Subject | US Army Operation Iraqi Freedom | Scale | 1/35 |
| Set Number | D35009 | Pros | |
| Cons | Requires the modeler to have a lot of photos and a good idea of US markings | Skill Level | Basic |
| MSRP (USD) | Unknown | | |
First Look
It's rare to get two sheets of decals at the same time covering the same subjects, but such is the case here. I've been waiting for this sort of set for a long time, and here's why.
Right after the 9-11 attack on the USA, when many celebrities were not sure what to do or how to react and before some of them decided to become human shields, the American country music performers certainly did, and dug right in with either reflective or aggressive songs that captured the mood of most of the nation. Among the most aggressive ones was one by singer Toby Keith that he wrote while making USO tours of bases in Europe, and later, after Operation Enduring Freedom in Afghanistan, released as a single.
Initially the song, which he was not sure about due to its really pugnacious content, was only played for military audiences, who of course loved it and cheered wildly. The song, titled "The Angry American", was later subtitled "Courtesy of the Red White and Blue." It became a huge hit with the military and the so-called "Red" states and counties in the US, but horrified many of the "Blue" state types and triggered the feud between Keith and the Dixie Chicks, who were still a nominal country music act at the time.
When it was recommended that Keith sing the song at a 4th of July 2002 show, it was nixed by ABC anchor Peter Jennings, who thought it in bad taste. Jennings never heard the end of the howls over his dismissive comments, and Toby did not get to sing it on national TV that day.
Nevertheless, the song was wildly popular with the troops. It has a stanza which goes "...you'll be sorry that you messed with the US of A/for we'll put a boot in your ass, it's the American way..." that was the catchphrase for the military and the line not to be crossed by Jennings and company.
When Operation Iraqi Freedom came around eight months later, when the 3rd Infantry Division rolled into the gigantic Saddam stadium, one of the lead elements was Charlie Company, 3-69 Armor. The 2nd Platoon of that company had four tanks, as do all current US tank platoons: they were CAMEL TOW (C21), COURTESY OF THE RED WHITE AND BLUE (C22), CATALYST (C23), and CAN TANK R US (C24). They also had two mine plow tanks – C-13 (C-1ORDER II) and C-33 (CHINCON), from 1st and 3rd platoons respectively.
C22 gained its moment of fame when it turned towards the gigantic statue of Saddam on horseback, arms outstretched, and blew it to bits with a single round. This for many folks was the second defining moment of Operation Iraqi Freedom after the Marine Corps M88A2 and the statue in the center of town.
While the M88A2 was always a bit nondescript, C22 was not, and I wanted to do one up (I have four different M1A1 kits downstairs, only awaiting markings.) When Peter Brown (who I thank for passing these sheets along to me) gave me a heads up they were both available, he offered to send them along and I cheerfully accepted.
The two sheets are, unfortunately, light years apart. The Fox sheet, from a new company in Japan, is all in Japanese and only has two foolscap drawings of the tanks with it that provide any sense of where the markings go. Someone on the Internet recently stated that the Fox decals use a special "disappearing" decal film that comes off when the decal is totally dry, thus approximating dry transfers, but there is nothing on this sheet to indicate it in English. It provides names, bumper codes, tac markings, and some other trim for two of the 3/C/3-69 tanks, CAN TANK R US and COURTESY, but little else and does not really show how to place them. They do provide the barrel bands used for quick reference, but the information is all in Japanese as well so one can only guess at the meanings.
They also claim to provide markings for 2-3 Cav, which I assume should be an M1A2, as well as TF 3-5, TF 1-64, and T-4-64, but no information at all on those tanks.
Overall I rate this as marginal at best, requiring the modeler to have a lot of photos and a good idea of US markings. For the cost it will probably ask on import, I can only rate it "Recommended with Reservations." To their credit, Fox do offer sheets in 1/72 and 1/144 scale as well as the 1/35 one.
The Echelon sheet, on the other hand, is incredible and one of the best examples of a complete waterslide sheet going today. The sheet covers six tanks with complete markings, including the APU, shipping data, CIP panel data blocks, shipping bar code plates, as well as generic number and alphabet markings for modern US armor. The sheet has a large spread sheet in the middle of the protective cover inside the package showing which markings go on which tank, and where. It also covers stenciling and component decal placement as well, and is nearly perfect (I am a stickler, and C-13 and C-33 are 1st and 3rd platoon tanks, not 2nd Platoon, even if attached for the moment! It's also 3-69 Armor Battalion, not regiment; 69th is the regiment of affiliation, but it is the 3rd battalion which is the unit with 3rd Infantry Division. But then again, I quibble.)
Overall I rate this as "Highly Recommended" and the best OIF waterslide sheet going, and must comment Lawrence Goh and his team, as well as modelers Donald Busack and Rob Gronovius for their input to get the sheet out.
Now all I gotta do is figure out which kit to start with – DML, Tamiya, Trumpeter, or Italeri...