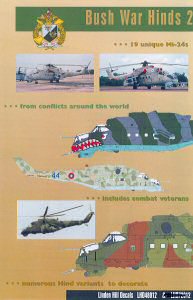 Linden Hill Decals 1/48 Bush War Hinds 2 Decal First Look
| | | | |
| --- | --- | --- | --- |
| Date of Review | November 2006 | Manufacturer | Linden Hill Decals |
| Subject | Bush War Hinds 2 | Scale | 1/48 |
| Set Number | 48012 | Pros | A very impressive variety of Mi-24 and Mi-35 subjects |
| Cons | | Skill Level | Basic |
| MSRP (USD) | $16.99 | | |
First Look
So you are in the mood to build an Mi-24 Hind in 1/48 scale, but you definitely don't want your Hind to look like everyone else's model. A quick scan through your references and you realize that the Mi-24 wears quite a few distinctive and appealing color schemes. While a few decal sets have been published in the past for this kit, few are still available. What to do?
Linden Hill Decals to the rescue. This set is actually part two of a comprehensive series of colorful aircraft. In this release, the modeler is rewarded with 10 pages of color profiles covering 19 different aircraft!
The set is also comprised of one full sheet and two smaller sheets of decals to provide the unique aircraft markings.
Linden Hill also provides a set of maintenance stencils for the Mi-24 in a separate release. The decals are nicely printed and in register. The aircraft covered in this set are:
Mi-24RKh, Red 41, 440 OBVP, GSFG, Stendal AB, Germany, 1991
Mi-24V, Black 0183, 341 Letka, Slovak AF, Presov, Slovakia, 2000
Mi-24V, RDB/JSO, Serbian Security Services, Belgrade International Airport, 1998
Mi-24P, Red 66, 335 OBVP, Ukrainian Army Avn, Kalinov AB, Lvov, Ukraine, mid-1990s
Mi-24VP, Red 33, 288 OVP, Baltic Fleet, Russian Navy, Nivenskoye AB, Kaliningrad, 2001
Mi-24D, CH612, 9 Helicopter Sqn, Sri Lankan AF, 1997
Mi-35, H-357, 4 Helicopter Sqn, Angolan AF, 1991
Mi-24P, KFOR detachment, 27 Avn Group, Russian Army Avn, Kosovo, 2000
Mi-24V/Mi-35, 1 Flight, Eritrean AF, 2000
Mi-24D/Mi-35, 12st Attack Sqn, Ethiopian AF, 2000
Mi-24P, Air Mobility Assault Unit, Uzbek AF, 2003
Mi-24P, Air Mobility Assault Unit, Uzbek AF, 2003 @ Paris Airshow
Mi-25, 4493, 4 Attack Sqn, Iraqi Army, Basra, 1991
Mi-24D, TU-VHO, Army AF, Ivory Coast, Dec 2002
Mi-24P, Yellow 14, 262 OVE, Bagram AB, Dec 1988
Mi-24V, Red 23, 335 OBVP, Ganzi AB, 1985
Mi-35, Z3039, 104 Sqn, Indian AF, Gorakhpur AB,
Mi-24RKh, Blue 44, Armenian AF, 2004
Mi-24P, Lightning Bolt, Joint Air Group, Russian Army Avn, Grozny, Chechnya, 2000
You can see the wide variety of subjects in this set alone along with some distinctive camouflage schemes.
Linden Hill Decals can be purchased directly from their website at http://www.lindenhillimports.com/.
My sincere thanks to Linden Hill Decals for this review sample!