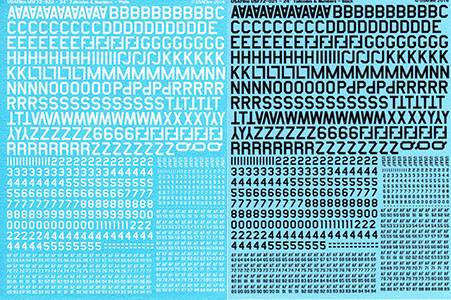 USAFline 1/72 Tailcodes and Numbers Decal First Look
| | | | |
| --- | --- | --- | --- |
| Date of Review | April 2017 | Manufacturer | USAFline |
| Subject | Tailcodes and Numbers | Scale | 1/72 |
| Set Number | 72021/22 | Pros | Fills gap in scale tail code decals |
| Cons | Nothing noted | Skill Level | Novice |
| MSRP (GBP) | £6.00 | | |
First Look
The Vietnam war marked the USAF transition from natural metal-like finishes to the well-known South East Asia (SEA) predominately green, brown and gray camouflage schemes for combat and some combat support aircraft.  The previous black lettering and numbering gave way in many cases to white or light gray, although, depending on the mission of the aircraft, some continued with the black tail codes, and in some cases red codes (some B-57s, SR-71, U-2).  The SEA camo lasted well into the '70s when it evolved into a "wrap-around scheme" of the upper surface colors, eliminating the under-fuselage and under-wing gray and changing the tail codes to black.  The "wrap-arounds" subsequently morphed to various shades of gray with some aircraft continuing to this day with black tail-codes and others with contrasting gray tail-codes.
USAFline, an aftermarket company based in the United Kingdom, recently added two decal sheets with "Distinctive Unit Aircraft Markings," in 1/72 scale, 24-inch, black and white block letters and numbers.   The densely populated 6x8 inch water-slide sheets are crisply screen printed in accurate USAF style Amarillo font with thin carrier film and minimal edge film.  In addition to the scale 24-inch letters and appropriate serial numbers, on the same sheets, you will find 6-inch USAF markings and letters for camouflaged aircraft which did not carry the larger tail codes.  The two page 8 x 11½ instruction and placement guide is an excellent reference in its own right, drawing largely from the official USAF Tech Order 1-1-4 "EXTERIOR FINISHES, INSIGNIA AND MARKINGS, APPLICABLE TO USAF AIRCRAFT."  By the way, this reference document can be found at the excellent IPMS/UK USAF Special Interest Group website (http://www.usaf-sig.org).  Decals (and other goodies) may be ordered directly from USAFline.
These decals will be welcomed and used by many of us who want to accurately model specific subjects not covered by kit or commercial decals. They will also be useful in replacing those dried and yellowed old kit decals not up to current decal standards.  Highly Recommended.  My sincere thanks to USAFline for these review samples!