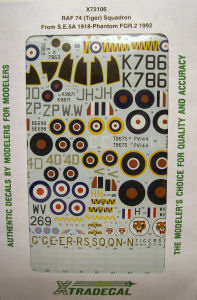 Xtradecals 1/72 RAF 74 Sqn Decal First Look
| | | | |
| --- | --- | --- | --- |
| Date of Review | October 2010 | Manufacturer | Xtradecals |
| Subject | RAF 74 Sqn | Scale | 1/72 |
| Set Number | 72106 | Pros | Superbly printed |
| Cons | None noted | Skill Level | Intermediate because of the underwing serials |
| MSRP (BP) | £7.99 | | |
First Look
74 Squadron RFC was formed at London Colney on July 01 1917 as a training unit flying Avro 504's. The squadron converted to SE5A's and moved to France in March 1918. One of the most famous British 'aces' of WWI joined 74 Sqn, Major Edward 'Mick' Mannock who is credited with shooting down 61 enemy aircraft (some say 73) including 20 in May 1918 alone. Mannock was the squadron commander who when he left wept openly at leaving.
74 Sqn stayed in France with the occupying forces until Feb 1919 when it returned to the UK disbanding in July. The squadron reformed in 1936 on board the troop ship MV Neuralia when detachments from six squadrons combined. 74 Sqn flew Hawker Demons for 10 months based in Malta before returning to the UK and re-equipping with Gloster Gauntlets.
Exchanging Gauntlets for Spitfire I's in Feb 1939. 74 Sqn began air defence patrols over southern England. From 1937 A flight was commanded by a South African, Adolph 'Sailor' Malan. 'Sailor' Malan became one of the RAF's foremost fighter tacticians during the Battle of Britain. He is linked with an incident which became known as the 'Battle of Barking. 3 days after war broke out at 6.15 a.m. on September 6th 1939, 74 Sqn were scrambled to intercept a suspected enemy incursion. The enemy was actually 56sqn in their Hurricanes who had also been scrambled. Seeing the enemy 'Sailor' ordered an attack in which 2 Hurricanes lagging behind the rest were shot down, 1 pilot being killed, 1 surviving. The court martial found that 'Sailor' was not at fault, exonerated the 2 pilots and removed the commander of 56sqn from his post. Malan is also famous for the 10 rules of air fighting and abandoning the 'Vic' formation of 3 aircraft for the tactically better 'Finger 4' as used by the Luftwaffe
During the Battle of Britain 74 Sqn was part of 12 Group under AVM Trafford Leigh Mallory defending the Midlands and covering for AVM Keith Park's 11 Group. As part of their duties 74 Sqn helped out with the air battles over Dunkirk during the evacuation. Taking part in the Battle of Britain the squadron moved to Coltishall in September to re-equip with Spitfire MkII's returning to Biggen Hill for the final stages in October.
Moving to the Middle East in April 1942, 74 Sqn was without aircraft for a while as the ship carrying theirs had been sunk, they kept busy by maintaining USAAF B24 Liberators. They eventually were equipped with Hurricane IIb's serving in Iran then moved back to Egypt to carry out anti shipping patrols. Whilst there they re-equipped with Spitfire V's. They moved back to the UK just in time for Operation Overlord subsequently moving to Europe as fighter bombers with Spitfire IX the XVI's..
The jet age came in when the Meteor F3 arrived and 74 Sqn became one of the first squadrons to re-equip with this. They did not return to Europe but provided air defence in the UK. The squadron moved to RAF Horsham St Faith and Meteors, mainly F8's, were used until 1957 when replaced by the Hawker Hunter F4 then quite quickly the Hunter F6.
Moving to Coltishall in 1959 to become the first RAF squadron to receive the English Electric Lightning F1 which they retained until replaced by F3 then F6's. The squadron disbanded for a 2nd time in August 1970 handing their aircraft to 56sqn in Malta.
That was not the end however, the Falklands war had left Britain' air defence forces stretched having to provide cover for the Falkland Islands and so 74 Sqn re-formed with off the shelf F4J Phantoms from US stocks. These were partly 'Anglicised' but the crews still had to wear US issue flight equipment. These were replaced in 1991 by surplus FGR2's.
74 Sqn(F) became 74 Sqn(R) when it converted to the BAE Hawk T1 and became a training unit finally disbanding in 2000 with the rationalisation of 4FTS. 74 Sqn was mooted to become a Typhoon squadron but this never came to pass.
The squadron badge was approved by King George VI in 1937 and is a tigers head. The motto is 'I Fear No Man'
Included are markings for 74 Squadron:
SE 5A F8990/R France 1918
Gauntlet Mk II K7863 RAF Hornchurch 1939
Supermarine Spitfire Mk 1 K9871 JH-O RAF Hornchurch 4/1939
Supermarine Spitfire Mk 1 K9871 ZP-O 8/1940
Supermarine Spitfire Mk II P8388 ZP-W `Black Vanities' 1941
Hawker Hurricane Mk IIB BE698/C Iran 1942
Supermarine Spitfire Mk VC Trop EP814/L Cyprus/Egypt 1943
Supermarine Spitfire Mk IXe PV144 4D-A Belgium 1944
Supermarine Spitfire Mk XVIe TB675 4D-V Germany 1945
Hunter F4 WV269 Exercise Vigilant Horsham St Faith 1957
Phantom F4J RAF Wattisham Oct 1984 – Dec 1990, all serials available
Phantom FGR.2 RAF Wattisham Dec 1990 – Oct 1992 all serials available
Not all aircraft types flown by 74 Sqnsqn are represented here but most can be found on other sheets.
These are printed by Microscale as other Xtradecal sheets, and it shows, the printing is spot on with absolutely no mis-registration apparent.
References: