Yellow-Wings Decals 1/48 Planes of the Movie 'Dive Bomber' Decal First Look
| | | | |
| --- | --- | --- | --- |
| Date of Review | July 2005 | Manufacturer | Yellow-Wings Decals |
| Subject | Planes of the Movie 'Dive Bomber' | Scale | 1/48 |
| Set Number | 48050 | Pros | Complete markings for nearly every aircraft in the movie |
| Cons | | Skill Level | Basic |
| MSRP (USD) | $29.95 | | |
First Look
Last month, Yellow Wings Decals announced a special set to be released just before the 2005 IPMS/USA National Convention. This set features eight decal sheets for virtually every aircraft that appeared in the Warner Brothers' 1941 movie "Dive Bomber". For more on the movie itself, click here.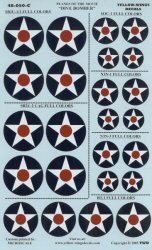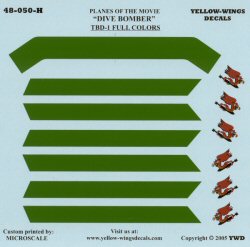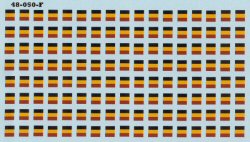 While the movie is typical Hollywood, the aircraft are 100% US Navy (except for that 'RAF fighter' that briefly appeared). What is especially exceptional is that the movie was filmed in full color, the only movie I am aware of that features pre-WW2 Navy aircraft in beautiful clarity.
The Vindicators of Bombing 3 and Bombing 3B were present at the filming, so some aircraft wore their Panther squadron emblems (VB-3B), while others wore the Top Hat (VB-3). While I was initially under the impression that the Top Hat squadron was a notional Hollywood creation, they were in fact VB-3. Thanks for the emails, I found them in the Monogram book. To add to the confusion, VB-4 was redesignated as VB-3 as the original VB-3 was dispatched to Ranger while the Saratoga was being overhauled, then VB-4 was sent to the Sara to fill in the gap. There was more squadron-swapping going on, but the bottom line is that the Top Hat squadron is real. In the movie, the Top Hat emblem was given a circle around it, that is the Hollywood adaptation of the squadron emblem but this decal sheet provides both versions.
This new decal set captures 27 aircraft, with enough materials left over to replicate many more. So what aircraft are covered in this set?
BT-1, Bombing 5 (VB-5), 5-B-1, BuNo 0591
BT-1, Bombing 6 (VB-6)

6-B-2, BuNo 0616
6-B-7, BuNo 0619

F2A-2, Fighting 3 (VF-3), 3-F-17, BuNo 1432
F3F-2, Fighting 6 (VF-6)

6-F-1, BuNo 0978
6-F-4, BuNo 0988
6-F-10, BuNo 0984

F3F-3, Fighting 6 (VF-6), 6-F-14, BuNo 1451
N3N-1, Training Sqn 2 (VN-2), 22, BuNo 0701
N3N-3

27, BuNo 1978
29, BuNo 2590
36, BuNo 2717

SB2U-1 Vindicator, Bombing 3 (VB-3), 3-B-2, BuNo 0728
SB2U-2 Vindicator, Bombing 3 (VB-3)

CAG Saratoga Air Group, BuNo 1328
3-B-1, BuNo 1333
3-B-3, BuNo 1381

SBC-3, Scouting 6 (VS-6), 6-S-1, BuNo 0565
SNJ-3 Harvard, BuNo 6786
SOC-1, 4-CS-14, BuNo 9894, USS Houston
TBD-1 Devastator, Torpedo 3 (VT-3)

3-T-2, BuNo 0365
3-T-3, BuNo 0279
3-T-6, BuNo 0336
3-T-13, BuNo 0283
3-T-14, BuNo 0284
3-T-15, BuNo 0285

XR2O-1, BuNo 0267 (Green Lockheed Electra)
XSB2C-1 Helldiver, BuNo 1758
Of course there is a small matter of kit availability with some of these sets, but with the prolific nature of many model companies, it is only a matter of time before these gaps are filled. Here is a list of what is out there in 1/48 scale:
Northrop BT-1 - Wings BT-1 (Vac)
Brewster F2A-2 Buffalo - Tamiya F2A-2, Classic Airframes F2A-1, Special Hobby F2A-3
Grumman F3F-2/3 - Accurate Miniatures F3F-2, Accurate Miniatures F3F-3
NAF N3N - nothing at present
Vought SB2U-1/2 Vindicator - Accurate Miniatures SB2U-1, Accurate Miniatures SB2U-2, HiPM SB2U
Curtiss SBC-3 Helldiver - Classic Airframes SBC-3
North American SNJ-3 Harvard - Revell-Monogram T-6, Ocidental T-6
Curtiss SOC-1 - Wings SOC-1 (Vac)
Douglas TBD-1 Devastator - Revell-Monogram TBD-1
Lockheed XR2O-1 - Williams Bros Electra 10 (1/53 scale)
Curtiss XSB2C-1 Helldiver - Revell-Monogram SB2C-4
Notice the small sheet that has nothing but those unique propeller warning stripes for the prop tips? That alone will save you lots of time and frustration.
If you're a fan of pre-war Naval Aviation, this one decal set has more options to choose from, all of which have their actual squadron markings shown in the movie. At $29.95 for eight sheets of decals, this set is definitely a bargain!
You'd better order your set ASAP as I imagine they'll move rather quickly at the IPMS/USA National Convention. If you attend the convention, stop by Yellow Wings' booth and you'll find this set and their full line of decals at special prices. Highly recommended!
Yellow-Wings Decals can be purchased directly from their website at www.yellow-wingsdecals.com.
My sincere thanks to Yellow-Wings Decals for this review sample!