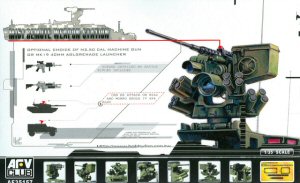 AFV Club 1/35 M151 Remote Weapon Station First Look
| | | | |
| --- | --- | --- | --- |
| Date of Review | September 2007 | Manufacturer | AFV Club |
| Subject | M151 Remote Weapon Station | Scale | 1/35 |
| Kit Number | 35157 | Primary Media | 185 parts (163 in olive styrene, 17 clear styrene, 4 etched brass, 1 vinyl) |
| Pros | Provides separate RWS mount and accessories for any modern US vehicle mounting this unit; upgrades and fixes kits like the early Trumpeter Stryker kits | Cons | An awful lot of spare parts for the purchase of one small accessory kit |
| Skill Level | Basic | MSRP (USD) | $15.00 |
First Look
Going to the big world military and arms shows like IDEX, DSEi or AUSA, one is struck rather quickly by the number of protected vehicles now on offer as well as the selection of remote control weaponry for them. AUSA 2006 showed at least a dozen of them with varying weapons and functions, including one with Metalstorm 40mm grenade launchers. But most consist of a single weapons station with one or two lighter weapons, smoke grenade launchers, and collocated sights for control from under armor.
This one, the M151 RWS, is the current standard one used by the US on the Stryker series wheeled armored vehicles. It combines either an M2HB .50 caliber machine gun or a Mark 19 40mm grenade launcher with a fully stabilized mount and sighting station controlled by joystick from inside the vehicle. This is a fairly fast acting system which permits the gunner to remain protected, and at the same time use "pan and zoom" to zero in on miscreant targets and engage them effectively night or day. While the RWS can be mounted on just about any US vehicle, it is currently mounted on members of the Stryker family, assorted up-armored HMMWV vehicles, and can be used with the M1A2 SEP version of the Abrams tank. (Curious to me is why, as that tank specifically changed the old remote control commander's weapon station and cupola for a manual machine gun and increased visibility fixed cupola.)
AFV Club has done this up right, and has now offered this as a separate four-sprue kit spun off from its excellent M1126 version of the Stryker. But as noted in the comments, most of the parts in this kit are superfluous to the RWS and as such can go to the parts bin.
The actual RWS consists of 63 parts which is still a stunning amount for what amounts to a "Ma Deuce on steroids." As with all AFV Club kits, it abounds with RP parts (right puny) so care must be taken with assembly and installation. A vinyl keeper is included so once the RWS is mounted on the vehicle of choice it can still traverse as the actual weapon station does.
Trumpeter produced one for its kit which was quickly noted as missing a great deal of details; such is not the case here, and it includes both the "eyebrow" shield for the TV camera lens cover as well as a mandrel for bending it to the correct shape prior to installation. This RWS can be used to replace the somewhat anemic one on the Trumpeter kit or for any of the Humvee kits on the market as well.
The remaining parts are not a waste of plastic, as they include handy bits like an M4 carbine with "red dot" sight, an M4/M203 combination, four plastic water cans, a complete set of modern US lights (two head and four turnsignal/stoplight pods), and many small handholds and details. The Stryker wheel components are alas unique, but if you have a Trumpeter kit and want to change the wheels with more precision of control (e.g over the step rings in the middle of the wheels) you may prefer these.
The directions are unfortunately printed over a B&W photo on the back of the box and as such are difficult to read without a good strong light. No decals are provided, and finishing consists of color suggestions inside the direction steps.
Overall this is a very nice piece of kit given good treatment, and should be popular with modern American modelers.
Sprue Layout:
F 65x2 M1126 Stryker wheels and details, water cans, smoke grenade launchers
G 33 M1126 weapons set and basic mountings
J 17 M1126 clear styrene sprue
M 4 Etched brass
1 1 vinyl keeper