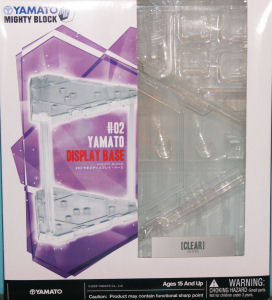 Yamato Display Base First Look
| | | | |
| --- | --- | --- | --- |
| Date of Review | July 2009 | Manufacturer | Yamato |
| Subject | Display Base | Scale | - |
| Kit Number | 34697 | Primary Media | Styrene |
| Pros | Finally a decent-sized display base for special model subjects | Cons | |
| Skill Level | Basic | MSRP (Yen) | ¥1,280 (about $13.80 USD) |
First Look
In recent years, we've been getting some incredible models that address subjects we'd never dreamed we have in styrene. While many of these subjects will stand on their own landing gear, tracks, wheels, or whatever, some are provided with no visible means of support and are left to sit undignified on our shelves.
Two recent subjects come to mind that some might find okay to sit directly on their shelves, these subjects will take up space that could also be shared with other models if there was a way to gracefully 'stack' some of these models. I was cruising through the latest releases to arrive at HobbyLink Japan and spotted such a solution that might have been overlooked.
Yamato produces a range of modular display bases that are targed at the Gundam and other mech warrior model market. One basic unit comes with two styrene triangles, six styrene legs, and several clips to allow the triangles to be clipped together. This set features clear parts, but there are other sets in the range that have various colors.
So what can you really do with these? If you're a science fiction modeler, you can take one set and park one of those large shelf-sitters above the rest of the pack. If you acquire a number of these sets, you can set up a more elaborate display for a collection of subjects. You're still wondering if I've crossed over to the robot mech warrior world? Not exactly.
Here is the subject I had in mind for my display base - the new Moebius Models 1/35 Flying Submarine. The base is about 6 inches across and will raise your subject about 7.5 inches off the shelf. Given that this Flying Sub comes with no display base or other means of getting off the shelf, I needed something to get this model off its belly. Not bad, eh? This stand would also be ideal for displaying the recent Hasegawa 1/20 Falke Antigravity Armored Raider Pkf.85 model.
This modular base system is quite nicely designed and I can see a number of these getting acquired to produce a multi-tiered display for other smaller subjects like the Colonial Viper, X-Wing Fighter, Cylon Raider, Spindrift, and many others that are also shelf-challenged. As a standalone display, this is just perfect to get my Flying Sub off the shelf and be able to position more models around the base and make more efficient use of my display space.
Just in case there is any confusion, this set contains one display base as shown in the column to the right above. You'll need to get your own Flying Submarine kit from Moebius Models (not included).
My sincere thanks to HobbyLink Japan for this review sample!