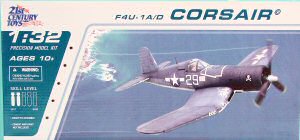 21st Century Toys 1/32 F4U-1A/D Corsair Kit First Look
| | | | |
| --- | --- | --- | --- |
| Date of Review | January 2007 | Manufacturer | 21st Century Toys |
| Subject | F4U-1A/D Corsair | Scale | 1/32 |
| Kit Number | 22104 | Primary Media | Styrene |
| Pros | Nice detailing; ease of assembly; bargain price! This kit is all about bringing fun back into the hobby | Cons | Not for the detail-oriented modeler |
| Skill Level | Basic | MSRP (USD) | Out of Production |
First Look
The first F4U Corsairs were developed in the late 1930s which featured the visually unique gull wing design. This was the result of an engineering trade-off to provide the longest propeller and the shortest practical landing gear strut.
For carrier landings, the longer the strut, the heavier and more vulnerable the gear is to impact stresses. Nevertheless, the F4U packed a huge engine under that long nose and the only way to translate all of that horsepower into thrust was by turning as large a propeller as possible. To provide the greatest ground-handling stability, the landing gear had to be spaced as far apart as practical. These requirements summed together yielded the now familiar gull wing design that, in turn, translated into a tough aircraft that would not only see combat through the end of WW2, but also serve on the front lines during the early years of the Korean War.
21st Century Toys has made the leap from pre-finished replica maker to model company. Actually, they're doing both. Making model kits isn't brand new to them - they started turning out some 1/32 armor kits in the last year or two, then they started releasing 1/32 aircraft kits late last year. Haven't seen one of these aircraft on the shelf yet? Well then you're not shopping in the right place. At the moment, these kits are being sold through Wal-Mart in the US only. It is my understanding that this will expand at some point in the future, but thanks to Wal-Mart, we have new-tooled 1/32 kits for under $15.00! When was the last time you've seen a new-tool kit in 1/32 for under $15?
The kit comes in a solid cardboard box and the parts are packaged so well that it would take some serious work to damage the kit in transit. The way each major part of group of minor parts is heat sealed into compartments in each bag is very similar to the high-end resin kits like those from Anigrand Craftswork. Very nice!
If I am not mistaken, these kits are the same tooling that we see pre-finished in other boxings of these kits. Therefore these are designed to be handled by aspiring teenage or adult aviators, not really for small children. Screws are used to reinforce the assembly of the major components.
The kit is molded in gray styrene and presented free of parts trees, and while this may have been originally designed as a pre-assembled/pre-finished replica before, you can see in the images that it doesn't lack for details.
While the detail-oriented modeler might scoff at a kit like this, I applaud 21st Century Toys for 'getting it'. For too long the hobby industry has been focused on pleasing the detail-oriented modeler, which in turn drives development costs of new tooling sky high. Many companies keep raising the prices on kits from their paid-for tooling to help offset the development costs of new kits. As a result, this hobby gets more expensive all the time, and it is harder to draw new modelers into the world of $50-$150 1/32 styrene kits without some intermediate steps.
For those of us ancient enough to remember, there once was a company called Monogram before it was assimilated by Revell. Monogram made 1/48 & 1/32 models that had some toy-like features that would get scoffed at today by the same modelers that were seduced by these same kits so many years ago.
I learned about retractable landing gear from the working features of the Monogram 1/32 F3F and Phantom Mustang kits. I was fascinated by the different ways wings could fold with the Monogram F4U, F6F, TBF, TBD, and more. If it weren't for these kits, I might not have been inspired to flight school or to serve my country in the US Air Force. All because different aspects of these 'working' models captured my imagination.
If you see any of these kits today, they're priced beyond the entry-level modeler anymore and are packaged to appeal to us older modelers, not to draw in the new hobbyists. So back to my point - 21st Century Toys and Wal-Mart 'get it'. Here are the Monogram kits of the 21st Century (of course produced by 21st Century Toys) at a price that younger modelers can afford and rugged enough for those treks through the imagination.
This F4U kit appears to have the essential details right - no floorboard in the cockpit; separately molded cylinder banks for the engine; open cowl flaps; retractable landing gear; and folding wings. The pilot figure in the kit is very nicely molded and will look outstanding in the cockpit! You have your choice of external fuel tanks or bombs on the inboard pylons and rockets under the wings.
A very nice sheet of decals are included for three examples:
F4U-1A, VF-17, 29, Bougainville 1944, as flown by LtJG Ira Kepford
F4U-1D, VF-84, 167, USS Bunker Hill, Feb 1945, as flown by Lt Roger Hedrick
F4U-1D, VMF-441, N-44, 1945, pilot unknown
Make no mistakes, these are not stickers, these are nice decals which you might want to keep the extras for that Trumpeter project.
Even us 'older' modelers can enjoy one of these kits as you can either slap one of these kits together in a weekend, or take a little extra time to make a model that would be fun to park next to a Trumpeter 1/32 F4U on an IPMS contest table. You've just got to do that at least once!
I applaud 21st Century Toys for developing these new inexpensive kits as a proper segue for new modelers to get interest in our unique craft or to recapture a former modeler back into the hobby. In either case, once these new modelers have a few of these kits under their belts, they will aspire to greater challenges and broaden the market for those detailed kits that the rest of us love.
My sincere thanks to 21st Century Toys for this review sample!