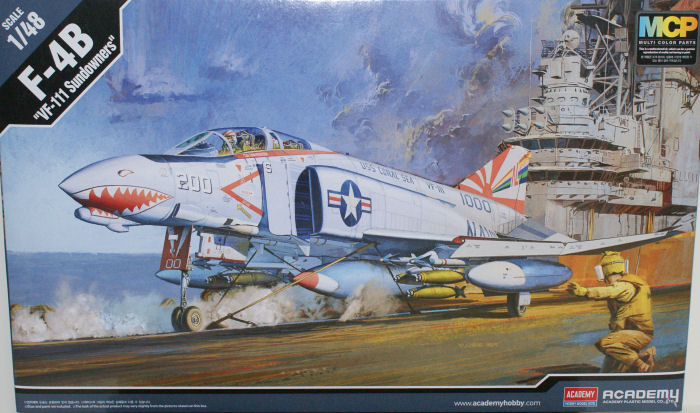 Academy 1/48 F-4B Phantom II 'VF-111 Sundowners' Kit First Look
| | | | |
| --- | --- | --- | --- |
| Date of Review | November 2012 | Manufacturer | Academy |
| Subject | F-4B Phantom II 'VF-111 Sundowners' | Scale | 1/48 |
| Kit Number | 12232 | Primary Media | Styrene |
| Pros | First new-tool Phantom in this scale in decades | Cons | Multi-color parts won't please some modelers |
| Skill Level | Basic | MSRP (USD) | $69.00 |
First Look
Unlike most military aircraft developments, the F4H was a company-funded development that initially did little to interest the US Navy. Nevertheless, the Navy started warming to the idea of a powerful carrier-based all-weather interceptor. First flown in May 1958, the prototype displayed impressive performance with the help of its twin afterburning J79 engines. The Phantom II was born.
Developed as the guided missile interceptor, the F4H, re-designated as the F-4 in 1963, featured a powerful intercept radar, a two-man crew, and up to eight guided missiles. This aircraft was supposed to make the air-to-air gun obsolete. That didn't happen, but that's another story. Typical loadout for the aircraft was four IR-guided AIM-9 Sidewinders on the inboard stations, four radar-guided AIM-7 Sparrow missiles in semi-recessed bays under the fuselage, and three external fuel tanks, two on the outboard stations and one centerline.
The Navy operated a limited number of F-4As for a brief time while their preferred initial configuration, the F-4B was under production. Combat experience with the F-4B and advancements in avionics and engine technology led to the next USN version - the F-4J. The F-4J featured the new AWG-10 radar, the J79-GE-10 engines, slatted tail surfaces and drooped ailerons. When the next Navy fighter was cancelled (F-111B) and its follow-on was experiencing some delays (F-14), the Navy performed service life updates to its Phantom fleet with the F-4B and F-4J receiving avionics upgrades and airframe life extensions. The upgraded F-4B would be designated as F-4N while the updated F-4J would be designated F-4S.
When I first heard that Academy was going to produce the F-4B Phantom II in 1/48 scale, I was skeptical. How could anyone possibly unseat the king of 1/48th scale Phantoms - Hasegawa? Hasegawa has produced nearly every variant of the F-4 though the F-4B was one of the first off Phantoms off their production line many years ago. Perhaps beating the Hasegawa F-4B wouldn't be that difficult given that the kit, along with their original F-4C/D and F-4J releases, featured raised panel lines before Hasegawa switched all future kits to the scribed surface detailing. Even so, can this Academy kit contend with the other Hasegawa Phantoms? Let's take a look:
The kit is molded in Multi-Colored Plastic (MCP) as indicated on the box. The intent was to mold the kit with enough color separation as to allow the younger or less-experienced modeler build this kit without painting and have a reasonable Navy color scheme. Of course many modelers (including this one) will prime the airframe and repaint accordingly.The kit is molded in gray styrene and presented on three parts trees, in white styrene and presented on eight parts trees (two duplicate weapons trees are not shown), in black styrene and presented on three parts trees plus two separate parts, and one tree in clear styrene. In all, there are 15 parts trees in this box (plus the two separate black parts).
Among the kit's features and options:
Fuselage is molded in one part, just like the Tamiya 1/32 kits
Kit is modular hinting at multiple variants, more on this later
Cockpit is nicely detailed
Rear cockpit has correct starboard sidewall
Nice Martin Baker ejection seats
Optional seated crew figures
Optional boarding ladder
Positionable canopies
Nicely detailed main gear wells
Main wheels and tires molded separately for ease of painting
Positionable rudder
Positionable speed brakes
Outer wing panels molded separately and can be folded (wing hinges not included)
Intakes have ducts to the compressor faces
Nice afterburner chambers with turbine faces
Positionable air refueling probe
External stores included for this version:
4 x AIM-9B Sidewinder
4 x AIM-7D/E Sparrow
12 x Mk.82 Slicks
2 x 370 gallon wing tanks
1 x 600 gallon centerline tank
2 x triple ejector racks (TER)
2 x multiple ejector rack (MER)
It would have been nice to have the options needed to pose the model as depicted in the box art which would mean positionable leading and trailing edge flaps as well as the extended nose gear strut option. After all, the afterburner nozzles are already set for maximum power.
This kit provides markings for one example:
F-4B, 15100, VF-111, NL/200, USS Coral Sea, 1975, CAG aircraft
The decal sheet not only provides the color CAG markings for this aircraft, it features a very thorough set of maintenance stenciling for the airframe and a nice set of stencils and markings for the weapons as well. Nice!
Future
If I stopped the review at this point, I'd have to say that Academy did a great job with this kit and it easily surpasses the details and options in the Hasegawa kit. If you've looked at the sprue tree images though, you know the story doesn't end here. This kit is designed to take Hasegawa on across a number of variants and the the hints are not at all subtle:
Two radomes - one for the F-4B/N, one for the F-4C/D
Four radome chin pods - F-4B/N, F-4C, F-4D, F-4D (Herpes)
Four vertical fin caps with options through at least the N-model
Lateral intake ECM antennas, short for the F-4J (late) and F-4S, long for the F-4N
The Navy pylons are on their own small sprue tree and I bet the gated off area have the USAF pylons
The upper wing halves are on their own tree so the later upper halves with the wheel well bulges are easy to substitute by the factory
Unslotted (early F-4) and slotted (late F-4) stabilators
Two different types of instrument panels are included (didn't look too close to see what the other panel layout looked like)
Afterburner nozzles include the short nozzles for the F-4B/C/D/N and the long nozzles for the F-4E/G/J/S. One note on these, both sets of nozzles are molded full-open - not my preferred configuration, but there are loads of aftermarket nozzles out there
Main wheels include high and low-pressure tires (USN and USAF)
The rear cockpit has full rear sidepanels with starboard insert for USN/USMC versions but will still do USAF as well
There are no doubt other details I've overlooked, but you get the idea, Academy has big plans for this tooling in our near future. Now for a complete external stores inventory of what's in the box:
4 x AIM-9B
4 x AIM-9D
4 x AIM-9E
4 x AIM-9J/N/P
4 x AIM-9L/M
4 x AIM-7D/E
4 x AIM-7F
1 x ALQ-119
You can see from the weapons that there are a variety of USN, USMC, and USAF variants in our future.
As I said in the beginning, I was skeptical that Academy could unseat Hasegawa as best F-4 kit maker in 1/48 scale but I am convinced. The proof will be in a quick-build soon to see if this kit goes together as nicely as it looks in the box. Stay tuned. Aside from the colored plastic which isn't a plus for my tastes and the wide open nozzles, Academy has done a great job of putting everything in this box that we've had to seek from the aftermarket world to fix in the Hasegawa kits such as intake ducts and external stores. Overall, I think we have a winner here! I'm assuming that Academy will be using the same designs to render the F-4 in 1/72 scale, so it is a safe bet that they'll dominate that scale as well.
For a look at this kit build-up, take a look at our quick-build review.
This kit is definitely recommended!
My sincere thanks to Model Rectifier Corporation for this review sample!
References: