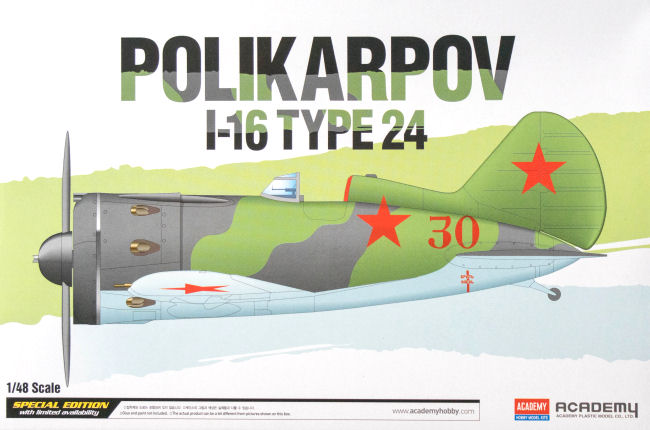 Academy 1/48 I-16 Type 24 Kit First Look
| | | | |
| --- | --- | --- | --- |
| Date of Review | July 2016 | Manufacturer | Academy |
| Subject | I-16 Type 24 | Scale | 1/48 |
| Kit Number | 12314 | Primary Media | Styrene |
| Pros | Simple build | Cons | See text |
| Skill Level | Basic | MSRP (USD) | $28.00 |
First Look
The Polikarpov I-16 was a monoplane evolution of the I-15 biplane that featured low-wing cantilever design. In addition, the aircraft (together with the I-153) introduced retractable landing gear into early Soviet fighters. The early I-16s featured an enclosed cockpit where the one-piece windscreen/canopy slid forward for pilot entry/egress, but the sliding feature would jam leading to subsequent designs having a fixed windscreen and no canopy.
The I-16 would see its baptism of fire in the second Sino-Japanese War, Battle of Khalkhin Gol, and the Spanish Civil war. It was in the last example that the I-16 would face off against the Messerschmitt Bf 109 for the first time and more than hold its own in aerial combat. It was because of that experience that later Bf 109 variants which faced the Soviets in WWII were better prepared to face the I-16 and prevail.
Academy has reissued their I-16 Type 24 kit in 1/48 scale and it is still a fun project to build. I've built a few of these over the years and though I've received a number of emails complaining about detail problems with the kit, I still think this model builds up nicely into a nice replica of the small Polikarpov fighter. Molded in light gray styrene, this kit is presented on three parts trees plus one tree of clear parts. This is the same tooling that has also appeared in Hobbycraft boxes.
Unlike past looks at this kit, this time I sat down with Eduard's nice 1/48 I-16 Type 24 and looked at the kits side-by-side:
The Eduard kit has a much nicer cockpit though you won't see much of it because neither kit has positionable entry doors (one on either side of the cockpit opening).
Neither have the holes for the natural light illumination of the instrument panel (which is mounted inside that barrel of a cockpit).
The Academy kit has a separately molded engine where the Eduard engine half is molded directly to a 'firewall'. Neither one matters much since you can't see much through the cowling shutters even when they're wide open.
The Academy kit has the exhaust stubs molded into the fuselage exit vents where there are separate pipes provided in the Eduard kit.
The Eduard kit has a more prominent cowling exit 'step' (which really should be open) than the Academy kit.
Neither have positionable flight controls (except for a separate rudder in the Eduard kit). If you want elevator droop in either kit, you'll have to do that surgically.
Neither kit has positionable landing flaps (a distinctive feature of the Type 24).
Neither kit depicts nor addresses the cable retraction system for the landing gear which is a visible feature of the aircraft.
The Eduard has better surface details and fabric covering depictions on the wings and tail surfaces than the Academy kit.
The bottom line here is that neither kit is perfect and both can be built into nice models. I've got both on the bench to prove that point - stay tuned.
Among the decal options in this release:
I-16 Type 24, Bort 30, 286 IAP, Leningrad Front, 1942, as flown by Lt I.K. Bratushka
I-16 Type 24, Bort 21, 4 GIAP, Black Sea Fleet, 1942, as flown by Capt G. Tsokolaev
I-16 Type 24, Bort 27, 254 IAP, Leningraf Front, 1942, as flown by Lt Krichevskij
I-16 Type 24, Bort 3, 69 IAP, Odessa, 1941
If you want a linguistic headache, I had to do a double-take on the Bort 21 example as the pilot's name is listed as Tsokolajew in the instructions, which is a common transliteration from Cyrillic (Russian) to Polish and then used in this Korean kit and translated to English. But I digress...
As I said above, this is a fun little kit of a fierce fighter during the early days of World War II. If you really want more details and options for your I-16, you'll want to find a 1/32 scale kit of the I-16 as even in that scale, the model is still small. Could you imagine fighting in middle of a Russian winter inside that open cockpit? You just know that the heat vents from the engine are wide open inside that cockpit...
My sincere thanks to MRC for this review sample!