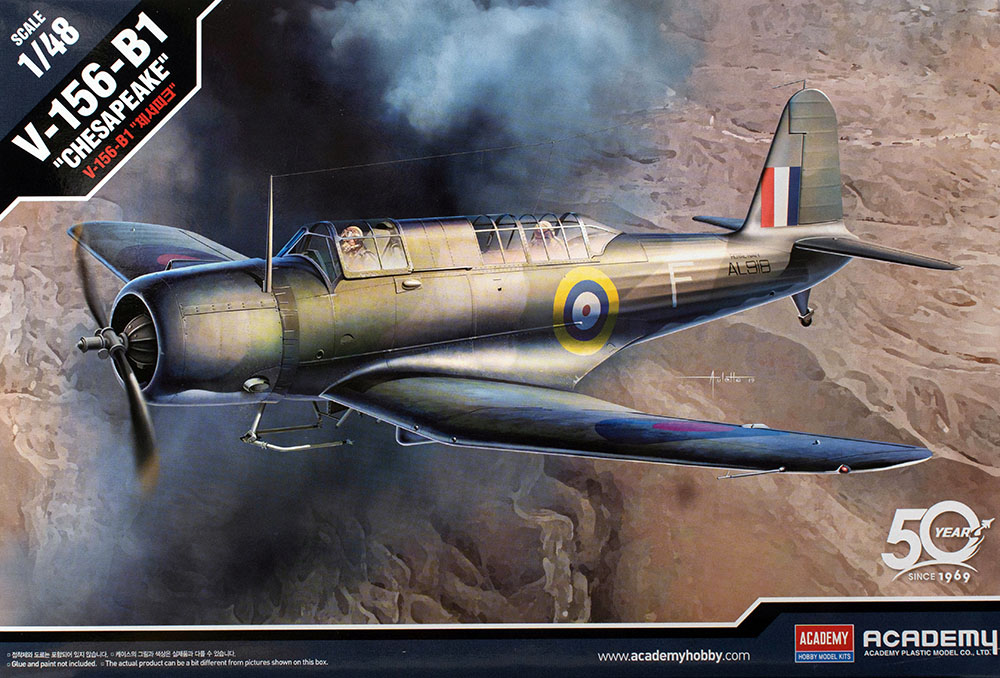 Academy 1/48 V-156-B1 Chesapeake Kit First Look
| | | | |
| --- | --- | --- | --- |
| Date of Review | October 2019 | Manufacturer | Academy |
| Subject | V-156-B1 Chesapeake | Scale | 1/48 |
| Kit Number | 12330 | Primary Media | Styrene, Photo-Etch |
| Pros | Nice subject | Cons | See text |
| Skill Level | Experienced | MSRP (USD) | $39.00 |
First Look
The SB2U Vindicator was one of several designs for scout bombers that the US Navy procured in mid-1934 to transition the Navy's combat aircraft from biplane to low-wing monoplane. In addition to the SB2U, two other notable aircraft in this category were Douglas' TBD Devastator and Northrop's BT-1.
The SB2U first flew in January 1936 and delivered to the US Navy in July of that year. The prototype was lost a month later when the crew maneuvered into a high speed stall at low altitude and spun into the ground. In spite of the accident, the Navy awarded Vought a contract for 54 SB2U-1 aircraft in October 1936. These aircraft would equip several bombing squadrons and serve the Navy well between the wars. In January 1938, the Navy ordered 58 additional Vindicators with some minor changes in internal equipment. These aircraft were designated SB2U-2 and were externally identical to the SB2U-1. While whole squadrons were initially equipped with the SB2U-2, it didn't take long with attrition replacements for the Bombing Squadrons to be equipped with a mixture of SB2U-1s and SB2U-2s. The SB2U-1 and SB2U-2 were essentially obsolete by the time the US entered World War 2, though a number of them served aboard the USS Ranger conducting anti-submarine patrols in the Atlantic until replaced by the SBD Dauntless in mid-1942.
You'll remember the Vindicator kits produced by Accurate Miniatures more than a decade ago before the company ceased operations. Like many of the other nice toolings from A-M, the folks at Academy have been periodically reissuing them and their first release for the Vindicator tooling is this V-156-B1 Chesapeake. The Chesapeake was the export version that saw service with the Royal Navy and French Navy during late 1930s but were considered too underpowered to be effective in combat.
The cockpit interior detailing is very nice. Starting with the rib and stringer detailing inside the fuselage halves, there is some very nice molding done here. There are naturally ejector pin marks inside the fuselage halves (how else could they get these parts off the molds?) but they are placed in areas not visible after assembly. Very nice engineering here. The cockpit interior is replicated very thoroughly, right down to the curved pilot's floor that is actually the top of the wing. The side framing in the front and rear cockpits with all of the associated detailing is also well done. Take your time here as you'll need to do lots of dry-fitting to understand where everything goes and how it fits together. Photo-etched seat belts are included for the front and rear cockpits.
One of the biggest complaints about the original Vindicator (and other subjects) from Accurate Miniatures was the instructions. Academy has reworked the instructions and you'll finally find a step-by-step layout that is easily followed.
Externally, the kit features your choice of open or closed cowl flaps, raised or lowered landing gear, open or closed canopies, and your choice of training or full-sized bombs, or even a centerline fuel tank.
Markings are included for seven examples:
V-156-B, AL924, K, 811 Sqn, FAA, NAS Lee-on Solent, 1941
V-156-B, AL918, F, 811 Sqn, FAA, NAS Lee-on Solent, 1941
V-156-B, AL943, FAA
V-156-B, AL912, FAA
V-156-F, No.20, 10, Escadrille AB1, Boulogne-Alprech, 1939-1940
V-156-F, No.7, 6, Escadrille AB1, Boulogne-Alprech, 1939-1940
V-156-F, No.12, ABI-12, Escadrille AB1, Boulogne-Alprech, 1939-1940
It has been over eight years since the last time this kit was available and it is nice to see it in proper shape. The sink marks that plagued the first A-M released were resolved on the second release, but A-M could never get the canopy paint masks properly sized - Academy has solved that in this release. In short, this is the Vindicator we've been waiting for! Whether you build this in British or French colors, or visit Yellow-Wings Decals for a variety of U.S. Navy options, this kit will look great on your scale flightline!
Here is a list of paints recommended by Academy and their equivalents:
AMMO
AV
GSI
HAT
LC
MIS
MRP
REV
TAM
TES
XTRA
Yellow
0048
71.078
C004
H004
N004
A290
C290
UA042
MMP007
386
32112
36112
LP08
X08
1707
Silver
0195
70.790
C008
H008
N008
A003
C003
LC074
MMM006
003
32190
36190
LP11
X11
X038
Copper
0199
71.068
C010
H010
N010
LC078
MMC004
154
32193
36193
XF06
Flat Black
0046
71.057
C033
H012
N012
A041
C041
LC002
017
LP03
XF01
1749
Orange
71.083
C059
H014
N014
A704
C704
LC005
A068
32130
36130
TS12
X06
Steel
0191
71.065
C028
H018
N018
MMM002
030
32191
36191
LP40
X10
1780
X502
Bright Green
Dilectric Green
70.970
C066
H026
N026
A327
C327
032
TS35
X28
Wood Brown
71.293
C043
H037
N037
A213
C213
UA082
MMP130
387
1701
Olive Drab
71.016
C012
H052
N052
AS06
X112
XA1112
IJA Gray
71.326
C056
H062
N062
AS18
XF14
2115
X352
Clear Red
70.934
C047
H090
N090
MMP167
LP72
X27
Clear Blue
70.938
C050
H093
N093
MMP168
LP68
X23
Gunship Gray
0204
71.097
C305
H305
A031
C031
UA022
MMP084
040
A066
32174
36174
AS27
1723
Gray
0211
71.275
C306
H306
A054
C054
UA094
MMP118
039
A064
AS28
XF20
1725
Dark Green
0206
C330
H330
A143
C143
AS30
XF81
2060
Gray
0210
71.114
C337
H337
A046
C046
UA625
MMP072
105
1721
X126
XA1126
My sincere thanks to MRC for this review sample!