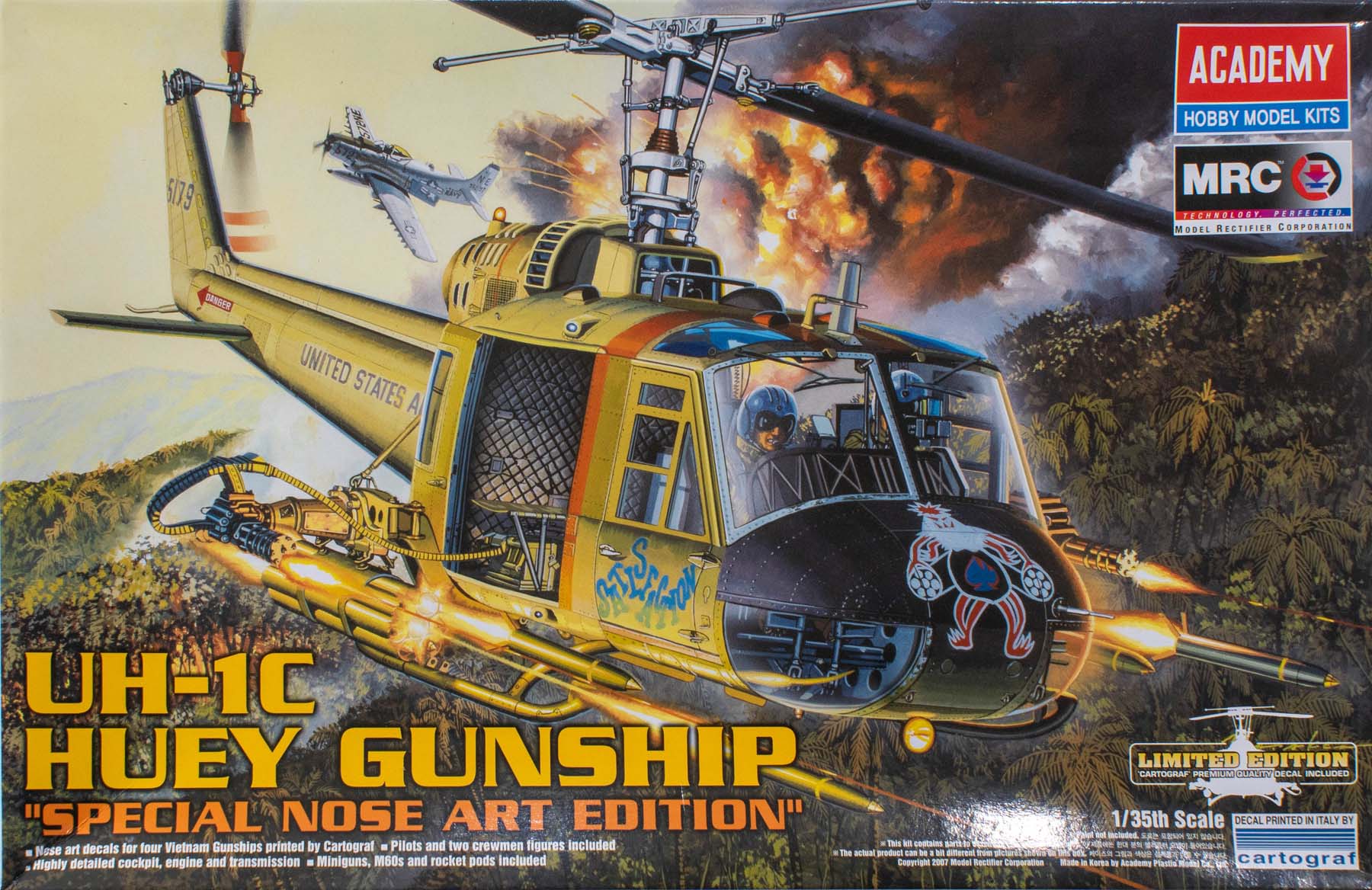 Academy/MRC 1/35 UH-1C Huey Gunship Kit First Look
| | | | |
| --- | --- | --- | --- |
| Date of Review | September 2020 | Manufacturer | Academy/MRC |
| Subject | UH-1C Huey Gunship | Scale | 1/35 |
| Kit Number | 12701 | Primary Media | Styrene |
| Pros | Excellent detailing inside and out! | Cons | Nothing noted |
| Skill Level | Basic | MSRP (USD) | OOP |
First Look
In the mid 1950s, the U.S. Army issued a contract to Bell Aircraft to develop and produce their Model 204 helicopter to meet the service's medevac and utility helicopter requirements. Designated by the Army as the HU-1 Iroquois, the HU-1 designation led to the aircraft's nickname of Huey. The initial design was the HU-1A powered by a 770shp T53 turbine engine, but the service found the aircraft to be underpowered requiring the pilot to use maximum power at all times in the field. The HU-1B was essentially the same aircraft except for the engine being upgraded to 960shp. As the HU-1B was widely fielded, the Army wanted armed escorts to protect the troop transport versions. The armed HU-1B configuration revealed further shortcomings to the aircraft's design as it too was underpowered when lofting the guns, ammunition, and rocket pods. Furthermore, the aircraft's rotor system suffered retreating blade stalls while diving on ground targets as well as stability problems. This led Bell to modify the Model 204 to accommodate an 1100shp engine, a redesigned rotor head, longer tail boom, larger elevators, and a wider chord vertical stabilizer. Many of these updates were retrofitted to the HU-1B as well. In 1962, then-SECDEF Robert McNamara mandated that all four military branches use the same aircraft designation system and the HU-1 became the UH-1.
In the early 1990s, Model Rectifier Corporation (MRC) had Academy produce the AH-1T/W Cobras and UH-1C gunships in 1/35th scale. This was an interesting departure from the 'norm' as previous helicopter kits (namely Revell and Hawk) were produced in the standard 1/32 aircraft scale versus these using the standard 1/35 armor scale. Since that time, 1/35th became the 'new normal' for helicopter kits. I was a bit surprised to see that we have never looked at the MRC/Academy 1/35 UH-1C on Cybermodeler Online, and it just so happened that I had one I had picked up at an IPMS show stashed away for a rainy day. Since it was raining outside, what better time to take a look?
The kit is molded in gray styrene and presented on six parts trees plus one tree of clear parts and one sprue of rubber (vinyl) ammo belts. Since this is a special edition release of the UH-1C gunship, this one also has a set of special artwork decals printed by Cartograf. Among the features and options:
Armored pilots seats
Fixed gunsight for pilot and flex gunsight for copilot
Positionable cockpit entry doors
Positionable sliding main cabin doors
Bench seat over the ammo containers at the rear bulkhead
Detailed T53 engine, transmission, and rotorhead
Positionable engine covers
External weapons mounts for two 19-shot rocket pods and two 7.62mm miniguns
M60 machine guns for door gunners w/ammo cans
Optional crew figures: pilot, copilot, crew chief/door gunner, and door gunner
Markings are provided on two decal sheets for three aircraft:
UH-1C, 66-15179. 188th AHC, Tay Ninh, Vietnam, 1966, 'Satisfaction'
UH-1M, 66-15127. 135th AHC, Dong Tam, Vietnam, 1970/71, 'Taipan'
UH-1M, 66-00509. 240th AHC, Bearcat, Vietnam, 1970, 'Maddog 37'
UH-1C, 65-09552. 189th AHC, Pleiku, Vietnam, 'Crystal Ship'
In addition to the distinctive markings, the decals also include maintenance and weapons stenciling.
While this kit has been available off-and-on for a few decades, the detailing is good and will benefit from some aftermarket crew restraints and will provide the AMS modeler with an opportunity to really set this model apart from the rest. I'm looking at the instrument panel and consoles as an opportunity to add Anyz knobs and switches as well as Airscale instruments to bring this model to that next level. While Kitty Hawk has announced the UH-1B in 1/35 scale, it may be a while before we see the UH-1C and what better time to be proven wrong by putting this project on the bench!