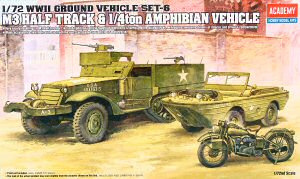 Academy 1/72 WWII Ground Vehicle Set No. 6 Kit First Look
| | | | |
| --- | --- | --- | --- |
| Date of Review | February 2007 | Manufacturer | Academy |
| Subject | WWII Ground Vehicle Set No. 6 – M3 Half Track & 1/4 ton Amphibian Vehicle | Scale | 1/72 |
| Kit Number | 13408 | Primary Media | 96 parts in olive green styrene |
| Pros | Nicely done "slide molded" components for "cab" and tracks, GPA at least as good as 1/35 scale one, Harley WLA a plus | Cons | No clear parts for windshields, decals not quite right |
| Skill Level | Basic | MSRP (USD) | $20.00 |
First Look
This is the sixth in Academy's series of World War II ground vehicles and provides three US items in one go: an M3A1 halftrack, a Ford GPA (or "Seep" in some circles) and a Harley-Davidson WLA 45 motorcycle.
The halftrack comprises 66 parts of the kit and is a great improvement on the old Airfix 1/72 and Hasegawa 1/72 kits, using "slide molding" to come up with a one-piece "cab" assembly (hood, doors and supporting structure) as well as a nicely done set of running gear. The tracks consist of a track run with the rear road wheels, idlers and drivers molded in place and separate front components, which are well done in this scale.
The chassis has the front springs and idler adjustment springs and mounts as separate parts with the rear drive axle part of the chassis and the front axle and drive shaft separate. As it is a later model M3A1 only the "combat" lights are provided and not the "automotive" headlights.
The "cab" section offers optional radiator louvers (open or closed) as well as side windows and windshield cover; the doors are fixed. Oddly enough no clear material is provided for the windshield itself. While the model offers a choice of either bumper roller or winch, no drive shaft is provided for the winch, and one must come from either spares or microrod.
The body comes with a separate rear door, mine racks less mines, and twin luggage racks for the rear; no braces are provided for the latter but can be made from stretched sprue without difficulty. Seat backs are separate and leave stowage space behind them. An M49 ring mount with .50 caliber M2HB and a pair of .30 caliber Brownings are also provided for complete armament.
The GPA comprises 24 parts and is very nicely done, with a number of very tiny detail parts to dress it up. The hull comes in three main parts - lower hull tub, front deck, and interior/rear deck. Stub axles are "slide molded" to the lower tub along with spring detail and only the differentials and drive shafts need to be installed to complete the chassis detail.
Again, no clear material is provided for the windshield.
The WLA 45 consists of six parts: frame and rear wheel, front wheel with "springer" fork and headlight, handlebars with springs, two "crash" bars and a center stand. The spokes are as delicate as can be expected with plastic molding, and are commendable for their fineness.
The finishing instructions are basically "paint olive drab" which is correct, but the decals seem to once again miss the mark. Academy should realize by now that when you have an American unit the "number-dash-letter" is just that – e.g. 6-I for 6th Infantry (Battalion here) and 27-I for 27th Infantry (Battalion). They present them as "6-1" and "27-1" which is wrong. Also, the 1st Armored Division did have the 6th Armored Infantry Battalion which is correct; but the other on the decal sheet is credited to the 5th Armored Division which is wrong as it should be the 9th Armored Division. Markings as given in the directions are accurate as far as they go.
Overall, this is a nice "gap filler" for small-scale armor fans and will also lend itself to dioramas, e.g. US forces taking over German airfields etc.
Thanks to MRC for the review sample.