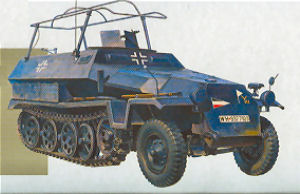 AFV Club 1/35 Sd.Kfz.251/3 Ausf.C - Special Edition Kit First Look
| | | | |
| --- | --- | --- | --- |
| Date of Review | June 2009 | Manufacturer | AFV Club |
| Subject | Sd.Kfz.251/3 Ausf.C - Special Edition | Scale | 1/35 |
| Kit Number | 35S50 | Primary Media | 458 parts (418 in olive drab styrene, 18 etched brass, 2 black vinyl) |
| Pros | Recombination of kit parts provides new kit; beautiful radio sets | Cons | Petite parts required detailed care; many parts similar in shape and function |
| Skill Level | Experienced | MSRP (USD) | $45-50 |
First Look
AFV Club have recombined parts from several older kits with some nice new bits to create a model of the other primary German command vehicle, the Sd.Kfz. 251/3 model. Previously both they and DML had done an Sd.Kfz. 251/17 air defense command variant, which was the donor for the radio sets in this kit, and DML had done an Sd.Kfz. 251/6 command variant.
This kit is based on the excellent AFV Club C model, which used parts from their earlier Sd.Kfz. 11 kit as well. While listed in their "S" series as a special kit, it uses mostly standard kit parts from various kits combined with a total of 27 new parts and a lovely set of 12 "jerry" cans of two different styles.
As with past AFV Club armored halftracks, the hull comes in three basic parts (sides with road wheel mounts and top) and a stock set of base parts for the center of the hull (belly and floor). The hinges for the dismount compartment doors are somewhat thicker than the DML ones, but as these work and the others do not it was more a case of "over-engineering" for durability.
There are a few optional body parts. The armored radiator air exhaust louvers are provided in two styles and the builder has the option of which one to use. No engine is provided for the engine compartment, nor do the side bins provide for opened or closed options.
As with past kits this one comes with one-piece black vinyl tracks, which make assembly much easier and faster. These do need care, as they are "handed" with one side one link longer than the other to cover the torsion bar layout difference in length of the track sets. However, they are unfortunately old-fashioned ones and require assembly with ACC cement, not standard tube cement; the pins are too small to use a "hot screwdriver" on for sealing either. AFV Club makes four different styles of single-link track for the 3 ton halftrack family, and these can be selected after-market for the model: early model (AF 35044), late model (AF 35069), late model steel (AF 35070) or final model rubber type (AF 35081).
As noted this kit uses the radio sets from the "stroke 17" command vehicle and as such provides a total of five radio sets. As with the DML kits, unfortunately no wiring or cabling diagrams are provided . The frame antenna and mountings for this vehicle come from the earlier kit as well.
Markings are provided for five different vehicles: 9th Panzer Division, Russia September 1941 (grey with white outline crosses); 11th Panzer Division, Russia winter 1942-43 (grey with whitewash); 14th Panzer Division, Ukraine 1942 (grey with white outline crosses); 4th Panzer Division, Russia (grey with whitewash splotches); and 5th Light Panzer Division, Libya, March 1941 (grey with sand stripes). A small sheet of decals is provided along with "targeted" license plates.
Overall, this is a decent kit which fills another gap in the "251" family.
Sprue Layout:
A 33x2 251 road wheels and tires (35040)
A 27 "Rail" type antenna and mountings (35S50)
B 28 251 drivers and front axles (35040)
B 49 12 jerry cans and fuel filler nozzle (35S50)
C 3 251 C model hull top and fenders (35078)
C 47 251 C model lower hull and detail parts (35078)
F 34 German command vehicle radio sets and racks (35117)
G 18 Etched brass (35S50)
H 2 Black vinyl tracks
U 46 251 series basic inner hull detail (35063)
T 7 Antenna and stowage bin (35S47)
TA 15x2 251 series seats and interior stowage details (35063)
TB 13x2 251 series seats and interior stowage details (35063)
TC 13x2 251 series headlights and small details (35063)
X 11x2 German weapons - MG34, MG42, 4 x Kar 98K (35054)
UB 7 251 series floor and roof details