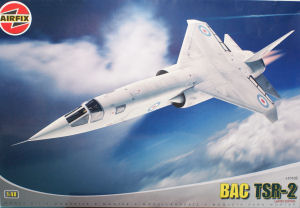 Airfix 1/48 BAC TSR.2 Kit First Look
| | | | |
| --- | --- | --- | --- |
| Date of Review | February 2009 | Manufacturer | Airfix |
| Subject | BAC TSR.2 | Scale | 1/48 |
| Kit Number | 10105 | Primary Media | Styrene |
| Pros | Beautifully engineered kit | Cons | |
| Skill Level | Basic | MSRP (USD) | $54.95 (Limited Edition) |
First Look
In the late 1950s, the Royal Air Force put forth a specification for a new combat aircraft that would be capable of all-weather, Mach 2+, and conventional strike, tactical nuclear strike, or reconnaissance capabilities. During this time, the mission was being accomplished by the venerable Canberra, which was quite versatile, but definitely not supersonic. The RAF was looking for a similar capability acquired by the USAF with the F-105 Thunderchief and later by the FB-111A.
This requirement was later refined to add low-altitude penetration capabilities as the Soviet Union rolled out their radar-guided surface-to-air missile defenses. The combination of precision strike, high and low altitude capabilities, long range (unrefuelled), and weapons flexibility made for a technical challenge, but what came forth was the TSR.2.
The aircraft was a two-place, twin-engined speed demon that had a relatively high wing loading for smooth low-altitude flight and capable of Mach 2.5. The Olympus 22 turbojet engines that powered the TSR.2 were early version of the engine that would later power Concorde at sustainded speeds of Mach 2.2.
Due to the mounting development costs and the usual political "shift in climate", the TSR.2 was cancelled in 1965 with only two aircraft flying and another five nearly completed. Three examples remain in museums in the United Kingdom.
There was lots of anticipation when Airfix announced the TSR.2 back in 2005, and much to their credit, they took their time to get it right! The kit was reportedly designed in 1/48 scale so that any design 'bugs' could be quickly identified and rectified prior to release. The kit was then downscaled to 1/72 and issued as a limited edition kit almost three years ago. At that time, I wished that they had kept the kit at 1/48 scale. Well here we are three years on and my wish came true.
Here is the 1/48 scale release of the TSR.2, and as I understand it, a few more of these kits have been produced given that the 1/72 scale limited edition release sold out in a matter of a few weeks. If you see one of these kits online or on the store shelf, don't blink as it will disappear rather quickly as well.
The kit is molded in Airfix white styrene and presented on five parts trees, plus a single tree of clear parts. While you can't really see the detailing in these shots, the kit features finely scribed panel lines and details.
The two-place cockpit is not bad in this scale - the detailing in both pits done in relief as opposed to decal-based details in the 1/72 kit. Two crew figures are provided for the ejection seats, though you'll probably want to use decal or photo-etched seatbelts/harnesses should you opt not to use the crew figures.
The fuselage is mostly done with two halves, but there is a belly plate and intakes that are added to the fuselage. There shouldn't be any problems, but with any kit, a little time spent dry-fitting and fine-tuning the joins will save time and filler later on.
The wings are top/bottom and will mount onto the top of the fuselage. This join should also be painless with some care.
Before the belly pan in installed on the underside of the fuselage, you will install the wheel wells and weapons bay. You have a choice nuclear shape or what appears to be a fuel/sensor pallet to go inside the weapons bay.
You can position the weapons bay doors open or closed, the ventral and dorsal speed brakes open or closed, as well and the twin canopies.
You'll love the nicely detailed main landing gear that captures the look of that unique twin-wheel arrangement.
Markings are provided for three examples:
TSR.2, XR219
TSR.2, XR220
TSR.2, XR222
All three were painted in the RAF Anti-Flash White with the subdued blue and red colors on the airframe markings. Like the Ford Model T, you can paint your TSR.2 in any color as long as it is white (if you're stuck in historical modeling), but it you are one who enjoys pushing the edge of that "what-if" envelope, there are aftermarket decals available to represent the TSR.2 had it entered operational service.
This is a very nice kit from Airfix and it is nice to see something that is all-new and not from existing 'modified' tooling. Kudos to Airfix for a job well done on this kit!