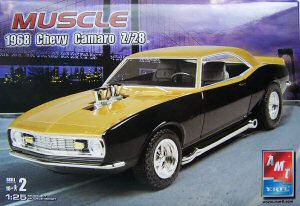 AMT/ERTL 1/24 1968 Camaro Z-28 Kit First Look
By Phil Cooley, Front Range Auto Modelers (FRAM)
| | | | |
| --- | --- | --- | --- |
| Date of Review | May 2006 | Manufacturer | AMT/ERTL |
| Subject | 1968 Camaro Z-28 | Scale | 1/24 |
| Kit Number | 1548 | Primary Media | Styrene |
| Pros | Easy build, good instructions | Cons | Cannot be built stock—no options |
| Skill Level | Basic | MSRP (USD) | $15.00 |
The 1:1
The 68 Camaro was the second year of the first generation bodystyle. Essentially a carry-over, there were some differences, mainly the elimination of the vent windows (68 was the first year of Astro Flow-through Ventilation), the addition of side marker lights, a more pointed front grill, and divided taillights.
One of the best parts of buying a 68 Camaro was all of the choices. You could buy a base Camaro with an inline 6 cylinder, a Z-28 with a high-revving 302 c.i. smallblock, an RS with a 350 c.i. smallblock, or an SS with either the 350 or a big block 396. And if one of those engines didn't fit the bill, you could order almost any other Chevy engine, except for the 427.
Out of the 235,147 Camaros sold in 1968, 40, 977 were RS versions, 27,884 were SS versions, and 7199 were Z-28 versions.
Engine: The small block engine has over 20 pieces and includes two piece headers, a blower assembly with dual carburetors, and chromed, ribbed valve covers. It also has two fan belt assemblies, plus a separate distributor and starter. Upper and lower radiator hoses are included, a definite plus in my book. The engine cannot be built stock with the parts included in this kit. A manual transmission is depicted.
Interior: The interior is a tub type, so the side details are very light. The front buckets are two piece and have headrests, which would have been a rare option in 1968 (they became standard in 1969). The upholstery pattern and dash do appear accurate for a Z-28. A console car is depicted and includes a chromed shifter and molded in pedals, including a clutch and emergency brake pedal.
Chassis: The chassis is molded in one piece and includes separate front and rear suspensions. The rear suspension correctly depicts a multileaf rear spring, which came on most V8 Camaros in 1968. It also includes staggered shock absorbers, which were new for 1968. The front suspension, though simplified, has a lower A-arm assembly, king pins, and a tie rod. It is a definite improvement over the original annual, but not quite as nice as the chassis of the Revell 69 Camaros.
Wheels/tires: A set of 5 spoke mags wheels is included and unlike several of the new AMT/ERTL big wheel releases, what you see on the box is what you get. The tires are big and little Goodyear Rally GTs, and though I like to see the Goodyear name instead of a no-name tire, the sidewall tread detail seems to be oversized—more like what you would see on a 4 X 4 than a performance car.
Body: The body appears to be molded accurately. The blower/carb setup is too tall to fit under a stock hood, so the hood is opened up to provide clearance. When I first looked at the body, I thought it was missing the side marker lights, which were introduced in 1968. They are there, but the molding is just very light, as is the molding for all of the Camaro emblems. The kit glass looks good and includes separate vent windows, which are not accurate for the '68. However, they are not called for in the instructions (which is good)—I suspect this assembly is a carryover from the 67 Camaro kit. I will save them for the parts box. I know I have other kits that need them.
Decals: The decal sheet is small with yellow/blue graphics for the sides of the model. It also includes Utah "MEAN-Z" personalized plates and an "I Love Model Cars" bumper sticker. A sheet of onion-skin type paper is over the decals for protection--a nice touch.
I am an old-school modeler—I started modeling in the golden era of AMT "3-in-1" kits. Frankly, I miss them and feel the model companies are missing the boat when they release kits which can only be built one way. (It would not take much to make this a 2-in-1 or 3-in-1.
I would gladly pay a $1.00 or $2.00 premium for this. If I recall correctly, back in the "good old days" the 3-in-1 kits were about $.50 more than the others). With that in mind, if you are looking for a street machine, this is a good kit for you. It has a "hot-rodded" engine, side pipes, mag wheels and performance tires. However, if you are more of a purist and want to build a stock 1968 Z-28, you can start with this kit, but would need to kitbash it with the '67 Z-28, which I believe is out of production, but available from various online vendors.
My sincere thanks to RC2 for this review sample!
Phil Cooley is a member of Front Range Auto Modelers.