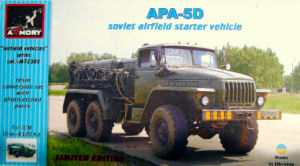 Armory 1/72 APA-5D Airfield Mobile Starter Unit Kit First Look
| | | | |
| --- | --- | --- | --- |
| Date of Review | March 2010 | Manufacturer | Armory |
| Subject | APA-5D Airfield Mobile Starter Unit | Scale | 1/72 |
| Kit Number | 72302 | Primary Media | Resin, Photo-etch |
| Pros | Nice conversion | Cons | Nothing noted |
| Skill Level | Experienced | MSRP (Euro) | 24.40€ |
First Look
I am sure many of you would agree that occasionally we want to switch our attention from modelling aircraft to something different at the same time not too much alien to our main topic. Those who nodded whilst reading the line above and for the rest of the Red Stars followers, please follow me!
This time I am holding a conversion kit to replicate APA-5D, the Russian Airfield Mobile Starter Unit. As per the manufacturer the conversion set is designed for ICM URAL-4320 model kit. You could equally use the same model from OMEGA-K as they are the same. Also if anyone has URAL-375 scale kit (also being produced by ICM/OMEGA-K) which is the earlier petrol version of a diesel-engine URAL-4320, then you can use the same conversion kit. In this case you'd get an APA-5 unit that are still serving at many airfields in Russia and beyond.
Please be aware that as a donor any kit of URAL-4320/URAL-375 by ICM/OMEGA-K would suit for this conversion and there are six different kits are available, i.e. URAL-4320 Soviet Army Truck, URAL-34203 Command Vehicle, URAL ATZ-5-4320 Fuel Truck, URAL-375D Soviet Army Truck, URAL-375A Shelter or URAL-375D Fuel Truck.
Inside the box you get 14 resin pats three of which are relatively large. Resin cast is flawless. You also get a fret of delicate photoetched parts that replicate elements of the cable holding farm, cable supporters and holders and other small elements, 26 in total. There is a four page assembly guide and a decal.
I found one resin part that is not mentioned in the assembly guide. It is a fuel tank of a lesser capacity which had to replace the original fuel tank of URAL truck due to necessary changes on the truck frame to accommodate starter units.
It means that you won't have to use the original kit parts for the fuel tank but substitute those with that unannounced resin part. I would say "well done" to ARMORY for noticing the change and making their kit so authentic. However I prefer to learn about such delicate details from the assembly guide.
A bit more about the parts: Electric Power Starter consists of two resin parts which I have already carefully cut off the sprues. They are to be assembled on a third relatively large piece of resin, the frame with rear wings, The three part assembly is to substitute whatever details there are behind the cabin of the donor kit.
Resin casting replicated intricate detail of power unit and generator bonnets, control panels, switches and sockets, locks, etc. The manufacturer suggests that we are to make from wire four rather large handles as well as several anchor hoops. For those there are marks on the castings and dimensions and shapes are provided for in the assembly manual. For those of you who get kicks from super detailing, there are still some areas to work on. It is not a criticism of the conversion set at all but a statement confirming that there are no limits for perfection.
For me one of the key factors that make this assembly look like a fine scale replica of the real thing is the way the electric cables are to be reproduced. The kit does not provide for those therefore one would have to improvise.
Next come smaller resin parts. You get searchlight, two pairs of farm turning columns, pair of supports, pair of mudguards with cat's eyes and a rear switch and sockets block and a cabin control panel for the dashboard a photo of which I took from the net.
Photoetched fret provides for turning cable holder farm assemblies, various brackets, hooks and cable holders. Turning cable holder farm assembly consists of 19 (!) parts each and there two of them. Please compare P/E part with the real thing.
Each turning column assembly consists of 3 P/E parts and two resin parts with total assembled length of 10 mm! This is what I am talking about here.
Similarly, the operator outdoor work station is a nice multiple detail assembly. In a word, you'd be very impressed with level of detail on that kit.
A small sheet 55Х35 mm is made by Authentic Decals, another up-and-coming Ukrainian manufacturer. The decal contains several options for number plates as well as tactical and warning signs, all in all 22 elements. It is printed sharp with thin lacquer layer whereby white figures on black number plates are clearly readable in 1:72 scale. That to me is quality.
This set pleasantly surprised overall. There is enough detail on quality resin cast to assembly the kit from out of box so to speak (I am a sinner if I talk OOB for a conversion set) but still there is some area for super detailing if one desires. Nicely added photoetched fret brings out to life all intricate detail of cable farms. Comparing the kit to photos of the real thing shows a very close resemblance to the prototype. However the web was not kind enough to us and did not produce any scale drawing for APA-5/5D. So pictures rule!! For me this kit is a perfect way to spice up a boring scene of my scale aircraft collection, an add-on to the main theme.
My sincere thanks to Armory for this review sample!