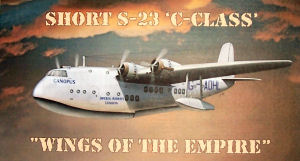 CMR 1/72 Short S.23 C-Class Empire Flying Boat Kit First Look
| | | | |
| --- | --- | --- | --- |
| Date of Review | February 2009 | Manufacturer | CMR |
| Subject | Short S.23 C-Class Empire Flying Boat | Scale | 1/72 |
| Kit Number | 0200 | Primary Media | Resin, Eduard Pre-coloured Photo Etch |
| Pros | Excellent quality, great detail & straightforward construction. The Pre-cut mask for all clear parts is a nice touch | Cons | |
| Skill Level | Experienced | MSRP (USD) | Out of Production |
First Look
In 1936, the S.23 Empire Boat represented quite a departure from Short's earlier biplane flying boats. It was thoroughly modern for its time with a relatively highly loaded monoplane, large flaps, sleek twin deck hull and spacious luxury accommodations. It was designed to meet an Air Ministry requirement to implement the Empire Air-Mail Scheme (no doubt this influenced the S.23's name). This called for a mail and passenger carrier to link Britain to destinations within its far-flung empire. In particular it was to serve on routes to Australia and South Africa, and later New Zealand, where the various legs were generally around 800km.
The Empire boats offered very high standards of passenger comfort and luxury that was roughly equivalent to first class rail travel of the time and second to none internationally. Having spent a few hours exploring my way through a restored Short Solent (you could say the grandchild of the Empire) I can attest to the space and comfort of the Short's flying boats.
Initially the S.23 was unable to achieve transatlantic crossings. Two aircraft were lightened and fitted with extra fuel tanks, but this was to the obvious detriment of payload. Experiments were made with the Short Mayo Composite aircraft consisting of an Empire flying boat carrying a small and sleek four-engined Mercury seaplane; but this piggyback system was limited to carrying mail. Experiments involving in-flight refuelling after take-off by three Harrow bombers were made, but this was an even more absurd proposition than the Short Mayo Composite. Ironically, during WW2 it was found that Short's maximum take-off weights for the S.23 were too conservative, and it turned out that the Empires could take off with enough fuel to cross the Atlantic. It seems incredible that simply experimenting with overload conditions was not tried ahead of the earlier far more complex solutions!
The Empires were called C-Class boats by Imperial Airways, and were also operated by Australia's Qantas and New Zealand's TEAL. There were three main versions of the Empire boats, these being the S.23, S.30 with Perseus sleeve-valve engines and higher operating weights, and S.33 with a later version of the Mercury engines used by the S.23. Several S.23's were inducted for military use; some being classed as S.23M and fitted with power operated gun turrets. Others continued to provide important links throughout the war between the various theatres and outposts of empire. Perhaps the most significant development of the Empire design was the Sunderland military flying boat that saw sterling service during WW2 and beyond. There were also three S.26 or G-Class boats built. Whilst these looked similar to the C-Class, they were larger and differed in hull and other design areas as a result of experience gained with the C-Class.
Sixteen of the forty-two Empire boats built survived the war, and the last was displayed in Auckland, New Zealand until being scrapped in 1954. This was a sad ending to a truly successful design. However its direct descendants lived on for a while in New Zealand with TEAL's use of Solents on pacific tourist routes, and the RNZAF's use of Sunderlands on maritime patrol duties into the 1960's.
Frog Penguin in the mid-1930's produced both the S.23 and S.30 as very early injected 1/72 kits using a bakelite type plastic (now worth a fortune as collector's items). Much more recently both Contrail and Airframe offered 1/72 vac-from kits, and sometimes these appear for 2nd hand sale. Welsh Models has also released 1/144 scale vac-form.
So it can be seen that CMR has filled an important gap in both Golden Age and flying boat modelling circles with what must be the definitive kit of the Empire series boats. They also list the S.23 Military and S.30 versions in as future releases. Now let's face it, even if you don't fit into these demographics, you'd have to be a tad strange to find no appeal in such an impressive and gorgeous flying boat – or am I being too presumptuous?
The CMR kit comes in large and sturdy top opening box, and in their usual style the cream resin are in various heat-sealed plastic bags. Instructions, decals, clear parts, pre-cut canopy mask and pre-coloured PE fret produced by Eduard are similarly bagged. My first impression was of being presented with a truly top-quality multi-media kit.
The instructions consist of six pages of diagrammatic assembly instructions with notes and colour call–outs in English. Four pages of colour plans cover eight markings options, although they are all essentially similar. An additional page provides a guide for use of the pre-cut canopy and hull windows mask. This is a real bonus making masking so many curved side windows nice and easy. Three more pages provide a brief history of the type, and notes on each individual aircraft covered by the kit.
Starting wit the flight deck, the modeller is presented with more detail than is really needed with a closed cockpit. But far better this situation than not enough. A combination of very fine resin castings and pre-coloured PE parts should result in a beautiful sub-assembly.
The major airframe components are extremely well cast with very straight and lightweight castings. In fact after minimal clean up they will be just like a handling injected styrene kit parts. Surface detail is recessed and nicely done, giving a real sense of the multi-panelled look of the original. Assembly of the major components is as you would expect for flying boat kit. There is also a fuselage bulkhead for rigidity, and a wing spar to aid wing alignment. Some may wish to reinforce the join between fuselage haves with some styrene sheet, but the fit is so good I'm not sure this will be needed.
The S.23 had a lot of windows, and CMR provides these as clear resin parts to plug the holes in the fuselage. The latter tend to have a wafer thin skin of resin that will need to be removed. Test fitting suggests the clear parts will be a very snug fit (I also found this to be the case with my CMR Avro York that used the same system). The clear resin is useable as is, but a light polish and coat of Future will enhance window clarity. A choice of media for the cockpit windows and roof is available in the form a clear resin piece of two vac-form acetate mouldings. The former is good, but again a light polish, more so on the inside, and some Future will boost clarity. Whilst I happily use vac-from canopies, I think this time that the resin option will be tempting for the sake of simplicity and blending in of the join line with the fuselage. Anyway, it's nice to have a choice in this regard.
Moving onto the various ancillaries you are once again confronted with delicate and very clean castings, none of which should present any hassle to remove from their very fine attachments to the casting blocks. The engines are nicely detailed, and I'm pleased to say have the forward facing exhaust manifolds from each cylinder to join to the collector rings on the cowls. There are also 18 inlet manifold pipes to add to the rear of each engine. But unless the cooling gills on the cowls are opened they will not be seen, so I for one will not be fitting them. The cowls themselves are delicate and perfectly rounded. The props are finely done and without pinholes at the tips (something that can be a curse of resin props). In fact I have not found pinholes anywhere else worth mentioning.
There is a choice of small and large wing floats, the latter allowing the two boats that flew the Atlantic route to be built. The package is rounded out with some nicely moulded beaching gear, various radio antennae, choices of exhaust, and control horns, and even PE brackets to mount on the crossed bracing wires of the float legs.
Taking a leaf from Henry Ford's book of Model T colour choices, the S.23's operators decided that your C-Class can be any colour as long as it's Anodised Aluminium (unless you choose to do a wartime camouflage scheme which will be catered for by CMR Later on). Fortunately the dark blue registrations will add a splash of colour to this bland finish. Decals are typical of CMR, being well registered and suggest good opacity. Based on past experience they should be very good to use; but like most Czech decals they will be quite thin and need to be floated into position, as they tend to adhere extremely well once there is no fluid under them. Aircraft options covered are:
G-ADHL — "Canopus", Imperial Airways London, July 1936
G-ADHL — "Canopus", Imperial Airways London, 1937-1939
G-ADVB — "Corsair", Imperial Airways London, 1937-1939
G-ADHL — "Canopus", Imperial Airways London/BOAC, late 1939 to early 1940
G-AFBL — "Cooee", British Overseas Airways Corporation, from August 1942-onwards
VH-ABF — "Cooee", QANTAS Empire Airways, prior to August 1942
VH-ABD — "Corio", QANTAS Empire Airways
VH-ABG — "Coriolanus", QANTAS Empire Airways
I was struck with some amusement at the name Cooee, as in the Antipodes you associate this word with old ladies with blue-rinsed hair as they poke their heads around the door to an call "cooee!" in a hi-pitched voice to determine if anyone's home. Well it seems that "cooee" is in fact an Australian Aboriginal call used over long distances. So many years ago it must have drifted into the more general Aussie lexicon and, despite the Tasman Sea dividing us made it into Kiwi use too (Fortunately, old ladies saying "cooee" aside, Kiwis don't sound like Aussies at all!).