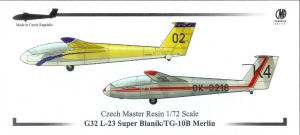 CMR 1/72 L-23 Super Blanik / TG-10 Merlin Kit First Look
| | | | |
| --- | --- | --- | --- |
| Date of Review | February 2009 | Manufacturer | CMR |
| Subject | L-23 Super Blanik / TG-10 Merlin | Scale | 1/72 |
| Kit Number | G32 | Primary Media | Resin, Eduard Pre-coloured Photo Etch |
| Pros | Excellent quality, great detail & straightforward construction. The Pre-cut mask for all clear parts is a nice touch | Cons | |
| Skill Level | Experienced | MSRP (USD) | Out of Production |
First Look
The L-23 Super Blanik is produced by Let of the Czech Republic. It is a development of their very successful L-13 Blanik and shares it all metal construction. This construction method gives and airframe life of 6,000 hours using ground launches and 10,000 with tows. The L-23 did away with the L-13's flaps as these are rarely used, moved the tail plane to the top of the fin to reduce vulnerability on landing, added a castering tail wheel for improved ground handling, improved the instrumentation, and adopted a new canopy providing improved arcs of visibility.
The Blanik family has been a real export success, and is far from being restricted to Europe. Over two hundred clubs and one hundred individuals operate Blanik gliders in North America. It is also used by the U.S. Civil Air Patrol and the U.S. Air Force where it is called the TG-10 Merlin. Maybe Blanik just doesn't sound so inspiring as Merlin to members of the USAF Academy, or is it just a sensible marketing ploy by Let? After all, an on-line Czech to English translation service translated Blanik as membranous, which doesn't really conjure up images of a sleek and sporty flying machine! (Mind you Merlin, which is a bird or prey, might be over-stating the image case for a glider).
Such trivia aside, the fact that around 500 Blanik gliders are registered in the United States and Canada must be a testament to the designs success. I bet Skoda would like to have that sort of market-share for their cars!
Now sports gliders may not be everyone's cup of tea, lacking as the do guns, bombs and missiles, not to mention engines. However they do have some extremely redeeming features from a modelling point of view: For a start they are different, they tend to be extremely elegant, and often have quite striking liveries. Having built several CMR gliders I can also attest that they are very easy to build, and so have a sort of sabbatical value if you have just finished some major project that's left you all but modelled out. And let's not forget that for resin kits they're quite cheap.
The CMR kit comes in a sturdy top opening box, and in their usual style the cream resin are in various heat-sealed plastic bags. Instructions, decals, clear parts, pre-cut canopy mask and pre-coloured PE fret produced by Eduard are similarly bagged. My first impression was of being presented with a truly top-quality multi-media kit.
The instructions consist of one page of diagrammatic assembly instructions with notes and colour call–outs in English. Six pages of colour plans cover ten markings options, some of which are very striking and graphics intensive. An additional page provides a guide for use of the pre-cut canopy mask. This is a real bonus making masking nice and easy. Five more pages provide photos and walkaround shots of some of the aircraft featured in the kit.
It will be important to decide if you plan to build a Super Blanik or a Merlin, as two different fuselages and canopies are provided. The two options appear very similar, but an easy way to identify each fuselage is from the different styles of fairing where the tail wheel is mounted (the Merlin's is fared in). In the case of canopies, the Super Blanik has a canopy frame between the tandem seats, whereas the Merlin's is frameless.
Starting with the cockpit, the modeller is presented with just the right amount of detail for the subject's scale. A combination of very fine resin castings and pre-coloured PE parts, especially the blue seat belts, should result in a very nice view through the large canopy. The walkaround photos give some clear views of just how this should look.
The major components are extremely well cast with very straight and lightweight castings. In fact after minimal clean up they will be just like a handling injected styrene kit parts. Surface detail is recessed and nicely done, being very delicate and restrained as you would expect on such an aerodynamically clean airframe. This is where building gliders can be so rewarding, as all you need do is fit four parts and you have 99% of the airframe complete. So if painting and decaling is how you get your modelling kicks then your well on the way to satisfaction. The remaining 1% basically consists of four spoilers for the wings and the tail wheel of your choice.
I think the most challenging part of the build will relate to the canopies. Tandem gliders look as if they have large canopies, but in 1/72 reality they are in fact quite small. To cut out vac-from acetate canopies I use a combination of new #11 scalpel blades (with gentle scoring cuts), with good quality side-cutters, sharp scissors, and Stanley-Knife straight-edged blades used chisel fashion when hit with a hammer. Small and final fit adjustments are done with fine files and wet & dry paper. Whichever tools you use, take your time and make sure you constantly check as you adjust fit. Fortunately CMR provide two canopies each for the two versions - Call the second canopy practice, or insurance, depending on your point of view.
The kit provides delicate PE frames to represent the small sliding sections in the canopy. A brave man would use tiny tacks of CA glue to fit these, a wise one would try using Future, perhaps followed by a lick of PVA white glue along the edges. Either way these have the potential to really add interest to your canopy, as well as stuffing it up. I'd suggest using the Future and PVA method on your practice canopy to get a feel for how to approach things. If you don't feel like using the PE frames then leave them off and use decal strip to represent the frame outlines.
But in all seriousness, I may have over-emphasised the challenge presented by the canopies in order to avoid making out this build will be a total walk in the park. In reality I feel confident that the vac-from canopies and their PE sliding window frames should present no real problems at all.
Decals are typical of CMR, being well registered and suggest good opacity. Based on past experience they should be very good to use; but like most Czech decals they will be quite thin and need to be floated into position, as they tend to adhere extremely well once there is no fluid under them. Aircraft options covered are:
OK-0205, Czech Republic, Aeroklub Tocná, 1990
D-1301, Deutsche Alpensegelflugschule Unterwössen, Germany, August 2004
OK-5232, Czech Republic, Aeroklub Tocná, April 2006
OK-0205, Czech Republic, Aeroklub Tocná, October 2007
OK-02165, Czech Republic, Aeroklub Brno - Medlanky, February 2008
TG-10B Merlin

USAF Academy, 306th Flying Training Group, 94th Flying Training Squadron, May 2002 to present (choice of 5 aircraft)
Take a break from rigging biplanes, masking German bomber canopies or super-detailing every orifice in that jet strike fighter and just sit back, relax and indulge in some modelling glide-time…