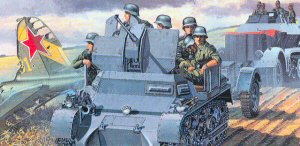 DML 1/35 2 cm FlaK 38 Auf Pz.Kpfw.I Ausf.A Kit First Look
| | | | |
| --- | --- | --- | --- |
| Date of Review | June 2006 | Manufacturer | DML |
| Subject | 2 cm FlaK 38 Auf Pz.Kpfw.I Ausf.A | Scale | 1/35 |
| Kit Number | 6220 | Primary Media | 584 parts (534 parts in grey styrene, 31 etched brass, 16 clear styrene, 3 preformed etched brass) |
| Pros | Beautifully done new chassis of Pzkw. I Ausf. A, 2 cm Flak 38 a very nice kit in its own right | Cons | I cannot find any record of more than one or two prototypes of such a vehicle being built; box art sheer speculation |
| Skill Level | Basic | MSRP (USD) | $34-$38 |
First Look
"Sometimes you eat the bear, sometimes the bear eats you" is an old hunting maxim, and it works in modeling. Most of the time kits are produced of well-known and documented vehicles which may or may not be close to accurate, and both reviewers and modelers will usually note where they fail. But from time to time vehicle kits are produced of "one-offs" or very limited production vehicles which left no trace of their existence anywhere, and as such are very hard to document and therefore assess for accuracy. This unfortunately is just such a kit.
Most of the common sources which document the developmental and combat histories fo the diminutive Panzerkampfwagen I series tanks focused on the command models, the Panzerjaeger version with the Czech 4.7 cm gun, or the close support variant with the sIG 33 15 cm howitzer. But so far I can not find any "hard" information on this vehicle as to whether it actually "saw metal" as the Russians say, or how many, or if the kit is accurate or not. Since 818 Ausf.As were built, and only about 60 other conversions were firmly registered, it is possible, but it is odd that so little information is available on this vehicle. (Even the one German reference book I have – translated and sold in the US by Schiffer – has only a few stock shots of As and the entire lyrics to the "Panzerlied!")
Taking that as a starting point, the reference materials for this kit were supplied by Ed Kusiak. What is provided inside the box is a totally new kit of a PzKpfw I Ausf.A chassis, which only shares the 192 track links and the clear styrene sprues with the earlier "B" kits. The rest of the kit's sprues are totally new, and provide for a new suspension (A), new fenders and details (B), an interior (G), engine deck (D),lower hull (E), and casemate base (H).
This variant appears to be based on one of the training variants with a cowling (provided as a pre-bent etched brass component), seats and a base for mounting the complete 2 cm Flak 38 gun (Kit 6288) and then using the Sd.Anh.51 carrier base as an ammunition trailer, which was done with other conversions such as that on the Demag 1 ton halftrack. Seats and other fittings for the gun crew are provided as well.
The kit is beautifully engineered with "slide molding" used on many of the parts and etched bras provided where it will be the most useful, such as the "catch" baskets for expended 2 cm rounds, muffler shields, and the aforementioned thin cowling for the driver. (I would be highly surprised now if DML does not release a "combat" tank version of the PzKpfw.I Ausf.A with turret, or even a gun tractor or the sIG 33 variants.) The correct four road wheels with large idler are provided, as well as many very nice touches on the kit.
Four schemes are provided for finishing: one unidentified unit, Eastern Front 1942; and three vehicles from Flak Abt. 614 on the Eastern Front in 1941-42, all in different schemes (one white, one grey and one grey with black patches.
There have been a number of comments lately about DML's box art, but here it borders on the fantasy. One of these guns is shown rolling down a road next to a shot-down Il-2 being followed by what appears to be the command vehicle for a V-2 unit on the Sd.Kfz.7 8-ton halftrack chassis!
Overall, while this is a beautifully engineered kit it leaves something to wonder about the relatively speculative approach to these vehicles, and it is hoped Mr. Kusiak had really good information for this beastie as it surfaces nowhere else. Still, it is a shame such energies could not have been put to better use by DML on what would have been something more widely popular.
Thanks to DML for the review sample.