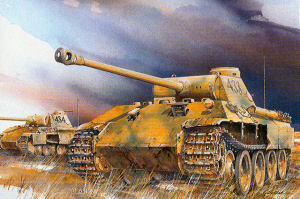 DML 1/35 Sd.Kfz.171 Panther D - Premium Edition Kit First Look
| | | | |
| --- | --- | --- | --- |
| Date of Review | July 2006 | Manufacturer | DML |
| Subject | Sd.Kfz.171 Panther D - Premium Edition | Scale | 1/35 |
| Kit Number | 6299 | Primary Media | 746 parts (373 in grey styrene, 170 "Magic Track" links 159 etched brass, 14 clear styrene, 12 etched nickel, 10 preformed brass, 4 cast metal, 2 turned brass, 1 length of copper chain, 1 turned aluminum barrel) |
| Pros | "Premium" treatment for a popular kit; "Magic Track" will be appreciated by most modelers | Cons | Market may be a bit soft for another Panther kit, especially with different versions with different levels of corrections and optional parts |
| Skill Level | Basic | MSRP (USD) | $45 |
First Look
I spent most of the last weekend cataloguing video tapes and DVDs and my wife commented about how frustrating it is with some popular subjects to have a regular version, a "deluxe" version, a "wide screen" version, a "Director's Cut" version, a "special anniversary" version, and a "multiple disk special collector's edition" all in circulation at once. She has a point, and this could be the modeler's version of the same thing.
Having seen that DML is getting ready to release a new line of what it calls "Smart Kits" – ones with fewer parts, more "slide molding" and DS tracks – I was surprised when this kit came in as a review sample. The last DML Panther kit, a 60th Anniversary of D-Day special edition of the Panther Ausf.A, (#6244) was released just about two years ago, and since then most of the DML Panther kits in circulation have been their regular A, D and G versions. Now comes this kit, which takes the DML Panther Ausf.D kit and gives it the "premium" treatment of more etched brass, turned aluminum barrel, "Magic Track" snap-together pre-cut track links, and some modified or replaced sprues from the original kit. It also provides pre-formed brass smoke grenade launchers as well as twelve sections of etched nickel for the skirts.
The kit is pretty much the older kit – most of the sprues are from their A and D kits and so labeled, with others specific to the D and some new and redone parts I do not recall from the previously noted A anniversary kit. One of the "K" tool/OVM sprues is included as well as the MG-34 from German weapon set WC.
The etched brass covers a wealth of extra detail, from the normally expected (in this day at least) grille covers for the engine deck through the skirt brackets, but installation of all of these metal parts is shown in rather busy drawings next to color photos of the model components after assembly. This is not the best way to do it, as while color photos are fine, it would be better to leave them unpainted so the modeler could see exactly where the parts are supposed to go and not have to guess which are plastic and which are metal from the photo.
The model comes with some nice touches, such a choice of wheel hubs for the drivers and eight specially molded track links with separate guide teeth (all of which are hollow molded, including the "Magic Track") for "wrapping" around the drivers. Two different covers for the machine gun port are provided as is the above mentioned MG-34 for mounting in the port if left open.
The travel lock – a chain affair – comes with two sets of five etched brass parts each for either open or closed, as does the turned aluminum barrel and the three-piece muzzle brake for it specifically (an old-fashioned two-piece "Flex-i-File" special is also included on the parts trees.)
Seven different finishing schemes are provided with a "targeted" Cartograf decal sheet. These include 4./Pz.Abt. 51m Kursk 1943; 7./Pz.Abt. 52, Pz.Rgt. 39, Kursk 1943; 4./Pz.Rgt. "Grossdeutschland", Karachev 1943; Pz.Abt. 52, Pz.Rgt. 39, Germany 1943; Pz.Rgt. "Grossdeutschland", Karachev 1943; Pz.Rgt. 39, Kursk 1943; and 1./Pz.Rgt. 24, France 1944. All are in the tricolor scheme with various patterns. The 7./Pz.Abt. 52 one strikes me as the one upon which Aurora patterned its ancient 1/48 scale Panther Ausf. G kit – the black "745" seems all too familiar!
Overall, this is another great effort but I am not sure of its sales potential due to the confusion over various different versions and levels of "trim" at different prices, especially with German modelers already gearing up for the "Smart Kit" versions.
Thanks to DML for the review sample.