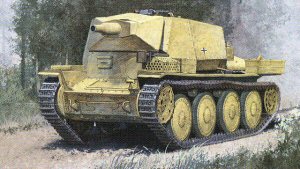 DML 1/35 Aufklaerungspanzer 38(t) mit 7.5cm Kw.K. Kit First Look
| | | | |
| --- | --- | --- | --- |
| Date of Review | December 2006 | Manufacturer | DML |
| Subject | Aufklaerungspanzer 38(t) mit 7.5cm Kw.K. | Scale | 1/35 |
| Kit Number | 6310 | Primary Media | 810 parts (480 in grey styrene, 240 "Magic Track" links, 71 etched brass, 19 clear styrene) |
| Pros | Interesting little vehicle based on DML's "Smart Kit" and "mix and match" from other kits | Cons | One-off prototype |
| Skill Level | Basic | MSRP (USD) | $41-45 |
First Look
Towards the end of WWII the Germans began an odd sort of standardization as they began to try and get similar performance and capabilities from light vehicles in view of a constantly worsening situation. It appears that reconnaissance vehicles were one of the beneficiaries of this concept, as they went from open turrets with 2 cm guns to open casemates with 7.5 cm short guns. While not giving them great antitank capability, it did permit better fire support for general purpose missions.
Derived from the older Sd.Kfz. 233 close support howitzer, the wheeled version of the scout vehicle fitted in this manner emerged as the Sd.Kfz. 234/3. (The half-tracked versions, the Sd.Kfz. 250/6 and Sd.Kfz. 251/9, were designed to provide close support and not reconnaissance functions.) A tracked vehicle was designed to provide a fully-tracked scout vehicle based on the obsolete Pzkw. 38 (t) Ausf. G chassis. Only a single prototype of the latter was built. It was to provide reconnaissance capability to the Hetzer units as well as the Jagdpanzer 38(d) follow-on variants.
Dragon has now produced a model of this little vehicle with the participation of its cyber-hobby.com affiliate. Based on their excellent Pzkw. 38(t) Ausf. G "Smart Kit," it plays "mix and match" with some of the parts of that kit. 85 parts have been dropped, and another 245 added from other DML offerings with the majority of parts coming from the Sd.Kfz. 234/3 and Pzkw. IV Ausf. B-E kits. A single sprue of dedicated parts for this vehicle, covering its casemate and distinct details, has been added.
As with the previous effort, this kit provides the correct drive wheels with the excellent suspension as well as different springs for the bogie assemblies. Assembly follows the earlier kit and is pretty straightforward. However, the back plate (part B40) is one piece so the access cover cannot be shown open or removed, as in performing maintenance on the engine.
One area in which DML was "dinged" on the Marder III kit was the fenders. I have to say that having sat down with a number of photos of the TNHP tanks and a straightedge most of them seem to have come out of the factory with dead straight fenders. But once in service, whether it is crew use or track slap or something else, the front of the fenders from the center of the vehicle onward appear to take on a slight bend upward from the rear section. It took me a good ten minutes with this kit as I had to take out the fenders and check them but they appear to have a one or two degree up angle molded into them (and are specifically flagged as from DML Kit No. 6396, so would bet more kits will be forthcoming). However, the mounting flanges for the fenders on the sides of the hull are arrow straight so no idea how this will work on the model. But since the one photo apparently readily available shows the vehicle sans tracks, there is no way of saying how they actually mounted on this variant.
Tracks are the DML "Magic Track" links, which are identical so do not have to be "handed" as with other kits. These even have casting data molded into them, but in my case it took a 10x jeweler's loupe to confirm it!
The forward part of the interior is pretty much complete as near as can be seen, and as it has an open top will not need an "IPMS Death Ray" (penlight) to see most of the central bits. The engine compartment is pretty much ignored and few of those parts are used; also the engine itself is now gone.
As it was a prototype, only one finishing option is provided, and that is basic armor yellow overall. No decals are provided.
Overall, DML has done a good job of a one-off prototype. But as it was a one-off, perhaps when they do these in the future they should consider fans of what is called (happily or derisively, depending on point of view!) "Panzer '46" modeling and provide some suggested paint schemes and generic markings for very late war vehicles.
Thanks to DML for the review sample.
Sprue Layout:
A 70 Pzkw. 38(t) wheels and suspension
B 70 Pzkw. 38(t) Ausf. G fenders and hull components
D 59 Pzkw. 38(t) interior and transmission components
E 1 Pzkw. 38(t) Hull
g 4 "Star" antenna
H 42 Pzkw. 38(t) Ausg. G alternate details
H 34 Pzkw. 234/3 interior details
J 14 clear styrene vision blocks
J 36 Pzkw. 234/3 7.5 cm gun details and ammunition
K 18 Pzkw. 38(t) OVM
L 19 Pzkw. IV Ausf. B-E L/24 gun details
P 17 Engine and accessories
T 17 Aufklaerungspanzer 38(t) casemate and details
Y 240 Magic Track
GA 64 German Gear A sprue (helmets, canteens, bayonets, mess kits, gas masks)
WC 29 German Weapons C MG-34 and detail parts
MA 59 etched brass
MB 12 etched brass