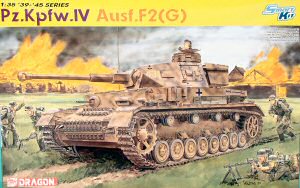 DML 1/35 Pz.Kpfw. IV Ausf. F2 (G) - Smart Kit First Look
| | | | |
| --- | --- | --- | --- |
| Date of Review | March 2007 | Manufacturer | DML |
| Subject | Pz.Kpfw. IV Ausf. F2 (G) - Smart Kit | Scale | 1/35 |
| Kit Number | 6360 | Primary Media | 757 parts (499 parts in grey styrene, 216 "Magic Track" links, 26 etched brass, 15 clear styrene, 1 twisted steel wire) |
| Pros | Totally new from the ground up kit; presages new G and H models of this popular tank; prepared for "drop in" after market engine sets; some new features | Cons | Probably not enough etched brass or mixed media parts to suit some modelers |
| Skill Level | Intermediate | MSRP (USD) | $45 |
First Look
Whenever I peruse websites and some of the newsgroups on the web I am always amazed at how many people do not understand the concept behind the DML "Smart Kits." DML has spent a lot of time and effort reexamining their kits and come up with what are nearly all styrene kits (e.g. easy to assemble from the point of view of adhesion if nothing else) with a very high level of detail resolution thanks to smart parts breakdown and "slide molding." Considering how much the early DML single link tracks were either disliked or outright hated by modelers, they have come up with "Magic Track" which pops together in a very short (relatively speaking) time. And, for the diehards, they also have their affiliate cyber-hobby.com etched brass add-on kits to provide the brass and metal some modelers cannot live without.
Still, there are a lot of complaints about these kits, most of which are really more a cause of misunderstanding than anything else. True, a lot of the comments and posts are by what could be termed "sniffers" – modelers who love to find even the tiniest flaw in a model so they can show their supposed expertise, put the kits (or manufacturers) down, and vow they will never buy such an awful product. (Big Secret: NO model can be perfect, no matter how hard the manufacturer tries to replicate it or who provides him with drawings and assistance; it's up to us, the modelers, to make the decision as if a kit's flaws outweigh its value and we can either live with it or fix the problems.)
This is the latest kit to join DML's "Smart Kit" stable, and before anyone makes comments about their early Panzer IV series tanks suffice it to say this kit is brand-new from the ground up. NONE of the parts I could find in this kit (okay, maybe the twisted wire and perhaps the "Magic Track") came from the earlier Pz.Kpfw. IV B-E kits. This may not signify they are error free, but it does mean anyone who wants to bash it for perceived errors in the earlier kits will have to check it out in detail and not make blanket statements.
The Ausf. F2 is fairly well known among German modelers as the first of the long-barreled 7.5 cm gun tanks. Externally there were not many differences between the F1 armed with the stubby L/24 gun and the new KwK 40 L/43 other than the new gun barrel and armored cover over the recoil mechanism. While only 175 were built, they had quite a impact on British and Soviet forces who came in contact with it, as the Germans now had a Pz.Kpfw. IV capable of dealing with all contemporaneous armor on the battlefield in 1942.
DML has now done a brand-new one and it is a very lovely piece of work. While mustering nearly 400 fewer parts than the Ausf. D 3-in-1 kit and some of the other early models, it appears to have far more details and better captured ones at that.
This kit has a new hull pan which is complete less the stern plates, separate final drives, and much of the surface detail simulates screw or bolt holes; it also has an applique lower glacis plate. Drivers now consist of only four parts; the separate bolts are gone. Bogies are now nine piece affairs without separate tires (sounds like the sales of painting masks will go up again!)
The upper hull consists of a deck and framework with applique sides, front and rear engine intake components and fenders. The muffler has a central tube section and six add-on parts to complete it along with a "slide molded" exhaust pipe.
All ports and hatches are separate parts so they can be posed open. While not present, the hull does come with a rudimentary firewall for the engine compartment, and the various vents and louvers are also posable either open or closed. The bow also comes with a well-done machine gun and ball mount. Note that all ports have clear styrene inserts as well.
The turret is relatively conventional in its parts breakdown, but the KwK 40 is unique. The barrel is nearly complete in regard to length, being trapped between the recoil cylinders at the rear and slid through the armored recoil cover and barrel jacket before having the muzzle brake installed; this is only in styrene, but a metal part could be provided later in an upgrade set. As this is an early F2, the kit comes with the "ball" type muzzle brake, but the later PaK 40 type is also concealed on the sprues if you want to make a later, modified one. Other than the gun and a very well done commander's cupola of 18 parts (5 are optional) there is only a minimal interior for the turret, however.
Etched brass is kept to a minimum and only covers items such as the engine air intake louvers, some small brackets, and the flaps for the engine air intakes on the sides of the rear deck.
Tracks are the "Magic Track" snap-together-then-cement type, and modelers are advised to recall that when facing the head card the left side track links are on the left and right are on the right; glad DML simplified that as before I needed a 10x jeweler's loupe to tell which was which!
A nice sheet of targeted Cartograf decals is provided along with seven different finishing options: Pz.Rgt. 36, 14th Panzer Division, Russia 1942 (Panzerbraun with grey mottling); Pz.Abt. 204, 22nd Panzer Division, Russia 1942 (Panzerbraun with green stripes); Pz.Rgt 29, 12th Panzer Division, Russia 1942 (grey overall); Pz.Abt. 1, 1st SS Panzer Division LAH, France 1942 (grey overall); Pz.Rgt. 8, 15th Panzer Division, Tunisia 1942 (dark yellow); Pz.Rgt. 15, 11th Panzer Division, Russia 1942 (grey overall); Unidentified unit, Eastern Front 1943 (grey with brown mottling). Note that some of these are guesses, as DML has not color-coded all of the drawings and they are not intuitive for color options (e.g very dark blue grey is Afrika Korps sand, light grey is grey; go figure.)
One odd feature which apparently shows the disappointment DML has felt over the treatment of the "Smart Kits" is a small eight-page "chest thumper" booklet on what they did to this kit and why they made the molding decisions they did for the parts in the kit. Credits include project supervision by Hirohisa Takada, technical drawings by Shin Okada and technical assistance from Tom Cockle, Gary Edmundson, and Notger Schlegtendal.
Overall this appears to be another very nice kit from DML, and one most modelers will happily enjoy adding to their collections.
Thanks to DML for the review sample.
Sprue Breakdown (all labeled as Pzkw. IV generic)
A 37x2 Drivers, idlers and return rollers
A 81x2 Road wheels and bogies
B 43 Turret base and details, gun breech
C 19 OVM and pioneer tools
C 8 Jack and details
D 19 Hull and turret details
E 27 Hull details and gun barrel
F 16 Commander's cupola
F 8 Spare track links
G 52 Turret and hull ports, smoke grenade launchers
H 57 Engine deck and details
K 2 Fenders
J 2 Hull top and turret top
J 8 Machine guns
L 108 "Magic Track" left side
M 15 clear styrene
R 108 "Magic Track" right side
Y 1 Lower hull pan
Z 1 Twisted metal wire
MA 26 Etched brass