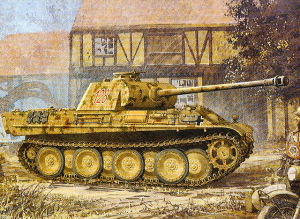 DML 1/35 Sd.Kfz.171 Panther G w/Zimmerit Kit First Look
| | | | |
| --- | --- | --- | --- |
| Date of Review | December 2008 | Manufacturer | DML |
| Subject | Sd.Kfz.171 Panther G w/Zimmerit | Scale | 1/35 |
| Kit Number | 6384 | Primary Media | 590 parts (541 in grey styrene, 14 clear styrene, 12 preformed copper wire, 10 "Magic Link" tracks, 7 etched brass, 4 DS plastic, 2 twisted steel wires) |
| Pros | 'Multimedia' kit results with a minimum of multimedia parts (19) in the kit; all major parts come with zimmerit in place; DS plastic tracks will be welcome | Cons | No major items noted |
| Skill Level | Intermediate | MSRP (USD) | $49.95 |
First Look
Following their previous Tiger I and Tiger II kit releases with zimmerit, DML has now released an early production Ausf. G with zimmerit parts as well. This kit builds up as the early production model with the late Ausf. A mantlet and the low fan housing on the engine deck among other details.
DML has replaced a total of 15 parts with new moldings (sprues M, N and P) that provide the G details with zimmerit in place. They have also thrown in two DS plastic rear stowage bins which have been, as the term used in the furniture business describes, "distressed" (as in somebody tried backing without a ground guide and found a tree by ear.) None of these parts appears to be related to the earlier Ausf. D with Zimmerit kit (No. 6428).
The rest of the kit is a nearly complete reissue of the first Ausf. G "Smart Kit" (No. 6268) with one major exception - it provides but ten "Magic Track" links for hanging as spares and instead comes with a newly tooled set of DS plastic tracks in tan from the Ausf. D kit. Each one is amazingly well detailed with hollow guide horns and other pertinent details, and are packed separately in a cardboard holder to prevent damage to the guide teeth. These tracks barely fit in the box due to their length, but they do fit and the review sample arrived in good shape.
As with the base kit, it makes heavy use of "slide molding" to get "multimedia" kit finish and part definition with a minimum of actual multimedia parts – here being only 7 etched brass parts, mostly the grilles for the engine deck, and two steel tow cables (large and small).
As before the lower hull is a one-piece "slide mold" part with all of the torsion bars complete and separate parts (the D had them as just the arm ends, not the entire bar.) Fine details such as "bump stops", "pin knockers" and braces are all separate. The kit provides the rubber tired road wheels, but for a change of pace it also has two sets of "steel" road wheels for the last road wheel station on each side as an option. The model may be built with or without the small return roller wheel on the final drives, and both types are provided in the kit.
The hull rear plate comes with the late production "flame damper" exhaust pipes, which also have an optional two-piece hood for them (there are some things even DML hasn't figured out in molding techniques yet, and going around corners is one of them – can't change the laws of physics!)
On the hull top braces, locks and handles are provided for the "flip up" style of crew hatches. The engine deck is very complete, with radiators, radiator fans, screens, louvers and a large number of separate access ports and lids provided. All grilles replicate full castings and are separate parts as well. No engine or interior are provided with the kit, but the interior is set up for relatively easy installation so the after-market boys are going to be racing to see who gets their interior done first!
One glaring error in the directions is that DML tried to compensate for some of the complaints from earlier zimmerit-fitted kits with places to mount the fittings. But what they don't tell you is that you have to drill out every one of the mounting holes from the inside of the hull and the other parts, even though their usual "stick me here" directions show them being used in the assembly steps. Check out the inside of the parts and drill BEFORE you start assembly!
The hull side trim is all plastic, but comes with "slide molded" mounts and access holes for pins or attachment in order to permit track links to be hung in a prototypical fashion on their racks. The same goes for the tools and OVM.
As noted the turret comes with only the early (rounded) mantlet with a one-piece plastic barrel and a three piece muzzle brake. The gun does have a minimal breech assembly but no other interior parts are provided except for the self-defense weapon (mine thrower) in the turret roof. The commander's cupola comes with clear vision blocks and two interior sections that fit inside the "slide molded" cupola to give it the right thickness.
The project was supervised by Hirohisa Takada with technical drawings by Minoru Igarashi. Technical assistance was provided by Steven Van Beveren, Tom Cockle and Gary Edmundson.
Four finishing options are provided – 12th SS Panzer Division "Hitlerjungend", Normandy 1944 (three color, red 128); 1./Pz.Rgt., 1st SS Panzer Division "Liebstandart Adolf Hitler", Paris 1944 (three color patches); 9th SS Panzer Division "Hohenstaufen", Normandy 1944 (three color patches, white 432); and Pz.Brig. 106, Northern France 1944 (three color, white 503). A small sheet of targeted Cartograf decals is provided.
Overall, given the popularity of Panthers and the "Smart Kit" line this should be a winner.
Thanks to DML for the review sample.
Sprue Layout:
A 61x2 Engine deck details and fine details, spare bolt heads
A 2 Hull and engine hatches
B 55 Turret
C 55 Hull details and sponsons
D 27 Radiators and hull rear details
E 47x4 Road wheels, torsion bars, individual "wrap" track links, wingnuts
G 37 Drivers, final drives, steel wheel sets
H 1 Commander's cupola
J 8 MG-34 bow gun
K 30 Tools and OVM
L 14 clear styrene
M 10 Ausf. G components with zimmerit
N 4 Ausf. G stowage bins with zimmerit
P 1 Ausf. G upper hull with zimmerit
Q 2 DS plastic "distressed" stowage bins
R 1 twisted steel wire
S 1 twisted steel wire
X 1 Lower hull
Y 10 "Magic Track" single links
Z 2 DS Plastic track runs
M 7 Etched brass
MB 12 Preformed copper wire