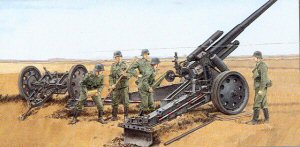 DML 1/35 German sFH 18 Howitzer w/Limber - Smart Kit First Look
| | | | |
| --- | --- | --- | --- |
| Date of Review | October 2007 | Manufacturer | DML |
| Subject | German sFH 18 Howitzer w/Limber - Smart Kit | Scale | 1/35 |
| Kit Number | 6392 | Primary Media | 243 parts (223 in grey styrene, 10 DS plastic, 3 clear styrene, 2 etched brass, 2 etched nickel, 2 brass tubing, 1 turned aluminum) |
| Pros | First kit in this scale of this workhorse artillery piece; nicely optioned with ammunition, display components, and limber for either in action or march order display | Cons | No crew, hopes for a new prime mover |
| Skill Level | Intermediate | MSRP (USD) | $34-41 |
First Look
In 1995 Peter Brown and I took one of our "World Tours" to North Devonshire and the Cobbaton Combat Collection, a private military museum. The owner and director, Preston Isaac, met us and proved to be quite a character. Upon introducing myself, his first words were "I don't like Americans." A bit crestfallen, I was caught off guard a moment later when he said "All I have is a Jeep and that ex-ranges Sherman V over there." Now sorted, we got some tea and coffee and he gave us the grand tour.
One of his pride and joy displays was an ex-Czech OT-810 with a large if unfamiliar artillery piece next to it. It was odd as it looked to be a cross between Czech, Soviet and German designs. When Peter and I gave up, he proudly stated it was a Czech Army deep reserve weapon – a Soviet 152mm D-1 howitzer barrel mated to a German sFH 18 carriage, as the Czechs wound up with plenty of the latter but needed to conform to Warsaw Pact standards. The fact that the Czechs used a 1934 design carriage up until 1989 speaks volumes of what a good design this weapon really was.
Developed as part of a "duo" of guns in the 1920s by Krupp, one common carriage was created for either the 10 cm Kanone 18 field gun or the 15 cm schwere Feldhaubitze 18 field howitzer. The former proved to be too light a caliber for the heavy carriage, so the main production version was the sFH 18 howitzer. Weighting about six metric tons, the sFH 18 was mostly deployed in battalions of three batteries of four howitzers each, and as they were too heavy for horse drayage they were towed by the eight-ton Sd.Kfz. 7 halftrack fitted with lockers for the 15 cm ammunition.
The 149mm weapon could fire a 43.5 kilogram HE-FRAG round to a maximum range of 13,325 meters. However, even though relatively plentiful in the German forces it was inferior to most of the American 155mm guns, Soviet 152mm gun-howitzers, and British 5.5" guns. Improved versions never got into production and only one self-propelled variant, the Hummel, saw production in meaningful numbers.
As towed artillery never seems to get the "press" of the self-propelled types, it's not surprising that this important artillery piece has been nearly totally ignored in plastic over the years (ROCO did make a "duo" in 1/87th scale with both the 10 cm and 15 cm barrels, as well as the Sd.Kfz. 7 prime mover.) Once again, however, there are TWO kits of this gun due out in the coming months, and again DML is first to the front with its variant. A "Smart Kit", this model comes with a minimum of brass – only two parts and two more in etched nickel – as it covers most of the rest in well-designed plastic.
DML has pulled out all of its tricks to get a very nicely done result. The heavy rubber tired disk wheels are "slide molded" with the injection mold points at the top rim of the wheel, to ensure fast and easy cleanup while molding all of the grooves in place. The same goes for the much thinner limber wheels. The trails are hollow molded using similar techniques.
The gun proper (totally new, not borrowed from the recently upgraded Hummel) consists of the complete barrel in turned aluminum and a 10-piece styrene breech assembly with optional position three piece breech block. ("Do not cement" say the directions.) Two of the brass parts, the tubes, are used for the elevation cylinders. The nickel parts cover the gun's data plate and the stamped metal firing table placed in front of the gunner's position. The two etched brass parts are the linkages on the parking brakes.
The gun has an incredible amount of detail to it and even the limber consists of no less than 30 parts. The spades are optional position and the kit is designed so that the gun may be left assembled with a friction fit so it may be displayed either in march order (racked up, trails on the limber) or in firing position. This may not work quite as well as the directions indicate, but it is nice to know you may have a longer time frame to make a selection on towed or firing displays.
The gun comes with five HE-FRAG and five HE-FRAG concrete penetrators with ten propellant casings and propellant covers for five. The kit also comes with a pair of unrolled wicker mats for storing clean, prepared ammunition next to the gun in firing position as well as four rounds in wicker packing and what appear to be either fuse or primer cases; all of these parts are in tan DS plastic to capture crisp features on otherwise difficult parts to mold.
The sights are clear styrene parts, which seems to be popular but still have to be painted.
A sheet of generic artillery decals from Cartograf is included along with "kill" rings and generic ammunition placards for the packing and rounds. Five finishing schemes (three grey, one sand and one tricolor camouflage) are provided but no units or locations.
Technical assistance on this project came from Tom Cockle and Gary Edmundson, and the project director was Hirohisa Takada. Box art from Ron Volstad (he always tends to get the "A" kits, and does them right by his artwork!)
Overall this is a welcome change and a nod to the fact that artillery pieces need "Smart Kit" treatment too! Now for a good crew and more importantly a new prime mover to replace the 33-year-old Tamiya kit... (I would call for the Czech reserve version, but that would seem to be a cyber-hobby.com option!)
Thanks to DML for the review sample.
Sprue Breakout:
A 66 Gun cradle, trails and breech assemblies
B 29 Fittings and cleaning rods
C 26 Lower mount and axle details
D 33x2 Main wheels, limber wheels, trail spades
E 21 Limber components
G 15 15 cm ammunition
K 3 Clear styrene
L 10 DS plastic matting and packed shells