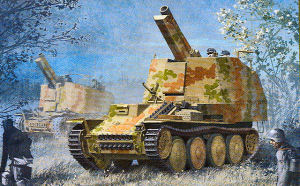 DML 1/35 Sd.Kfz.138/1 Geschuetzwagen 38M fuer s.IG.33/2 - Smart Kit First Look
| | | | |
| --- | --- | --- | --- |
| Date of Review | August 2008 | Manufacturer | DML |
| Subject | Sd.Kfz.138/1 Geschuetzwagen 38M fuer s.IG.33/2 - Smart Kit | Scale | 1/35 |
| Kit Number | 6429 | Primary Media | 1,034 parts (676 in grey styrene, 240 "Magic Track" links, 103 etched brass, 13 clear styrene, 1 length of twisted steel cable, 1 turned aluminum gun barrel) |
| Pros | "Gun" version of the Ausf. M will be appreciated | Cons | Some complaints about fenders still linger |
| Skill Level | Intermediate | MSRP (USD) | $50 |
First Look
DML has now releasedthe actual 15 cm 38 M self-propelled howitzer and it should be appreciated by most German fans. This is a complete "Smart Kit" but one which uses 100% of the parts from the cyber-hobby.com Kit No. 21 (DML No. 6471). It adds the missing parts for the s.IG. 33/2 howitzer to the mix.
282 of the "gun tank" versionswere built along with 102 ammo carriers, which were fitted for "upgrades" to howitzer vehicles if needed.
As with the cyber-hobby.comvariant, it uses "Smart Kit" technology the emphasis is on detail but they have also added a good amount of brass with it and it must be used to construct the model. But here only a few of the frames and grilles will require a good amount of bending.
The howitzer comes with a turned aluminum barrel and rifling in its first section. For some reason (either other variants or a towed version being forthcoming) there are TWO sprues of cradle and breech parts for the s.IG. 33/2 15 cm howitzer, so be careful on choosing the right parts. Most of the ones used seem to be on the "C" sprue.
This kit also includes the engine and other interior parts from the DML TNHP series kits. The driveline and interior are mostly styrene parts, such as the transmission/clutch assembly, steering controls, driveshaft and shield. The ammo racks are all single molded items, but the projectiles are molded with the rack to get a "scale" thickness to the rack and as such cannot be separated. Twenty full and six empty racks are provided along with two single projectiles; no propellant casings were provided, and as noted it only covers a partial load. There is one small radio with separate transmitter and receiver mounted on the right side of the casemate. Each periscope in the fighting compartment is all stryene (clear prism component, grey mounts) and may be positioned as folded or erected.
Assistance on this kit is credited to Tom Cockle and Gary Edmundson.
Finishing directions and Cartograph decals are provided for three different vehicles: 1st SS Panzer Division LAH, La Gleize, Belgium 1944 (tricolor with no markings); 1st SS Panzer Division LAH, France 1944 (sand with brown-edged green patches and a cartoon blowtorch); and Unidentified Unit, Eastern Front 1944 (Sand overall with crosses).
Overall, this is a nicely done kit and with the attendant cyber-hobby.com ammo carrier and figures will make into a good diorama.
Thanks to DML for the review sample.
Sprue Layout:
A 66 Pzkw. 38(t) Ausf. G wheels and suspension
B 70 Pzkw. 38(t) Ausf. G fenders and hull components
B 24 s.IG. 33 cradle and breech
C 24 s.IG. 33 cradle and breech
D 58 Pzkw. 38(t) interior and transmission components
E 93 Marder III Ausf. M interior and hull detail components
G 43 Flakpanzer 38(t) front hull and interior details
J 10 clear styrene vision blocks
K 38 Pzkw. 38(t) OVM and rivet heads
K 3 Clear styrene sights
L 2 German whip antenna
M 22 Bison Ausf. M casemate and details
N 2 German whip antenna
N 5 German aiming stakes and tools
P 16 Pzkw. 38(t) engine components
Q 49 Bison Ausf. M details and hull front
R 32x2 15 cm projectiles and stowage brackets
S 2 s.IG. 33 accessories
U 6 15 cm stowage brackets
V 10 German radio and racks
X 1 Flakpanzer 38(t) hull pan
Y 240 Magic Track
Z 1 Twisted steel cable
MA 103 etched brass
MB 1 Turned aluminum barrel
GA 64 German generic kit
RA 9 German generic radios
RB 8 German generic radios