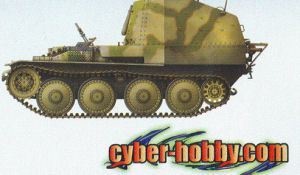 DML 1/35 Sd.Kfz.138/1 Munitionswagen 38 M fuer s.I.G. 33/2 Kit First Look
| | | | |
| --- | --- | --- | --- |
| Date of Review | June 2008 | Manufacturer | DML |
| Subject | Sd.Kfz.138/1 Munitionswagen 38 M fuer s.I.G. 33/2 | Scale | 1/35 |
| Kit Number | 6471 | Primary Media | 1,002 parts(612 in grey styrene, 240 "Magic Track" links, 139 etched brass, 10 clear styrene, 1 length of twisted steel cable) |
| Pros | Different version of a useful but "non-gunned" vehicle; indicates a complete Ausf. M should be coming soon | Cons | "Cart before the Horse" release an odd choice; limited distribution |
| Skill Level | Basic | MSRP (USD) | Pre-order price US$41.99 from Dragon Online USA |
First Look
One of the first "boutique" kits released based on DML molds was a Kirin kit of a 15 cm s.I.G. 33/1 howitzer on a Pzkw. 38(t) chassis – the Sd.Kfz. 138/1 Bison Ausf. H. This was the forward mounted gun and shared parts with what eventually became the DML Hetzer kit. Later it was re-released by DML directly in their Imperial Series as Kit No. 9004, but has not been seen for more than 10 years.
Now cyber-hobby.com has somehow jumped the line and released this boutique kit of the ammunition carrier version using shared components with the Flakpanzer 38(t) and Marder III Ausf. M kits. While 282 of the "gun tank" versions were built, only 102 ammo carriers were created using the same chassis and allowing for "upgrades" to howitzer vehicles if needed. The reason for this was simple: artillery can be voracious when in combat, and firing two to three hundred rounds of ammunition in a day during an offensive is not uncommon. As the basic vehicle could only carry 18 rounds, a support vehicle carrying more was essential. Since 15 cm projectiles are quite bulky and heavy, each one weighing about 38 kg (83 pounds) even a relatively modest amount of ammunition could weigh a great deal. The munitions carrier version here could carry 40 complete rounds, which is about 2,280 kilograms or 5,000 pounds, so it does need a hefty chassis.
The creation of this "boutique" kit was simple, as it appears DML does have a gun version coming and most sprues were labeled for that kit. The kit uses the very nicely done molds from DML's Flakpanzer 38(t) and Marder III kits with a total of 153 new styrene parts added to make the conversion.
As it uses "Smart Kit" technology the emphasis is on detail but they have also added a good amount of brass with it and it must be used to construct the model. Some of the frames and grilles will require a good amount of "origami" to shape so it is recommended that the modeler have a good bending jig like a Hold'n'Fold or Etch-Mate on hand.
This kit also includes the engine and other interior parts from the DML TNHP series kits. The driveline and interior are mostly styrene parts, such as the transmission/clutch assembly, steering controls, driveshaft and shield. The ammo racks are all single molded items, but the projectiles are molded with the rack to get a "scale" thickness to the rack and as such cannot be separated. Twenty full and six empty racks are provided along with two single projectiles; no propellant casings were provided, and as noted it only covers a partial load. There is one small radio with separate transmitter and receiver mounted on the right side of the casemate. Each periscope in the fighting compartment is all styrene (clear prism component, grey mounts) and may be positioned as folded or erected.
Again, as this is a "boutique" kit of a very low production/conversion rate vehicle only two finishing options are provided: both from our old friend "Unidentified Unit on the Eastern Front 1944" with one in sand and one in sand with red brown edged green mottle.
Assistance on this kit is credited to Tom Cockle and Gary Edmundson.
Overall, this is a nicely done kit and with the hopefully imminent release of the parent 15 cm Ausf. M kit a nice item to produce a diorama.
Thanks to DML for the review sample.
Sprue Layout:
A 66 Pzkw. 38(t) Ausf. G wheels and suspension
B 70 Pzkw. 38(t) Ausf. G fenders and hull components
D 58 Pzkw. 38(t) interior and transmission components
E 93 Marder III Ausf. M interior and hull detail components
G 43 Flakpanzer 38(t) front hull and interior details
J 10 clear styrene vision blocks
K 38 Pzkw. 38(t) OVM and rivet heads
L 2 German whip antenna
M 22 Bison Ausf. M casemate and details
N 2 German whip antenna
P 16 Pzkw. 38(t) engine components
Q 49 Bison Ausf. M details and hull front
R 32x2 15 cm projectiles and stowage brackets
U 6 15 cm stowage brackets
V 10 German radio and racks
X 1 Flakpanzer 38(t) hull pan
Y 240 Magic Track
Z 1 Twisted steel cable
MA 103 etched brass
MB 36 etched brass
GA 64 German generic kit
RB 8 German generic radios