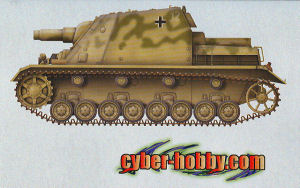 DML 1/35 Sd.Kfz.166 Stu.Pz.IV 'Brummbaer' Early Production - Smart Kit First Look
| | | | |
| --- | --- | --- | --- |
| Date of Review | October 2008 | Manufacturer | DML |
| Subject | Sd.Kfz.166 Stu.Pz.IV 'Brummbaer' Early Production - Smart Kit | Scale | 1/35 |
| Kit Number | 6497 | Primary Media | 867 parts (518 in grey styrene, 260 "Magic Track" links, 64 etched brass, 14 clear styrene, 10 etched nickel, 1 length of twisted steel wire) |
| Pros | Reworking of previous Sturmpanzer IV 2-in-1 kits to match features found on Early model; complete main gun assembly and partial interior; choice of options and assembly | Cons | Mixture of Smart Kit and non-Smart Kit features |
| Skill Level | Experienced | MSRP (USD) | $50 |
First Look
DML's "boutique" affiliate cyber-hobby.com has now released the early model of the German Sturmpanzer IV, also called "Brummbaer" (grizzly bear). This kit adds several new sprues, drops others, and also adds in some of the sprues from the "in your face" Pzkw. IV Ausf. D and E variants.
This variant uses the "early" Tiger I type vision slit and viewer, does not require zimmerit, and has all standard Pzkw. IV wheels and bogie assemblies. It comes with the different barrel and barrel shroud and the revised front plate with the box-like position for the driver, which requires an entire new casemate and rear engine deck as well as all of the other details for the casemate. For a "boutique" kit, DML went through a lot of trouble to make the earlier version; at least 283 parts have been replaced or added.
From what I determined last time, the first 60 Sturmpanzer IV did not have zimmerit paste, so the good news is that DML dodges the "bullet" on this kit. An applique is included to replicate the original's 50mm add-on to bring the lower glacis plate up to 80mm equivalent.
The model retains the etched nickel side shields for the "full-up" vehicle. These are nicely done but will need care as the mounting brackets are all plastic; modelers may wish to "etch" the surface a bit with a chemical blackener so the adhesive of choice (either cyanoacryalte glue or epoxy) can "bite" and hold it in place.
There are three suggested finishing options: Stu.Pz.Abt. 216 in Russia, 1943 (overall sand); III./Pz.Jg.Rgt. 656, 1943 (sand with green squiggle pattern, white 3); and Stu.Pz.Abt. 216 again, 1943 (now with three color mottle and white outline numbers). A set of Cartograf decals with two types of "number jungles" are included.
Overall this is a lovely kit which, barring any major mistakes, is better than the original which flubbed the zimmerit finish. I am sure that it will invite comparison with the Tristar kit of the early model which beat it to the market as well.
Thanks to DML for the review example.
Sprue Layout:
A 37x2 Drivers, idlers and return rollers
A 81x2 Road wheels and bogies (Smart Kits)
A 75x2 Road wheels and bogies (non-Smart Kits)
B 32 Drivers and armored covers (non-Smart Kits)
C 39 Brummbaer - casemate and details
D 38 Brummbaer - hull interior
D 97 Hull details and stern plates (non-Smart Kits)
E 40 Sturmpanzer IV Early fenders, casemate and gun barrel
F 61 Sturmpanzer IV Early schuertzen hangers, fender details
J 7 German generic jack
K 10 German generic external details
L 130 "Magic Track" left side
N 2 Sturmpanzer IV Early casemate and engine deck
P 3 clear styrene
Q 6 Spare track links
R 130 "Magic Track" right side
S 11 Clear styrene
X 1 Lower hull pan
Z 1 Twisted metal wire
MA 64 Etched brass
MB 5 Etched nickel shields - right
MC 5 Etched nickel shields - left
WC 4 German generic weapons - MG-34 machine gun