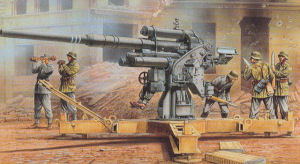 DML 1/35 88mm Flak 37 mit Behelfslafetter 6 w/Flak Artillery Crew Kit First Look
| | | | |
| --- | --- | --- | --- |
| Date of Review | May 2009 | Manufacturer | DML |
| Subject | 88mm Flak 37 mit Behelfslafetter 6 w/Flak Artillery Crew | Scale | 1/35 |
| Kit Number | 6523 | Primary Media | 436 parts (407 in grey styrene, 21 etched brass, 3 turned aluminum, 4 aluminum tube, 1 length steel chain) |
| Pros | Alternate 88 version for semi-fixed locations; great for those who want a diorama without need for wheels or transporters | Cons | Deceptive number of parts due to the number not used |
| Skill Level | Experienced | MSRP (USD) | $41.50 |
First Look
Somewhere along the line the German military came to the conclusion that they did not need a lot of high mobility medium antiaircraft artillery pieces. The Flak 18/36/37 series was designed for just that purpose, but each gun then required a heavy 8 ton halftrack and complex transport bogies. Also while they were brought into service as emergency antitank guns, the Flak 18 was not designed to fire from its carriage when in transport mode, and the height and complexity of the guns made it tactically unsuitable. The other problem was since they were optimized for antiaircraft work, either alone or as part of an analogue predictor guidance system, losing one to artillery fire was an expensive proposition.
As a result, somebody designed what was dubbed a "Behelfslafette" – literally a makeshift carriage – which could be transported to a location and set up for semi-permanent duty. This made it easier to move than fixed guns but not requiring the permanent allocation of expensive vehicles which could better be used elsewhere.
According to the "Waffen Arsenal" book (Number 101, 8.8 cm Flak Volume 2) the following 88mm guns were built: 8.8 cm Flak 18/36/37 (mobile) - 3,590; 8.8 cm Flak 36/37 railway mounting - 41; 8.8 cm Flak 18/36/37 on Behelfslafette - 1,493; and 8.8 cm Flak 18/36/37 fixed mounting weapons - 4,178. (Since this only comes up to about 9,300 and other sources give numbers of over 10,300 built, something may be missing.)
DML has now created a new Behelfslafette mounting for their excellent Flak 36/37 kit. But the kit now comes with but one weapon on its carriage; no transport bogies and no crew. They do provide 12 rounds (six full and six casings) and six ammo boxes (four wicker and two wooden) but nothing else.
Basically the kit constitutes the upper carriage of the early kit, complete with alternate Flak 18 or Flak 36/37 barrels in styrene and an extra Flak 36/37 barrel from turned aluminum. The barrel muzzle sections are slide molded with rifling but the barrel from the collar on back is in two parts so a seam must be dealt with.
The modeler must choose early on if he wants the optional splinter shield or not, as the kit provides a different cradle for each one. There are also alternate parts, either an option for styrene or brass or different styrene parts, throughout the kit. Note that a goodly number of parts in the kit – since they are for the Sd.Anh. 202 bogies – are not used and thus the overall parts number is deceptive.
As with the Flak 36/37 kits the new one comes with pre-painted dial faces on the fire control matching units or a set of decals is provided for those who prefer to paint first (or mess these up!)
Most parts are for later weapons with the dual fuse setters, but as with the actual guns you do have the choice of either the Flak 18 or Flak 36/37 barrels.
Technical consultation was provided by Tom Cockle and Gary Edmundson.
Finishing directions are provided for three pieces: Unidentified unit, Cologne 1945 (grey gun, sand base); Unidentified unit, Germany 1945 (tri-color gun, sand base); Unidentified Unit, near Dulmen, Germany, 1945 (sand with "squiggle" pattern in what may be brown; the directions do not call out the camouflage colors by name, only numbers).
Overall this is a good idea and a great one for somebody who wants to model a flak pit rather than a gun on the move, but a new crew with the kit would have been a nice idea.
Thanks to DML for the review sample.
Sprue Layout:
A 2 Behelfslafette pedestal mount
B 52 Flak 36/37 - Flak 18 and Flak 36/37 barrels and cradles
B 20 Behelfslafette base and details
C 57 Flak 36/37 gun upper carriage details
C 7x2 Behelfslafette outrigger legs
D 29x2 Flak 36/37 carriage details
D 7 Behelfslafette barrel lock
E 32x4 Flak 36/37 Sd.Anh. 202 details and cable reels, stakes
G 30 Flak 37 detail set and shield sides
H 12 8.8 cm wicker ammo boxes (4)
H 1 Flak 37 gun shield \
J 4 Clear styrene
K 3 Painted dials on clear styrene
L 1 Behelfslafetter top base
M 13 8.8 cm wooden boxes (2)
Q 12 8.8 cm ammo (6 full, 6 casings)
MA 2 etched brass
MB 15 etched brass
MC 2 etched brass
MD 2 etched brass
ME 3 turned aluminum
ME 4 aluminum tube
MF 1 steel chain