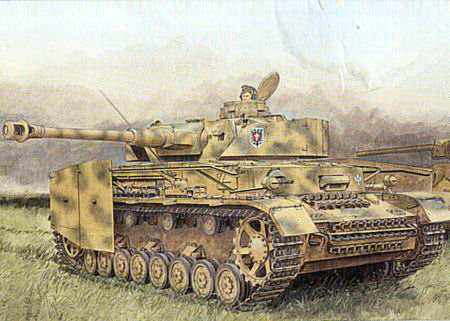 DML 1/35 Pz.Kpfw.IV Ausf.G Apr-May 1943 Production - Smart Kit First Look
| | | | |
| --- | --- | --- | --- |
| Date of Review | January 2011 | Manufacturer | DML |
| Subject | Pz.Kpfw.IV Ausf.G Apr-May 1943 Production - Smart Kit | Scale | 1/35 |
| Kit Number | 6594 | Primary Media | 871 parts (595 in grey styrene, 216 "Magic Track" links, 44 etched brass, 15 clear styrene, 1 twisted steel wire) |
| Pros | More flexible "transition" production model offers up to 10 different finishing options | Cons | Retention of "Magic Track" single links makes assembly tedious |
| Skill Level | Experienced | MSRP (USD) | $49.95 |
First Look
The Ausf. G version of the workhorse Panzer IV medium tank was the transitional model between the early models with the short 7.5 cm gun and its upgraded Ausf. F2 variant and the later Ausf. H and J models. As such it introduced some new features such as the 7.5 L/48 gun, with final model of the two chamber muzzle break, factory installed applique armor, a new cupola and finally the "schurzen" protective screening. Nearly 1,700 of these tanks were built before changing over to the Ausf. H in late 1943.
As this vehicle was the transitional variant, many German models have been awaiting it as it provides so many options. DML has taken their 2007 Ausf. G kit and added or changed more than 160 parts from the previous kit to include the "schurzen" and its mounts, applique armor, and other details.
The upper hull consists of a deck and framework with applique sides, front and rear engine intake components and fenders. The muffler has a central tube section and six add-on parts to complete it along with a "slide molded" exhaust pipe.
All ports and hatches are separate parts so they can be posed open. While not present, the hull does come with a rudimentary firewall for the engine compartment, and the various vents and louvers are also posable either open or closed. The bow also comes with a well-done machine gun and ball mount. Note that all ports have clear styrene inserts as well.
The turret is relatively conventional in its parts breakdown, but the KwK 40 is unique. The barrel is nearly complete in regard to length, being trapped between the recoil cylinders at the rear and slid through the armored recoil cover and barrel jacket before having the muzzle brake installed; this is only in styrene, but a metal part could be provided later in an upgrade set. Other than the gun and the better commander's cupola from the Ausf. H kit there is only a minimal interior for the turret, however.
Etched brass has been enhanced to go along with the "schurzen" (which appears to be etched nickel) but still includes the engine air intake louvers, some small brackets, and the flaps for the engine air intakes on the sides of the rear deck.
Tracks once more are the 38 cm "Magic Track" snap-together-then-cement type, and modelers are advised to recall that when facing the head card the left side track links are on the left and right are on the right. While always well done they are tedious to assemble.
The "schurzen" appear to be new to this kit and include both the hull and turret sets, but the latter is all styrene with "razor edge" moldings.
Credits include project supervision by Hirohisa Takada, technical drawings by Shin Okada and technical assistance from Tom Cockle, Gary Edmundson, and Notger Schlegtendal.
A total of ten (10!) finishing options are provided: 6./Pz.Rgt. 3, 2nd Panzer Division, Kursk 1943 (Vomag built) (green patches over sand, white 631); 3/Pz.Rgt. 21, 20th Panzer Division, Kursk 1943 (tricolor, white 301); 20th Panzer Division, Eastern Front 1943 (Krupp built) (green patches over sand, white 202); 20th Panzer Division, Eastern Front 1943 (Krupp built) (tricolor, white I); 1st SS Panzer Division "LAH", Kursk 1943 (green stripes over sand, black 064); 16th Panzer Division, Italy 1943 (Vomag built) (green over brown, white 833); 2./Pz.Rgt. 18, 18th Panzer Division, Eastern Front 1943 (green over sand, white 242); Unidentified Unit, Eastern Front 1943 (tricolor spots, white 525); Pz.Rgt. 15, 11th Panzer Division, Eastern Front 1943 (green over sand, black 911); and 6.Pz.Rgt. 27, 19th Panzer Division, Eastern Front 1943 (green stripes over sand, white 611). Decals are again from Cartograf.
Overall, while it still does not come with DS Plastic track this variant should be very popular due to the flexibility of the kit.
Thanks to DML for the review sample.
Sprue Breakdown:
A 37x2 Drivers, idlers and return rollers
A 81x2 Road wheels and bogies
B 43 Turret base and details, gun breech
C 19 OVM and pioneer tools
E 26 Pzkw. IV H - OVM, details, turret bin
E 37 Hull details and gun barrel
F 8 Spare track links
G 52 Turret and hull ports, smoke grenade launchers
H 57 Engine deck and details
J 2 Hull top and turret top
J 7 German Generic - jack
J 8 Machine guns
L 108 "Magic Track" left side
M 24 Pzkw. IV H - cupola
M 15 clear styrene
N 11 Pzkw. IV G - applique armor
P 33 Pzkw. IV H - rear radiator air exhaust louvers
R 108 "Magic Track" right side
S 15 Pzkw. IV G schurzen brackets, fenders
T 16 Pzkw. IV G - turret schurzen and brackets
Y 1 Lower hull pan
Z 1 Twisted metal wire
MA 44 Etched brass
MB 10 Etched nickel