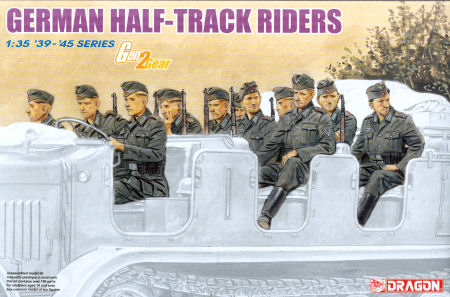 DML 1/35 German Half-Track Riders Kit First Look
| | | | |
| --- | --- | --- | --- |
| Date of Review | May 2011 | Manufacturer | DML |
| Subject | German Half-Track Riders | Scale | 1/35 |
| Kit Number | 6671 | Primary Media | 202 parts in grey styrene |
| Pros | Completely fills up an unarmored halftrack (3, 5 or 8 ton types) or cargo truck; varied poses a plus | Cons | Usual "stick here" photo directions and "follow the box art" painting instructions |
| Skill Level | Experienced | MSRP (USD) | $14.95 |
First Look
Quite frequently these days model companies provide kits of softskin or partially armored vehicles with open bodies and bench seats for the crews needed for this or that mission, but no figures. This creates a very barren and unimpressive display when finished, but obtaining suitable figures in 1/35 scale has been difficult. Several companies have tried to do this in the past – Tamiya and Peerless Max/Italeri being the best known – but have failed. The set which came with the original release of the Tamiya Sd.Kfz 7 8-ton Halftrack in 1974 redefined the term "zombie" with eight identical clones staring straight ahead.
DML has now come to the fore with the release of a complete crew set able to fill up their 8-ton halftrack series, a half set of six figures being provided with the early production 8-tonner (Kit No. 6545). The complete set now provides 12 figures (not 10 as advertised elsewhere) and two extra sets of arms to provide variety.
Each sprue provides six different poses and faces, all with sidecaps and basic kit included. Each figure is a DML "Gen1" type of eight parts - torso, head, coat skirt front, arms and legs. The torsos all come with the rear part of the skirt of the coat molded in place. Each one has some slight differentiations - head and arm positions, leg positions, etc. – so with the addition of the extra arms and some creativity you can get at least eight and probably all 12 to look different. All figures are set for normal height (about 18" or 20 cm) seats.
The kit also provides a sprue of generic German equipment for further individualization - helmets, bread bags, canteens, gas mask canisters, etc. There is also a sprue of generic weapons - four Kar 98K rifles, three MP40 submachine guns, and one each MP44, Gewehr 43, MG34, and MG42. But from photos of artillery crews on halftracks, this comes up short as each man should have a rifle and helmet even if not worn. Hopefully the detail-oriented modeler has a good parts box to draw on for spares.
Once again DML relies on a photo on the bottom of the box (no directions) with "stick here" photos and "follow the box art" painting directions. While this is not a major problem for experienced modelers, they keep doing themselves a disservice by making some of the best figure sets available today and then giving them short shrift in the area of helping newer modelers to get the best out of the kit.
Overall, however, this kit provides the ability to man any softskin or halftrack vehicle on the market today, especially the 3, 5 and 8 ton variants. It also works for Opel and MB cargo trucks and other softskins needing crews. In that area it should prove to be a very popular and useful kit.
Thanks to DML for the review sample.
Sprue Layout:
6671 54x2 Six seated figures
B 4 Two pairs of arms
G 56 German kit - helmets, bread bags, canteens, ammo pouches
G 4 German kit - entrenching tools
W 30 German weapons - 4 x Kar 98K, 3 x MP40, 1 x MG34, 1 x MG42