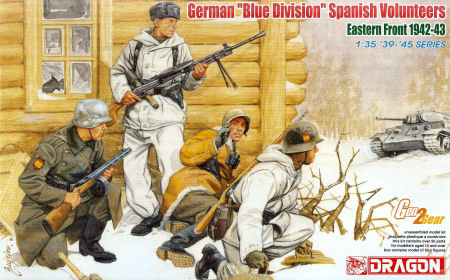 DML 1/35 German 'Blue Division' Spanish Volunteers Eastern Front 1942-1943 - Gen2 Gear Kit First Look
| | | | |
| --- | --- | --- | --- |
| Date of Review | March 2011 | Manufacturer | DML |
| Subject | German 'Blue Division' Spanish Volunteers Eastern Front 1942-1943 - Gen2 Gear | Scale | 1/35 |
| Kit Number | 6674 | Primary Media | 130 parts in grey styrene |
| Pros | Different set of figures, more winter uniform options | Cons | Somewhat obscure (see text) |
| Skill Level | Experienced | MSRP (USD) | $12.50 |
First Look
I plead innocent into understanding model marketing research other than the concept "German sells" is the dominant one for armored vehicles and related figures. While it is pretty much a "given" that DML has a lock on the styrene figure market in 1/35 scale – as they make more sets and more different services than all of the other styrene figure manufacturing companies combined - their concentration on all things German does have its downside. There are still too few sets of US, Commonwealth, Soviet or Italian figures on offer, and virtually none for the other more common participants in WWII – French, Rumanian, or even Japanese. But all things German are made and appear to sell.
There has been a joke among American modelers for several years that eventually DML will produce Michael Wittmann's baby pram and nanny – and that German fans will then argue whether it should be painted in a "splinter" camouflage or "ambush" scheme. While a bit far fetched there do appear to be fans who would buy it!
This set covers one of the smaller forces participating with the Wehrmacht on the Eastern Front, namely the Spanish volunteers of the "Blue Division". It provides four figures in a motley collection of winter uniforms: two figures in winter parkas (one with a Soviet-style "furashka" cap with Spanish insignia), one on an overcoat, and one in a sheepskin winter overcoat. All are in combat positions, with three of them crouching and one standing with a Soviet DP machine gun.
The set provides a generic sprue of DML's "Gen2 Gear" which is the associated kit for German soliders - helmets, canteens, bread bags, gas masks, ammo clip holders, bayonets, and sidearms. A sprue of "Gen1" weapons is included but the box art shows that they should mostly be carrying Soviet weapons, so a Soviet "Gen2" weapons sprue is included with three submachine guns of two types and the DT.
Each figure consists of six basic parts (head, torso, legs and arms) with the parka wearers having separate folded hood/neck sections and the overcoat wearers multipart skirts. The figure sprue also has two "teller" mines and a seven-headed offensive grenade.
Artwork is by Zujeiro but is in the style of Ron Volstad; alas, directions are the "stick here" and follow the box art type. While the figures are shown with the colorful Spanish flashes on their uniform kit no decals are provided in the box for them.
Overall this is a well-done set and the figures can be painted up as the modeler wishes so it is not limited to just the Spanish unit.
Thanks to DML for the review sample.
Sprue Layout:
6674 41 Four figures, basic kit and extra weapons
C 60 German generic kit - canteens, helmets, bread bags, sidearms
W 14 German weapons - 4 x Kar 98K, 3 x MP40, clips
WA 15 Soviet Generic Weapons - 4 x helmets, 1 x PPSh, 2 x PPS, 1 x DP machine gun