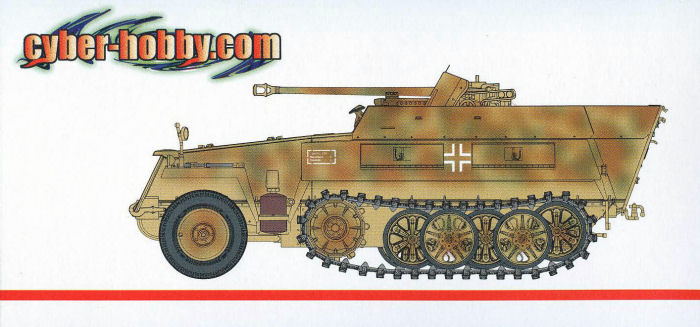 DML 1/35 Sd.Kfz.250 Neu mit 5cm PaK 38 - Smart Kit First Look
| | | | |
| --- | --- | --- | --- |
| Date of Review | November 2012 | Manufacturer | DML |
| Subject | Sd.Kfz.250 Neu mit 5cm PaK 38 - Smart Kit | Scale | 1/35 |
| Kit Number | 6720 | Primary Media | 486 parts (292 in grey styrene, 168 "Magic Track" two-piece links, 16 etched brass, 8 clear styrene, 2 turned brass) |
| Pros | Another interesting "one-off" kit | Cons | Could have benefitted from DS plastic one-piece track runs |
| Skill Level | Experienced | MSRP (USD) | ~$50.95 |
First Look
The latest release in the realm of "one-off wonders" from DML's boutique affiliate cyber-hobby.com is a conversion of a late production Sd.Kfz. 250 halftrack into a self-propelled 5 cm PaK 38 mount. This vehicle (of which only one is known and is in an Austrian museum) basically consisted of removing the rear plate from an Sd.Kfz. 250/1 personnel carrier, extending the sides and reattaching the rear plate, and adding the mount for the upper carriage of the PaK 38 in the enlarged crew compartment. Roughly approximating a mini-Sd.Kfz. 251/22 version in both function and appearance, it is not known how well this vehicle fared in combat (as it was captured apparently at least it did not attract the wrong kind of attention!)
This kit essentially is the "Premium" version of the Sd.Kfz. 250 Neu series kits with the addition of the complete PaK 38 kit and 36 new parts for the conversion. As before, the biggest single item is the presence of a one-piece "slide molded" lower hull replacing three parts in the original 1999 series kits. The suspension arms have been redone and also the drive sprocket mounts. The engine from the original add-on kit is again included, which is a nice touch.
DML has not yet switched to their DS plastic for tracks for these kits. Again, this kit uses the "Magic Track" precut links with a separate pad for each link to "trap" the pins of the next link. This is very tedious work as the tracks are about the same size as the average 1/72 scale model; again, for a "Premium Edition" kit DML should consider DS Plastic molding techniques to make single-section track runs.
As with the standard "Stroke 1", the tracks do mount on better detailed three-piece drivers, and the front wheels are now "sandwich" moldings to create both proper tread pattern and tread depth (five parts per tire.)
The external stowage bins still have separate access panels, so all four can be displayed in the open position. The kit now again includes the Sd.Kfz. 251 clear styrene viewers, which can also be shown either open or closed. A second set of 12 etched brass parts (not on the original directions but on a supplemental sheet) are included to replicate the one-off's fittings.
Technical assistance and work on this kit was provided by Hirohisa Takada, Minoru Igarashi, Thomas Anderson, Tom Cockle, and Gary Edmundson.
The model comes with one finishing option: Unknown Unit, Eastern Front 1944 (tricolor mottle, white crosses, no registration number). The generic sheet of markings for license plates and stenciling is from Cartograf.
Overall this is another interesting one-off vehicle.
Thanks to DML for the review sample.
Sprue Layout:
A 58 5 cm PaK 38 - complete kit
A 41 250 chassis and details
B 11 250 w/Pak 38 – new interior and rear hull parts
B 7x2 5 cm ammo cases
B 11 5 cm PaK 38 adapter mount components
C 31 250 Neu upper hull and interior components
E 37 250 Neu lower hull and details
F 168 "Magic Track" two-piece links
G 28x2 250 road wheels and front wheels
H 6 250 drivers
W 8 251 clear styrene
X 16 250 engine
Z 1 250 one piece lower hull
TG 10 German tools - pioneer tools and fire extinguishers
MA 4 Etched brass
MA 12 Etched brass
MB 2 Turned brass width indicators