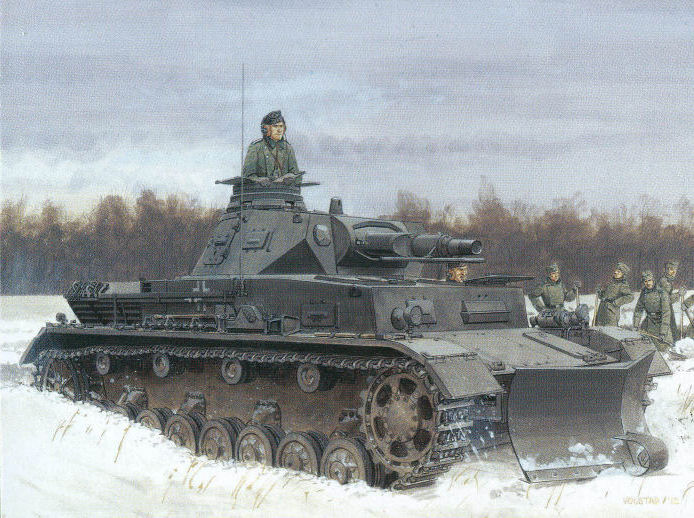 DML 1/35 Pz.Kpfw.IV Ausf.A - Smart Kit First Look
| | | | |
| --- | --- | --- | --- |
| Date of Review | November 2012 | Manufacturer | DML |
| Subject | Pz.Kpfw.IV Ausf.A - Smart Kit | Scale | 1/35 |
| Kit Number | 6764 | Primary Media | 1,263 parts (756 in grey styrene, 288 "Magic Track" single links, 176 etched brass, 32 clear styrene, 6 pre-bent steel wire, 2 turned brass, 1 turned aluminum, 1 pre-formed etched brass, 1 twisted steel wire) |
| Pros | Nicely updated kit of the Ausf. B variant of the Panzer IV family | Cons | Drivers with individual bolts particularly tedious; a snow plow? |
| Skill Level | Experienced | MSRP (USD) | $49.99 |
First Look
DML has now completed at least one variant of every Panzer IV kit, so is apparently now doing a relook and as a result has redone their Ausf. B from seven years ago with a number of updated features. 42 of this model were produced in 1938 before the improved Ausf. C appeared.
For some reason they have seen fit to add a snow plow to this kit. While to the untrained eye and civilian mind using tanks as snow plows seems to be a good idea, the reality is that it really doesn't work out all that well. Most tanks are not geared for the sort of low speed - high torque requirements shoving heavy snow around entails, and as a result it tends to burn out components or at worst get the tank stuck. One of my favorite photos in Germany was one from the British Military Liaison Mission (BRIXMIS) of an East German T-55 with plow blade buried in a snow drift during the New Year's 1978-79 blizzard.
DML has spiffed up their older B kit by using modern parts but the same etched brass provided with the earlier kit. A few new bits such as updated early Panzer IV bits such as the antenna deflector are included with this kit.
The rest of the model is similar to other DML IV kits. As before, the model has a wealth of detail. A pretty substantial basic turret interior and basket are included, and all hatches are separate pieces with interior detailing. The improved commander's cupola is included and consists of more than 25 parts to portray it with either ports open or ports closed. All small details such as pistol ports and access hatches are separate and may be assembled open or closed.
The running gear is the older DML high detail version. This returns to drivers that assemble nearly in the same manner as the original: core sections, toothed rings with 12 separate bolts each, and caps and spindles – each one requires 31 parts and a LOT of patience. Bogie assemblies consist of 18 parts each. The same "Magic Track" with 144 links per side of snap-together tracks are provided, but as I noted with that kit they are "handed" with the pin heads on the inside and the "keepers" on the outside. They are bagged separately but you will have to use a magnifier to tell which side is which. One-piece "slide molded" idlers are again included, as well as the normal two-piece kind.
The very early hull is provided, which is correct. The drivers appear to me at first glance to be about the right height – e.g. the sprocket faces (not the tops of the teeth) look to be level with the tops of the return rollers.
Notger Schlegtendal, Tom Cockle and Gary Edmundson are listed as the technical consultants for this kit.
A total of three different vehicles are covered in the painting and markings section for the Pzkw. IV Ausf. B. These include: Unidentified Unit, 1939 (snow plow mounted, panzer grey with white crosses); 8./Pz.Rgt.1, 1st Panzer Division, Poland 1939 (grey with white 800); 4./Pz.Rgt. 1, 1st Panzer Division, France 1940 (grey, white crosses, white 422). A targeted sheet of Cartograf decals is provided.
Overall this is a nice update but the snow plow is more of a "gimmick" than a useful feature.
Thanks to DML for the review sample.
Sprue Layout:
A 44 x 2 Pzkw. IV - drivers and idlers, driver bolts
A 84 x 2 Pzkw IV - wheels and suspension elements
B 32 Pzkw. IV -armored final drives
B 24 Pzkw. IV glacis, casemate sides, details
C 13 Snow plow
D 98 Pzkw. IV (early models) - fenders, hull details
E 53 Pzkw. IV - engine deck and fittings
F 44 Pzkw. IV - turret interior
H 58 German Generic - OVM
J 55 Pzkw. IV - hull and turret details, exhaust
K 144 Magic Track single links
L 2 One-piece idler wheels
M 144 Magic Track single links
P 26 Clear styrene
Q 25 Pzkw. IV - cupola components
R 6 Clear styrene
S 2 Pzkw. IV - fenders
V 34 Pzkw. IV - tires
X 1 Pzkw. IV - lower hull
Y 12 Pzkw. IV - early version components
W 47 Pzkw. IV - upper hull, engine deck details
Z 1 twisted steel wire
MA 144 Pzkw. IV Ausf. B (2005) - etched brass
MB 32 Pzkw. IV Ausf. B (2005) - etched brass
MC 4 Etched brass
MD 3 Turned brass shells, turned aluminum gun barrel
ME 7 Preformed brass, pre-bent steel wire