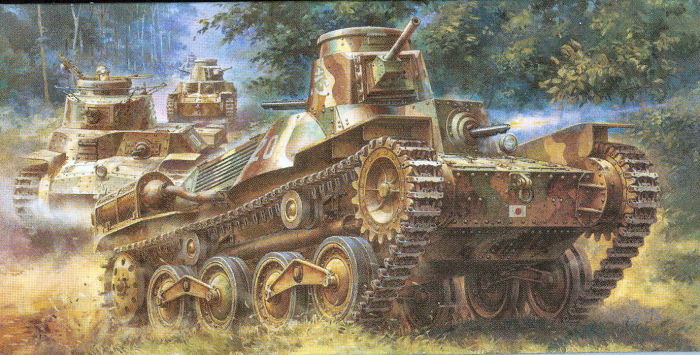 DML 1/35 IJA Type 95 Light Tank 'Ha-Go' Early Production - Smart Kit First Look
| | | | |
| --- | --- | --- | --- |
| Date of Review | December 2012 | Manufacturer | DML |
| Subject | IJA Type 95 Light Tank 'Ha-Go' Early Production - Smart Kit | Scale | 1/35 |
| Kit Number | 6767 | Primary Media | 282 parts (218 in grey styrene, 56 etched brass, 6 clear styrene, 2 DS Plastic track runs) |
| Pros | Nice, new kit of this vehicle in this scale; petite details nicely reproduced; full armament provided | Cons | No detail other than weaponry for interior provided |
| Skill Level | Experienced | MSRP (USD) | $49.95 |
First Look
Japanese tank design, like many others, started with examples of the Renault FT from WWI and advanced from there. Their first efforts, the Type 89 Medium and Type 92 Tankette, paralleled Western designs. In 1935 they designed a new three-man light tank armed with a 37mm cannon and two 7,7mm machine guns. Weighting at about 8 metric tons, the little tank underwent four years of testing before entering full production in 1939. But the Japanese did not understand or take into account the results of tank combat with the Soviets in 1938-1939 at the Khasmin Lakes or Khalkin Gol. As a result, they wound up with tanks with inferior armor and armament to their main enemy in the Pacific, the United States.
While around 1,160 Ha-Go tanks were built, mostly by Mitsubishi Heavy Industries, they served in all theaters and for the entire course of the war. But they rarely enjoyed success in combat; tanks which work fine against unarmed peasants in China and Korea are usually not well suited for a mechanized enemy with better tanks and better tactics. Attempts at upgrades, such as modifying the little tank to mount the heavier Type 97 Chi-Ha turret with 57mm gun, provided little relief. Possessed of poor visibility, a large "dead zone" around the tank, and tissue-paper thin armor, it was usually more lethal to its crew than the enemy. Its swan song was during its use by the 2nd Japanese Armored Division as dug-in pillboxes on the island of Luzon.
For many years Fine Molds has "owned" WWII Japanese armored and softskin vehicles, but they have had a Type 95 kit on the market for a number of years now. Their kit was nicely accurate but relatively simple and a "quick build", so this second foray by DML into new territory with a highly detailed version of the little tank is quite noteworthy. Translation: if you are looking for a weekend project, this isn't it!
DML has done a nice job of giving the modeler a very detailed kit with many parts provided as separate components, such as the fender and mudguard assemblies. Photos show they did not last long in the jungle environments of most tanks, so this assists the modeler for a specific replica.
The suspension comes with four brass spacers/washers per road wheel pair and a slide molded center ring for each pair of wheels, so they are quite involved. The suspension is very petite but complete, and happily DML has provided a set of DS Plastic tracks rather than single link ones for this kit. The tracks are about the size of 1/72 Sherman tracks as a comparison so this is a good idea.
There is no interior per se in the model, but the turret has one and it covers a nicely done replica of the 37mm gun with a choice of two different breeches/catch baskets and moveable ball mounts for the two machine guns. The commander's hatch offers either two styrene flaps or one with an etched brass seal. All hatches are separate and the front glacis ones offer either closed and locked or open with unlocked latches. The driver has an optional closed hatch or one with the viewer flipped up; each comes with its own clear styrene insert.
The vehicle is provided with basic OVM to include three tow cables, pioneer tools, and a four-piece jack.
Technical assistance was provided by Shin Okada.
Four finishing options are offered: 1st Tank Regiment, Malaya 1941 (four-color camouflage, character, white 20); Kwantung Army, Manchuria 1944 (four-color camouflage, character, white 101); 2nd Company, 7th Tank Regiment, Philippines 1942 (four-color camouflage, insignia, white 9502); 13th Tank Regiment, China (four-color camouflage, character). A small sheet of Cartograf decals is provided.
Overall, this looks to be a nice new version of this little tank but will require some concentration on the part of the modeler to assemble.
Thanks to DML for the review sample.
Sprue Layout:
A 39 Glacis, OVM, hatches, details
C 26 Turret base, main gun, hatch, details
B 59x2 Road wheels, suspension, machine guns, 10 rivet heads
D 16 Driver's hatch/viewer, idler wheels, spare track links
E 4 Fenders/mud guards
F 1 Smoke grenade launchers
G 4 Jack
H 4 Gun breech/shoulder piece
K 6 Clear styrene
X 2 Upper and lower hull sections