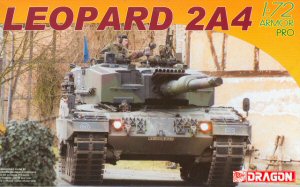 DML 1/72 Leopard 2A4 Kit First Look
| | | | |
| --- | --- | --- | --- |
| Date of Review | June 2005 | Manufacturer | DML |
| Subject | Leopard 2A4 | Scale | 1/72 |
| Kit Number | 7249 | Primary Media | 118 parts (113 in grey styrene, 2 etched nickel, 2 pre-painted vinyl, 1 section of braided steel wire) |
| Pros | Nice, cleanly done kit with plenty of options to match specific user countries' fits; pre-painted tracks (!) something really new | Cons | No explanation in kit as to which parts go with what variants |
| Skill Level | Basic | MSRP (USD) | $10.95 |
First Look
Back in 1987 I read a Russian article that assessed the three main combat threats the Soviets saw in the NATO armies. The Challenger 1 was dismissed out of hand as "quaint" (mind that this was pre-Operation Granby ) due to its design, suspension, and two-piece manually loaded rifled gun. The US Abrams was considered a severe threat but not with the 105mm gun. The German Leopard 2, however, scared the daylights out of the Soviets with its 120mm gun and layered armor arrays. (Note that the LeClerc did not even rate a mention!)
The Leo 2 was something else when introduced, and with a 1500 HP diesel engine was the equivalent of the US Abrams in most areas of performance, exceeding it in mileage. Even ADAC , the German auto club, had warnings in its magazine on what to do and what not to do when encountering one on the autobahn. They noted the tank could cruise at 60-70 kph (up to 42 mph) and had brakes sufficient to stop it in less than 75 feet from that speed. They showed a stunt driver tailgating one when it hit its brakes, and the result was a squashed Opel. (They did have a roll cage around the driver!)
Overall, this was a great tank and even in its initial form is a serious battlefield threat. German training films show the gun staying rock steady (with stabilizers engaged) as the tank turns "neutral steer" 360s underneath it. The early models (2A1 to 2A4) were rather chunky vehicles, even with a turret fully as large as a WWII light to medium tank, and most modelers have shown a preference for the later long-barreled 2A5 or uparmored 2A6 with the "wedges" on the front of the turret. However, many NATO countries bought the earlier versions and use them today, including the Poles, Finns, Swedes, Swiss and Dutch.
DML is now offering this version of the tank as part of its "Armor Pro" series kits, which includes new cut molds and more options for a slightly higher pricetag. Among the details are the multitude of "non-skid" plates on the top of the hull for crew safety.
This kit provides two different guns (the shorter original gun and the longer L/55 barrel of the 2A5), two types of engine fans (plus etched brass screens for them), two types of smoke projectors, and training aids such as a Hoffman gunfire simulator and a "whoopie light" on a mast for the rear of the turret. The suspension is a full one with separate road wheel arms, twin wheels (not "siamesed" as with the T-34 kits), and very nicely done skirts.
Many modelers (me in particular) will be very pleasantly surprised that the vinyl tracks come pre-painted – a brownish metallic color with the rubber pads in the Diehl tracks painted black. These look really good and capture the look of tracks with a bit of use (e.g. paint worn off) but not bright rust red.
The model comes with two sets of markings – a very thorough decal sheet and a set of stick-on "exercise" markings for German force-on-force training. These are red Xes and simulate the real thing, which also just stuck on. The kit provides markings for eight German Leo 2A4s to include four in winter camouflage, one Polish, one Swiss, one Finnish, and two Dutch vehicles.
The problem I have is that the directions do not differentiate one tank from another, as I recall they use different smoke projectors and arrangements but all the kit does is indicate "optional" parts and not which vehicles use them. The same goes for the engine deck fan covers (the plastic bases, not the nickel screen). This is a bit of a shame, as the kit is otherwise very nice and complete. (You will need references to check on these details.)
Overall, this is a nice kit and should please a lot of NATO fans.
Thanks to DML for the review sample.