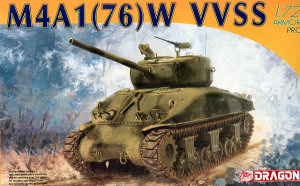 DML 1/72 M4A1(76)W VVSS Kit First Look
| | | | |
| --- | --- | --- | --- |
| Date of Review | March 2007 | Manufacturer | DML |
| Subject | M4A1(76)W VVSS | Scale | 1/72 |
| Kit Number | 7304 | Primary Media | 174 parts (142 in grey styrene, 29 etched brass, 2 DS tan plastic track runs, 1 length twisted steel wire) |
| Pros | Very nice rendition of "big hatch" M4A1; turret comes with all three gun barrel options; can be built as "In The Mood" | Cons | "Not German" |
| Skill Level | Basic | MSRP (USD) | $13.98 |
First Look
After a bit of a pause DML has now released another in its nice series of 1/72 scale Shermans, and happily this does not seem to include any major faux pas in the kit.
Using "mix and match" sprues this kit takes the straight return roller bracket suspension and combines it with a newly molded "big hatch" wet stowage cast hull. It adds the turret sprue from kit No. 7271 (M4A3(76)W VVSS), the US T48 style tracks, and the normal DML detail sprues for Shermans.
The new "big hatch" hull is as nice as their 1/35 effort and comes with separate viewer mounts for the hatches and nicely done details. Purists will be unhappy to learn that most of the pioneer tools are molded in place, however. It is married up with the correct lower hull for an A1. Weld beads are not found on this type, so that is not an issue here.
The kit uses the earlier kit's T-23 style turret with commander's vision cupola and loader's split hatch ring mount for the .50 caliber machine gun, but gives the modeler a choice of an M1 gun with no muzzle brake threads, an M1A1 gun with thread protector or the later M1A1C with muzzle brake; all of them are both of the latter are "slide molded" so they have hollow bores.
The suspension remains unique, as it does not copy that of the larger Sherman kits. The bogie assemblies consist of a VVSS spring set, a bogie outer section with a straight return roller and bracket molded in place, a rear section, and a twin road wheel set with the rear section of the articulating arms molded in place. Net result is that with only four parts you get a nice, neat finished bogie assembly. The wheels are the "cast" type with covers in place; likewise it comes with solid (e.g. matching) idlers and "solid" ring drivers. The tracks are T48 type with rubber chevrons.
The turret consists of a top and bottom with the pistol port molded in place, but the cover left separate. This is again a "slide molded" part to get the detail resolution. (Note that everything with a casting number except the mantelet has one, even though you will need a jeweler's loupe on some of them!) The turret is quite complete, with a very nicely done machine gun with parallel heat jacket at the rear of the barrel and separate spade grips.
The etched brass parts replace some of the detail parts provided in styrene, such as the front fender tips, the rear luggage rack, and some of the tool racks. The parts are called out on the directions with blue for parts to be trimmed or removed and a mustard color for the brass parts to be installed; this is quite helpful as the directions are thankfully in black and white and parts are thus much easier to see.
Markings and finishing instructions are provided for five vehicles: "Elowee", 2nd Armored Division, France 1944; 2nd Armored Regiment, 1st Polish Armoured Division, Holland 1944; "Ferocious III", F Company, 33rd Armored Regiment, 3rd Armored Division, Belgium 1944; "In the Mood", I Company, 32nd Armored Regiment, 3rd Armored Division, France 1944; "Duke", D Company, 66th Armored Regiment, 2nd Armored Division, France 1944. All but the Polish tank wear black patches over olive drab; the Pole is all OD. Note that in this time frame the 2nd Armored Division still used T51 smooth rubber track shoes (the 3rd came into France with the entire division equipped with T48s) but that is a minor quibble, and if you have a deep stud of Shermans in your kit stash it should be easy to swap them out.
Overall this is a nice job – Lafayette Pool's "In the Mood" being a favorite of mine! – and fills another slot in the Sherman family.
Thanks to DML for the review sample.
Sprue Layout:
A 36 T23 early style turret
B 41 M4 series detail parts
C 32 M4 straight roller VVSS suspension
a 26 M4A1 hull detail parts
E 7 M4A1 late hull
X 2 DS T48 track runs
Y 1 twisted steel wire
MA 29 etched brass