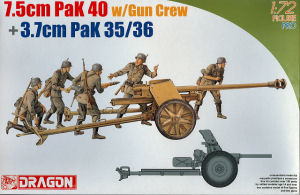 DML 1/72 7.5 cm PaK 40 w/Gun Crew + 3.7 cm PaK 35/36 Kit First Look
| | | | |
| --- | --- | --- | --- |
| Date of Review | January 2010 | Manufacturer | DML |
| Subject | 7.5 cm PaK 40 w/Gun Crew + 3.7 cm PaK 35/36 | Scale | 1/72 |
| Kit Number | 7374 | Primary Media | 302 parts (301 in grey styrene, 1 etched brass) |
| Pros | Nice collection of bits, detail parts, figures and guns in one go | Cons | May seem very expensive for two small guns and five figures |
| Skill Level | Experienced | MSRP (USD) | $19.95 |
First Look
DML has now turned back to 1/72 scale (referred to in many aircraft modeling circles as "God's Scale") with a new set of two German antitank guns, five crewmen, and a load of details and accessories all in one box. The molding is top notch, and while the figures are only 48% the size of their bigger brethren they are just as well done and come in just as many pieces!
At first blush this kit looks as it if should be oriented more on the wargamer, but once you look at the figures and the two antitank guns it is a step beyond that and more in the line of how much detail can you handle in this scale?
The 7.5 cm Pak 40 is basically the complete gun found in some other kits such as the Sd.Kfz. 234/4 or Sd.Kfz. 251/22 but now with a full carriage. The model comes with a choice of wheel centers, three different gun barrels (all slide molded), and two different caps for the cradle. Trails may be left moveable at the modeler's discretion. All of the muzzle brakes are hollow thanks to slide molding.
The 3.7 cm Pak 35/36 has been around as well in the form of Sd.Kfz. 251/10 commander's vehicles but also comes here with the full carriage, and likewise has poseable trails. Ditto the muzzle of the 3.7 cm barrel being hollow from the use of slide molding.
The figures are identical in composition to their 1/35 scale "Gen1" compatriots in that each one comes in six parts: head, torso, legs and arms. A slew of accessories is provided for each on in the form of separate weapons, helmets, ammo pouches, canteens, mess kits, gas mask canisters, pistol holsters (7.65mm or 9mm, two sizes) and entrenching tool/bayonet sets.
It would seem very expensive for a 1/72 scale kit of items as small as these, but if you totaled up what two gun kits, a figure set, an accessories set and a weapons set would probably run and the cost is pretty much a wash. Two ammo boxes and four rounds are provided for the 7.5 cm gun but not a bit for the 3.7 cm one.
The sole etched brass part in the kit is the sliding cover for the center of the Pak 40 shield.
Finishing directions are rather perfunctory, with the 37mm gun in grey and the 75 in sand brown. A small sheet of Cartograf decals is provided for the ammo crates and "kill" rings for the gun barrel of the Pak 40.
Overall this is really a goodly amount of detail bits for the money, so in the long run it will probably be worth it.
Thanks to DML for the review sample.
Sprue Layout:
G 2 3.7 cm Pak 35/36
G 18 3.7 cm Pak 35/36 carriage
H 31 7.5 cm Pak 40 barrels and recoil cradle, shields
J 6 7.5 cm Pak 40 wheels and tires
J 26 7.5 cm Pak 40 carriage, details
GC 34 German gun crew (five figures)
GA 67x2 German Generic Kit: canteens, mess kits, entrenching tools, pistol holsters
WA 25x2 German Generic Weapons: 6 x Kar 98K, 2 x MG34, 2 x MP40, 1 x MP44, helmets, 1 x Sten gun
MA 1 Etched brass