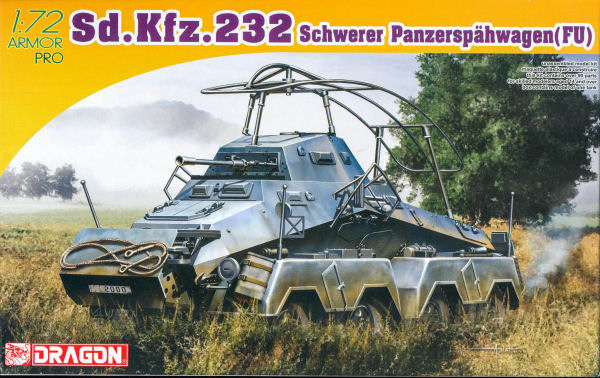 DML 1/72 Sd.Kfz.232 Schwerer Panzerspaehwagen Kit First Look
| | | | |
| --- | --- | --- | --- |
| Date of Review | March 2012 | Manufacturer | DML |
| Subject | Sd.Kfz.232 Schwerer Panzerspaehwagen | Scale | 1/72 |
| Kit Number | 7429 | Primary Media | 101 parts in grey styrene |
| Pros | State-of-the-art kit of this popular vehicle in this scale; petite antenna system is well done | Cons | No etched brass may disappoint some |
| Skill Level | Basic | MSRP (USD) | $17.95 |
First Look
Prior to WWII every nation felt wheeled armored vehicles were useful and developed a large number of them for scouting purposes. But while many of them were only converted car or truck chassis, the Germans had a complete line of all wheel drive vehicles in 4x4, 6x4 and 8x8. configurations. The latter vehicles underwent development in 1934 and emerged as the Sd.Kfz. 231 (8 Rad) and Sd.Kfz. 232 (8 Rad) series vehicles. The difference between them was primarily in their radio equipment, as the 232 had a high power HF set for long range communications. (A later variant, the Sd.Kfz. 263, was a dedicated armored command and control vehicle.)
Over 600 of these vehicles were built and used in all theaters of operations during WWII. Popular and effective, they did have some failings such as being top-heavy and this was addressed in the follow-on Sd.Kfz. 234 series.
Slowly but surely DML is working through the old Tamiya 1/35 scale catalogue in 1/72 scale with new mold kits. This latest effort should prove popular as it resembles a smaller version of the old Tamiya 231 kit.
The model is all styrene - no etched brass or DS Plastic is provided. The kit produces a model of the HF radio fitted Sd.Kfz. 232 with its forward standoff armor/stowage bin, two jerry cans, and a spare tire provided in the kit.
The directions - considering by DML standards this is a "simple" kit - are confusing at best. In Step 1 it shows the two wheel bogie assemblies (two axles assembled together) as
"optional" parts! It would appear that parts A6-B21-A7 make up one bogie and A8-B31-A9 the second one. They should mount with the A6 bogie in the front with the drive end of B21 towards the center and A8 in the rear with the drive end of B31 also facing the middle.
Step 5 shows the option of fitting the spare tire or the radiator armored cover over the air grille. In Step 6, there is a slight problem in that the directions show the antenna array solidly cemented together but the turret left free to rotate. If so the antenna would snap off on the first movement. I would suggest not cementing bracket D3 to antenna array D1 if you wish the turret to rotate. Note that both guns are slide molded with open muzzle flash hiders.
Some parts are molded in place such as the tow cable on the forward armor and some of the fender details, but in this scale it is hard to get both scale effects and separate parts to work well.
Technical assistance was provided by Tom Cockle and Gary Edmundson.
Four finishing options are shown: 1st SS Motorized Division "LAH", Poland 1939 (grey with white crosses); 3rd SS Motorized Division "Totenkopf", France 1940 (grey with black/white crosses); 5th SS Motorized Division "Das Wiking", Acbtyrka 1943 (sand with crosses and registration plates); and Pz.Aufkl.Abt. 4, 4th Panzer Division, Eastern Front 1943 (sand with green overspray, crosses, divisional insignia). Targeted decals are provided by Cartograf. However, note that all four vehicles are shown without either the standoff armor or the spare tire or armored air grille cover. Also, due to CE requirements the twin "SS" runes are provided for the registration plates as two separate halves to be assembled on the plate decal (ditto a swastika in a black circle)
Overall this should be a popular model and go well with the earlier Sd.Kfz. 222 and Sd.Kfz. 223 kits.
Thanks to DML for the review sample.
Sprue Layout:
A 24 Wheels, suspension, details
B 31 Fenders, bins, body details
C 21 Vehicle body accessories, gun barrels
D 8 "Clothesrail" antenna
E 7 Turret
F 8 Standoff armor/bin, jerry cans
G 1 Hull top
H 1 Hull bottom