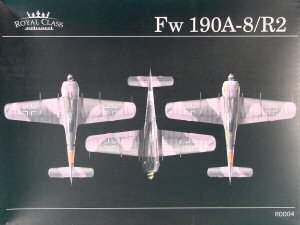 Eduard 1/48 Focke Wulf Fw 190A-8/R2 Royal Class Kit First Look
| | | | |
| --- | --- | --- | --- |
| Date of Review | March 2007 | Manufacturer | Eduard |
| Subject | Focke Wulf Fw 190A-8/R2 | Scale | 1/48 |
| Kit Number | R004 | Primary Media | Styrene/Photo-Etch |
| Pros | Two very nicely detailed kits, lots of photo-etch and decal options, a piece of one of the subject aircraft included along with a certificate of authenticity and a description of the battle that destroyed that aircraft | Cons | Nothing noted |
| Skill Level | Experienced Modelers | MSRP (USD) | $160.00 |
First Look
We had the pleasure of reviewing the first release of the Fw 190 series, the A-8, back in October 2006 and the A-5 in December 2006. The A-8 review quoted the background history directly from the Eduard instruction sheet as it was concise and put the entire Fw 190 series into context. Since the same background narrative is provided in this kit as well, you can go here to see the history and the A-8 as well. You can see the A-5 review here.
When Eduard released their Mirage III Royal Class kit, I had to get one just to see what made that kit better than the other releases in the Eduard series. You can see for yourself here, but Eduard reserved some special photo-etch parts for inclusion in that Royal Class kit (released separately later), added all of the decals that had been released in other versions of the Mirage III, then topped off that special edition with a print of the Mirage III suitable for framing, and a PC-compatible aerial combat simulation game, all for a reasonable price! So how were they going to top that with the Fw 190? Let's take a look:
When you open the box, you're going to see all sorts of interesting things in there, but first of all, you'll see TWO complete Fw 190A-8 kits. In addition, you'll see a new sprue tree containing the fuselage halves pictured at the top of the photo stack to the right. This new tree is unique to this release and provides one replacement fuselage to replicate the Fw 190A-8/R2. Note the inset image showing the armor plate that was laminated over the cockpit sides to afford the pilot additional protection.
The Fw 190A-8/R2 kit is presented on eight parts trees molded in (almost) RLM02 with an additional tree containing the clear parts. While duplicate parts trees are not shown, there is another complete Fw 190A-8 in the box with seven parts trees and one additional tree with clear parts.
This kit also contains two complete sets of photo-etched details - the color photo-etched cockpit detail set, the interior detail set, the exterior detail set, the engine detail set, and the landing flaps set. One additional photo-etched set is included (one only) containing photo-etched tool boxes and tools. Your crew chiefs will have to share the tools.
One set of Eduard's nice yellow tape masks are provided that will support both kits. I've altered the contrast on the mask so you can see the finely cut mask outlines.
The kit is designed with modelers of all skill levels in mind. For example, the cockpit side consoles have details pre-molded in place, or you can remove the detail and use the color photo-etched parts instead. The choice is up to you and your comfort level. Another example - the rudder pedals. These are provided in styrene and photo-etch, your choice. In other words, you don't need the photo-etched parts to complete this kit if you don't want to use them. Nice touch.
Aside from nice photo-etched details, what is it about this kit that will make you want to eBay or raffle off your current Fw 190 kits? Well brace yourself, the kit comes with options that you used to spend big money for in aftermarket resin conversions. These include:
TWO complete kits in the box
Three fuselages - you can opt to build two A-8s or one A-8 and one A-8/R2 out of the box
A fully detailed gun bay in the nose complete with detailed machine guns and ammo canisters
Positionable gun hood
The most detailed main wheel well I've seen in an Fw 190 kit (so far)
Optional open gun bays in the wing roots
Two different upper wing halves, depending on the outboard cannon fit of the A-8 you're building
THE most detailed BMW 801 in styrene. This beauty has both banks of cylinders highly detailed and complete with the cooling fan and rear accessory packs
A touch of innovation - a special jig is included to install and properly position each of the eight engine stacks that exit along the sides of the fuselage
The top and sides of the cowling are separately molded so you can pose the panels open, removed, or buttoned up (which would be a shame to hide all that detail inside)
The main gear struts are molded to be fool-proof for getting the right 8 degree angle offset of the main wheels to the strut and for getting the struts positioned properly on the wings. I'm looking forward to see how that works!
Two different styles of tailwheel
Four different canopy options
The ailerons and rudder are separately molded and positionable, but the elevators are molded in place. You'll have to do some surgery to position these. The photo-etched parts provide positionable landing flaps for both aircraft.
Armament options include:
Centerline bomb
Centerline external fuel tank
Underwing W.Gr.21 rockets and separate launch tubes (so you can depict your bird armed or expended)
One comment on Eduard's packaging. Some of the parts trees are individually bagged while others are two-trees-per-bag. In the latter case, the engineering of this solution is elegantly simple. When two trees are designed to be bagged together, one receives four-to-six pins molded on the frame that plug into four-to-six holes molded into the other frame. The two trees are locked together so they won't rub together during shipping and damage smaller parts whilst inside the bags. Simply brilliant!
Markings are provided for eight aircraft:
Fw 190A-8, Yellow 11, 6./JG 1, Stormede AB, Germany, Spring 1944, as flown by Feldwebel Alfred Bendseil
Fw 190A-8, White 10, 9./JG 5, Herdla AB, Norway, Spring 1945, as flown by Rudolf Artner
Fw 190A-8, Blue 13, Stab/JG 300, Juterbog AB, Germany, December 1944, as flown by Major Walter Dahl
Fw 190A-8, W.Nr. 737938, Red 9, JG 301, Northern Germany, May 1945
Fw 190A-8/R2, Commander IV.(Sturm)/JG 3, Memmingen AB, Germany, July 1944, as flown by Wilhelm Moritz
Fw 190A-8/R2, Black 8, Staffel IV.(Sturm)/JG 3, Dreux AB, France, June 1944, as flown by Willi Maximowitz
Fw 190A-8/R2, W.Nr. 681323, Yellow 8, II.(Sturm)/JG 4, Welzow AB, Germany, Sept 1944, as flown by Feldwebel Friedrich-Karl Frank (a piece of this aircraft is included in this kit!)
Fw 190A-8/R2, Yellow 12, 6./JG 300 (Wilde Sau), Late 1944, as flown by Paul Lixfeld
Four sheets of decals are provided, one for the distinctive unit markings, one for the national markings, and two more with two VERY complete sets of maintenance stenciling.
Royal Class Perks
What is so special about this Royal Class kit aside from two complete aircraft, one of which has not been rendered in styrene before? One must step back in time for just a moment to appreciate what's in this box.
On September 11, 1944, the daylight bombing campaign was pushing forward as the Eighth Air Force pushed its target list deeper into German industrial areas. Two divisions of B-17s and a single division of B-24s were tasked on the largest raid to date and comprised over 1130 bombers and 440 escort fighters. The Luftwaffe responded with 350 fighters: Bf 109, Fw 190, Me 262, and even Me 163. In all, 60 American bombers were shot down with a loss of around 200 Luftwaffe fighters.
Focusing on the third bomb division (B-17s) over the German/Czechoslovakian border, the Luftwaffe conducted a hard hit and run attack on the bombers that brought down over 50 aircraft on both sides in just a few minutes. Focusing further on one Fw 190A-8/R2 Yellow 8, this aircraft had been modified to become an armored gun platform. Two of the wing guns were upgraded to 30mm and armor plating was added around the cockpit and engine to give the aircraft a chance to get behind a bomber despite the heavy overlapping defensive gun fire from the bomber formation. The additional weight on the airframe made the aircraft less maneuverable in a dogfight.
As the bombers approached their targets, the escorting P-51 Mustangs had beat back earlier waves of Luftwaffe defenders, but the survivors on both sides were low on fuel and limped home. Another fighter escort was enroute to protect the bombers, but for a short time over the Ore Mountains, the B-17s lacked fighter cover. At this moment, Feldwebel (Sergeant) Friedrich-Karl Frank entered the bomber formation with Yellow 8, engaged and shot down B-17G, 42-97834, 349 BS/100 BG (H), 'Mud in Yer Eye', but his aircraft was heavily damaged in the attack and was forced to bail out of his crippled aircraft. Yellow 8 impacted near the crash site of its target.
Many years later, historians and archeologists are picking through the now-forgotten impact areas. Remnants of 'Mud in Yer Eye' were uncovered in the late 1980s while pieces of Yellow 8 were discovered more recently.
This release from Eduard represents this moment in history where the might of the Luftwaffe was overwhelmed by the Mighty Eighth, but not without cost. This kit contains:
One piece of Yellow 8
A certificate of authenticity from the air museum established to document the events of that day
A plaque for Yellow 8
A Knights Cross with cluster
An eight-page monograph in English and Czech that documents the events over the Ore Mountain battle of 11 September written by the museum's director
The monograph is well illustrated with photos of the aircraft and crews involved as well as color profiles. The author of this monograph is Jan Zdiarsky, the director/curator of the museum involved with this project.
This is a fascinating way to capture history so vividly into a model project. Eduard has really done well with this Royal Class release. It truly puts the reality of the war and its warriors into vivid perspective. What's more, there's really nothing left in the aftermarket world one would need to complete two very detailed Focke Wulfs.
Eduard's Fw 190 line-up announced last year:
Fw 190A-8 - October 2006
Fw 190A-5 - December 2006
ROYAL CLASS Fw 190A-8 & A-8/R2 (Double kit with Knights cross and some other bonuses) - February 2007
Fw 190A-8/R2 DUAL COMBO - 2007
Fw 190A-6 - 2007
Fw 190A-7 - 2007
...and more to come!
This Royal Class kit is definitely recommended!
My sincere thanks to Eduard for this review sample!