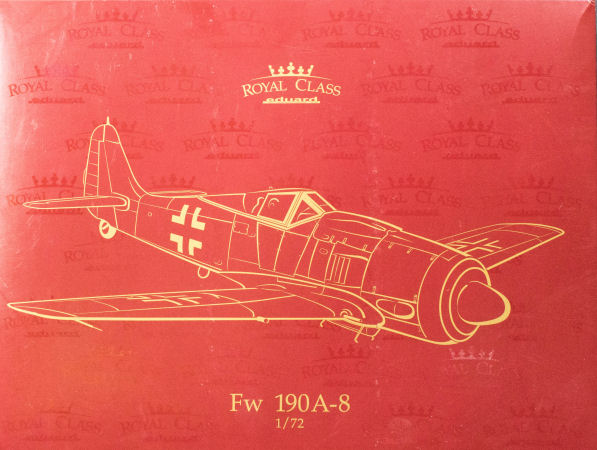 Eduard 1/72 Focke Wulf Fw 190A-8 Royal Class Kit First Look
| | | | |
| --- | --- | --- | --- |
| Date of Review | March 2016 | Manufacturer | Eduard |
| Subject | Focke Wulf Fw 190A-8 | Scale | 1/72 |
| Kit Number | R012 | Primary Media | Styrene, Photo-Etch, Resin |
| Pros | Four very nicely detailed kits, photo-etch and decal options, a piece of one of the subject aircraft included along with a certificate of authenticity and a commemorative beer glass | Cons | No beer for the beer glass included |
| Skill Level | Experienced | MSRP (USD) | $100.00 |
First Look
It was nine years ago when Eduard released their Fw 190A-8 Royal Class in 1/48 scale with lots of interesting stuff in the box. Here we are with a new Royal Class for the 1/72 Fw 190A-8 and again, we have a nice set of kits for the scale modeler. This kit is molded in light gray styrene and presented on nine parts trees (duplicate trees not shown), four trees of clear parts, four frets of color-printed photo-etched parts, four frets of regular photo-etched parts, four sets of Brassin resin wheels, and four sets of yellow tape paint masks.
The kit provides five airframe sprues, two sets of Fw 190A-8 sprues, two sets of Fw 190A-8 sprues, and one Fw 190A-8/R11. With four sets of everything else, you can build your choice of four aircraft out of this kit. The instructions walk you through the assembly process and call out which parts are needed for your selected variant(s).
The color photo-etch provides nice cockpit details, three sets for the standard A-8 and A-8/R2. One set of color photo-etch renders the radar night fighter A-8/R11 cockpit. Four sets of regular photo-etch provide detailed landing flaps for each of the four kits. As mentioned, four sets of Brassin resin wheels are also included (not shown).
Marking options are provided for 12 aircraft:
Fw 190A-8, Black 13, JG 26, Rambouilet, France, 1944, as flown by Obstlt Josef Priller
Fw 190A-8, Red 1, 2./JG 54, Villacoublay, France, 1944, as flown by Lt Hans Dortenmann
Fw 190A-8, Red 9, JG 301, North Germany, May 1945
Fw 190A-8, White 10, 9./JG 5, Herdla, Norway, Spring 1945, as flown by Fw Rudolf Artner
Fw 190A-8, Yellow 11, 6./JG 1, Stoermede, Germany, 1944, as flown by Fw Alfred Bindseil
Fw 190A-8, Yellow 2, 9./JG 64, Villacoublay, France, Summer 1944
Fw 190A-8, Black 12, II./JG 300, Bayreuth-Bindlach, Germany, Spring 1945
Fw 190A-8, Yellow 8, II./JG 4, Welzow, Germany, 1944, as flown by Fw Friedrich-Karl Frank
Fw 190A-8, CO, IV./JG 3, Memmingen, Germany, Jul 1944
Fw 190A-8, Yellow 12, 6./JG 300, Loebnitz, Germany, late 1944, as flown by Uffz Paul Lixfeld
Fw 190A-8, Black 8, IV./ JG 3, Dreux, France, Jun 1944, as flown by Uffz Willi Maximowitz
Fw 190A-8/R11 Neptun, White 9, 1./NJGr 10, Werneuchen, Germany, 1944
Five sheets of decals are provided, one for the distinctive unit markings, and four more with VERY complete sets of maintenance stenciling.
Royal Class Perks
What is so special about this Royal Class kit aside from four complete aircraft? One must step back in time for just a moment to appreciate what's in this box.
On September 11, 1944, the daylight bombing campaign was pushing forward as the Eighth Air Force pushed its target list deeper into German industrial areas. Two divisions of B-17s and a single division of B-24s were tasked on the largest raid to date and comprised over 1130 bombers and 440 escort fighters. The Luftwaffe responded with 350 fighters: Bf 109, Fw 190, Me 262, and even Me 163. In all, 60 American bombers were shot down with a loss of around 200 Luftwaffe fighters.
Focusing on the third bomb division (B-17s) over the German/Czechoslovakian border, the Luftwaffe conducted a hard hit and run attack on the bombers that brought down over 50 aircraft on both sides in just a few minutes. Focusing further on one Fw 190A-8 Yellow 8, this aircraft had been modified to become an armored gun platform. Two of the wing guns were upgraded to 30mm and armor plating was added around the cockpit and engine to give the aircraft a chance to get behind a bomber despite the heavy overlapping defensive gun fire from the bomber formation. The additional weight on the airframe made the aircraft less maneuverable in a dogfight.
As the bombers approached their targets, the escorting P-51 Mustangs had beat back earlier waves of Luftwaffe defenders, but the survivors on both sides were low on fuel and limped home. Another fighter escort was enroute to protect the bombers, but for a short time over the Ore Mountains, the B-17s lacked fighter cover. At this moment, Feldwebel (Sergeant) Friedrich-Karl Frank entered the bomber formation with Yellow 8, engaged and shot down B-17G, 42-97834, 349 BS/100 BG (H), 'Mud in Yer Eye', but his aircraft was heavily damaged in the attack and was forced to bail out of his crippled aircraft. Yellow 8 impacted near the crash site of its target.
Many years later, historians and archeologists are picking through the now-forgotten impact areas. Remnants of 'Mud in Yer Eye' were uncovered in the late 1980s while pieces of Yellow 8 were discovered more recently.
This release from Eduard represents this moment in history where the might of the Luftwaffe was overwhelmed by the Mighty Eighth, but not without cost. This kit contains:
One piece of Yellow 8
A certificate of authenticity from the air museum established to document the events of that day
A plaque for Yellow 8
A collector's beer glass (but no beer is included)
The 1/48 scale Fw 190A-8 Royal Class release also had a piece of Yellow 8 in the box, so it seems that Eduard continues to quietly export Yellow 8 out of the country a piece at a time.
This is a fascinating way to capture history so vividly into a model project. Eduard has really done well with this Royal Class release. It truly puts the reality of the war and its warriors into vivid perspective. What's more, there's really nothing left in the aftermarket world one would need to complete four very detailed Focke Wulfs.
My sincere thanks to Eduard for this review sample!